The 2017 Seoul Motor Show will open on March 31 for a 10-day run at KINTEX in Goyang, north of Seoul. This is the 11th rendition of the motor tradeshow, which made its debut in 1995.
It is the sole Korean tradeshow recognized by the International Organization of Motor Vehicle Manufacturers (OICA). Among countries with domestic demand similar to that of Korea, the Seoul Motor Show is reputed as the best in the world. Visitors enjoy diverse events and technologies on display year after year. The following is a preview of the 2017 Seoul Motor Show, which aims to encompass a wide range of topics beyond the motor show itself.
The tradeshow will attract nine Korean exhibitors, including Hyundai Motor, Kia Motors, GM Korea, Renault Samsung, and Ssangyong Motor as well as foreign automakers, including Nissan, Land Rover, Mercedes-Benz, BMW, Infiniti, Jaguar, Cadilac, Toyota, and Forsche Peugeot. Genesis and Merceds-AMG will participate in the motor tradeshow as independent brands for the first time. MAN, a German truck and bus manufacturer, will take part in as a new brand.
New cars and concept vehicles will likely include Kia Motors' Stinger; Renault-Samsung's supermini Clio; Ssangyong's Y400, a follow-up model of the Rexton; and a Genesis' concept car. Among models to be unveiled this year are BMW's M760Li; Mini Cooper's Countryman SD All4; Lincoln's Navigator; Peugeot's 5008GT; and Lexus' LF-FC. As many as 300 cars will be on display. A total of 32 new cars, including seven concept vehicles, will be introduced.
Honda and BMW, which produce four- and two-wheeled vehicles, will release motorcycle models. Honda will introduce eight models, including new CBR1000RR SP and X-ADV, while BMW Motorad will showcase seven new models, including the new R nineT Fuer and racers.
Samcheolri Bicycle and electric bicycle companies will also participate in the 2017 Seoul Motor Show. Furthermore, it will attract 167 companies specializing in parts, IT, utilities and services, an increase of 22 over the previous year.
The 2017 Seoul Motor Show aims to live to the hype of its theme, "Design the Future, Enjoy the Moment." With the advent of the 4th Industrial Revolution on the horizon, the 2017 Motor Show will highlight eco-friendly cars, self-driving vehicles, convergence technologies between cars and IT, and the latest global trends.
Spectators will witness diverse electric cars and hybrid vehicles, including GM Korea's Bolt, Renault-Samsung's SM3 Z.E. and Twizy, Hyundai iOniq, BMW i3, Nissan Reef, Power Plaza's freight trucks, and CammSys's supersmall passenger car. Spectators will be given a chance to sit in the driver's seat of 10 eco-friendly vehicles.
Self-driving technologies will be demonstrated. Naver will display self-driving technologies the company is developing and demonstrate how a self-driving car processes and gathers data. A program to experience the test-operating of self-driving cars is in place. Self-driving cars will be operated along a 4 km-long street near the exhibition hall in cooperation with Seoul National University. Under the program, up to three spectators will be allowed to sit in one of the self-driving cars. Self-driving car demonstrations will be operated twice per hour. Spectators will experience what it's like to be in a self-driving vehicle while it navigates the street, detects and evades obstacles and recognizes signals at crossroads.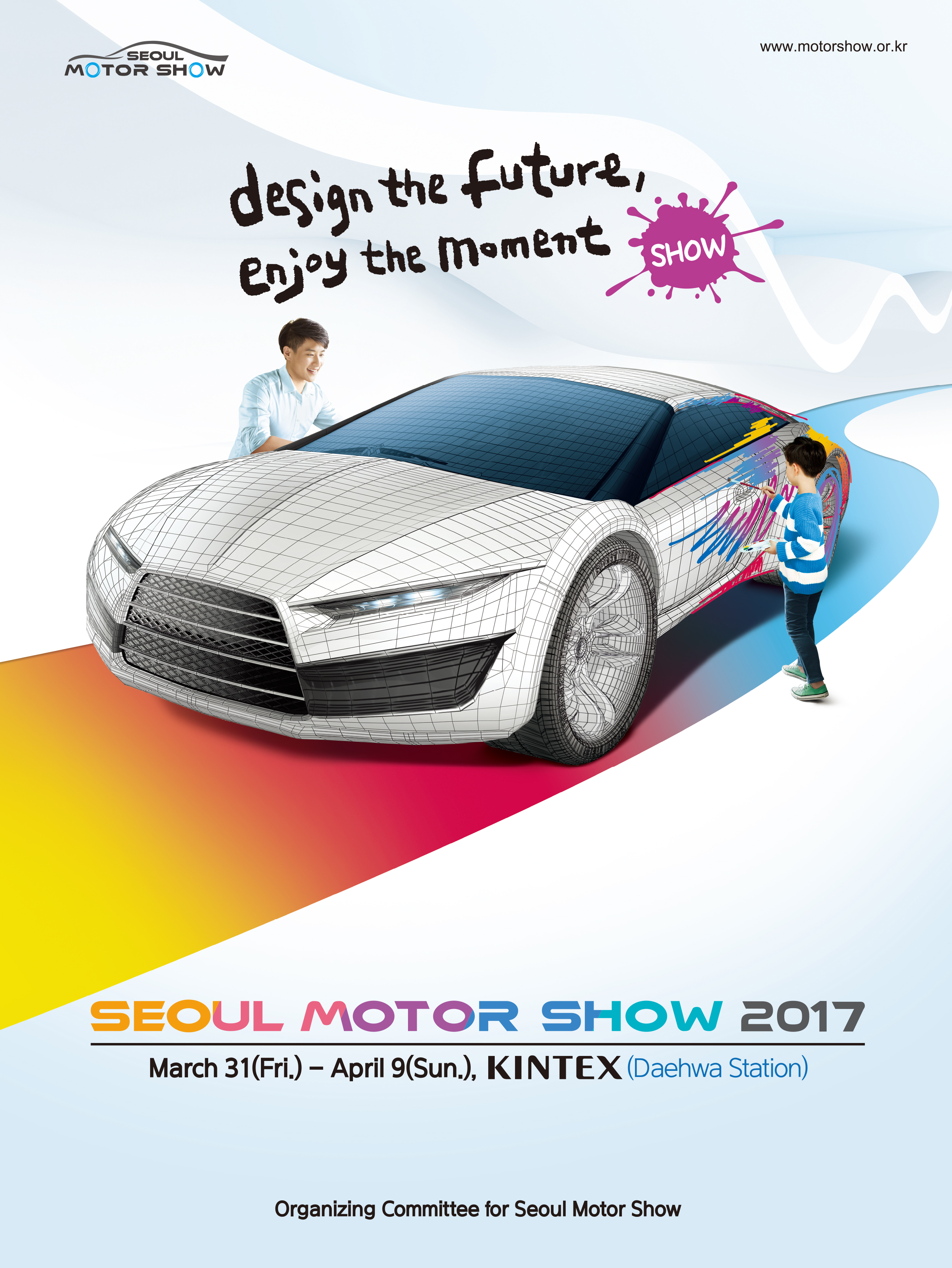 The 2017 Seoul Motor Show will take place at KINTEX, north of Seoul, from Marh 31 to April 9.
Combination of Automobile and IT Industries
Such convergence technologies as location-based online services and makeshift maintenance apps will be demonstrated.
IT companies and institutions affiliated with the Automobile Convergence Alliance will have a special pavilion in which spectators can experience technologies such as smartphone-controlled smart parking and other parking assistance systems.
A seminar on automobiles and IT convergence will take place. Six prominent global speakers, including David L. Strickland, former administrator of the National Highway Traffic Safety Administration (NHTSA), will speak on future automobile paradigms, automobile culture and design in a storytelling lecture.