The Ministry of Land, Infrastructure and Transport (MOLIT) plans to pour 470 billion won into research and development to foster new industry businesses and brace for the advent of the 4th Industrial Revolution. The figure represents a 6.3 percent rise over last year's R&D budget of 445.8 billion won.
The ministry announced a plan on Feb. 23 to invest a combined 473.8 billion won into R&D projects for 2017, 188.7 billion won in the land technology segment, 190.4 billion won in the transport technology sector and 94.7 billion won in the infrastructure buildup field.
Initially, the MOLIT has set aside 86.6 billion won to expand such future growth engines as self-driving cars, drones and spatial information. The ministry has appropriated 26.2 billion won for the development of such added value technologies to explore overseas bridge/tunnel, high-rise building and other construction markets, while investing 99.1 billion won in 26 tasks, including smart public house and health care technologies and spatial information big data analysis technologies to cope with the advent of the 4th Industrial Revolution.
The ministry plans to pour 108.8 billion won into the prevention of flood and industrial disasters and building management in disaster areas, while spending 42.6 billion won to expedite the development of greenhouse gas emission reduction technologies, including those to reduce the energy consumption of structures to cope with the Post-2020 Climate Change Regime.
The MOLIT plans to invest 32.8 billion won in implementing 32 new tasks, including hybrid cars for home deliveries and the development of the design and construction of large-sized hanok (traditional Korean house) and to expand related lab infrastructure facilities.
The ministry is to embark on the establishment of a comprehensive MOLIT R&D plan, a 10-year roadmap designed to implement R&D tasks in a systematic manner. To this end, about 100 experts from industry, academia and research circles will participate in a joint workshop dividing eight subcommittees – land infrastructure, urban structure, plant, railway, transport logistics, aviation, policy planning and performance analysis. The ministry plans to finalize and announce a comprehensive MOLIT R&D plan after gathering experts' views, a ministry official said. The MOLIT will explore R&D tasks in a systematic fashion after taking into account changes during a 10-year period, he added.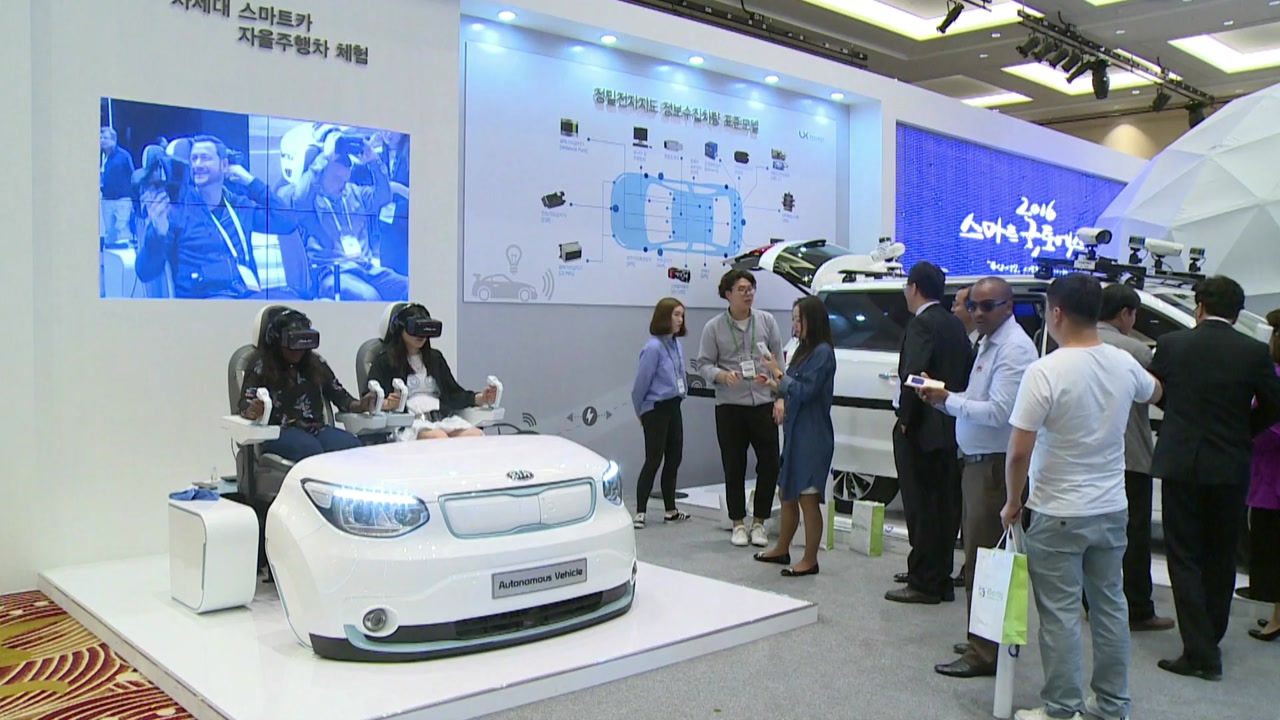 A view of the 2016 Smart Expo. (Photos: MOLIT)
List of Top 20 MOLIT R&D Outcomes for 2016
The MOLIT announced a select list of its top 20 MOLIT R&D outcomes for the year 2016, including "super concrete," which turned out to be four times stronger than the conventional one. Also on the list are core parts for electric railway lines for 400km/h-class high-speed railways and a variable table form for concrete structural frameworks of economically efficient construction of high-rise buildings. Every year, the ministry designates priorities and research tasks, which are found to have technology excellence, application performances and social and economic spillover effects.
For instance, "super concrete," developed by the Korea Institute of Civil Engineering and Building Technology (KICT), which is four times stronger in compressive strength than conventional concrete, can lead to the redoubling of the longevity of major subordinate materials of structures and reducing weight by 30 percent, slashing construction costs by 10 percent.