The Central Association for National Unification of Korea, known as Mintong, successfully hosted an event to mark its 35th anniversary in Seoul on Sept. 21. About 5,000 people were on hand, vowing firm determination for unification.
Among the participants were Minister Hong Yong-pyo of the Ministry of Unification (MOU); Vice Chairman Chung Jong-wook of the Presidential Committee for Unification Preparation; and Executive Vice Chairman Ryu Ho-youl of the National Unification Advisory Council (NUAC).
Mintong is the largest civic unification body, with a membership of some 50,000.
In a video message delivered during the event, President Park Geun-hye said, "Mintong, celebrating the 35th anniversary, has been playing as a pivot to muster people's determination for unification and send light of hope toward unification to the brethren in North Korea." She urged Mintong to do its utmost to serve as a guide to move toward a new era of a unified Korean Peninsula by converging people's will for unification. In a written statement, the participants pledged to devote themselves to resolving conflicts, promoting national reconciliation and preparing for unification.
Seventy years have passed since the division of the two Koreas.
Mintong Chairman Lee Jeong-ik expressed his strong desire for unification.
"A bitter history of division lasting 70 years gives us a mission to achieve peaceful unification." Lee said. "With Mingtong taking the lead, (the nation) should pave the way for reconciliation by promoting inter-Korean exchanges and cooperation, redoubling efforts lest sacrifices, caused by military clashes of two Koreas are repeated," he added.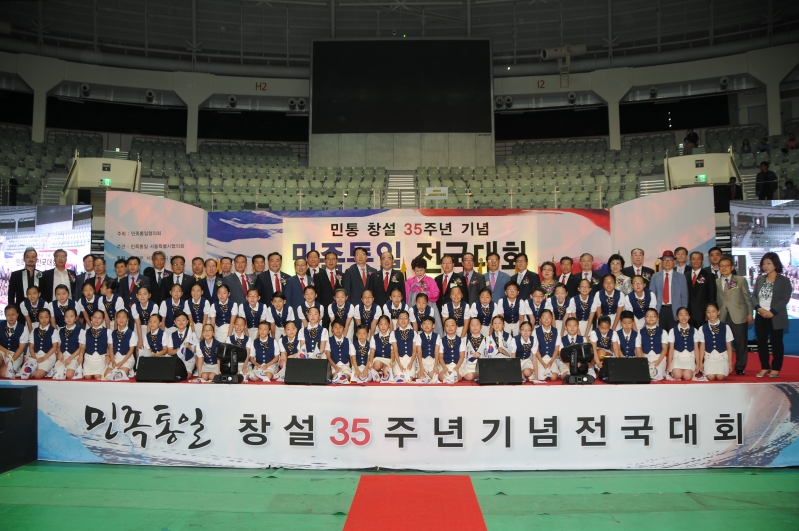 The event to mark 35th anniversary and Seoul Metropolitan City's nationwide convention for unification attracts a large throng of Mintong members across the nation.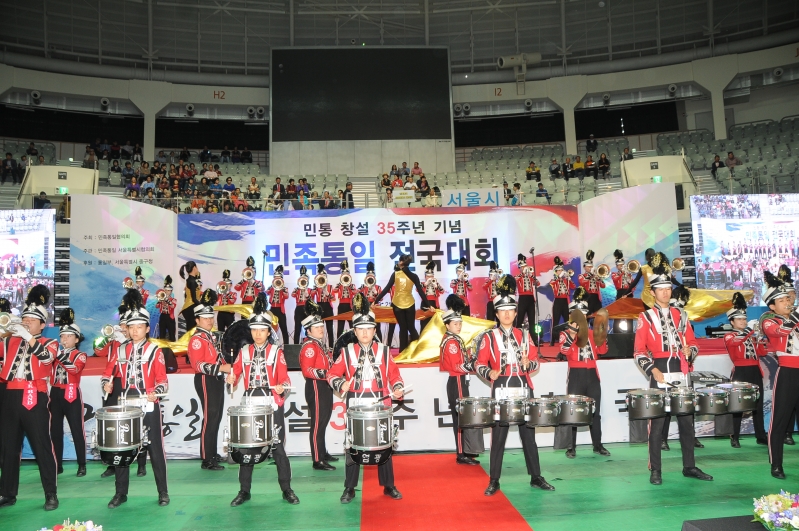 A band performs at an event to mark 35th anniversary and Seoul Metropolitan City's nationwide convention for unification to boost a festive mood.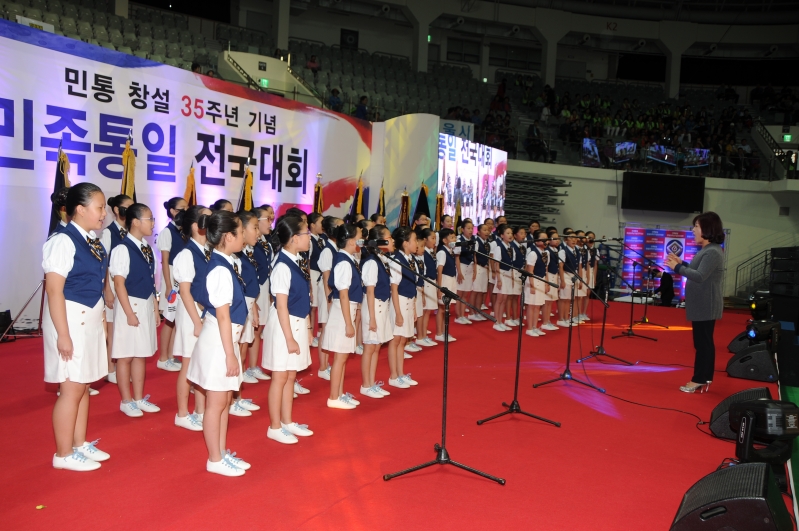 A girls' choir sing at an event to mark 35th anniversary and Seoul Metropolitan City's nationwide convention for unification to raise public awareness toward unification.
Spearheading Nationwide Civilian Movement for Unification
"I extend thanks to members who are engaged in unification drives at each district for a long period of time, and I want Mintong to continue its endless function of making people's desire and actions for unification part of their life," he said.
In an interview, Chairman Lee expressed a sense of pride over the outcomes of the nationwide convention. He also expressed appreciation for Mintong's members' dedication to the cause.
Mintong is a bipartisan, pan-national civic unification body established with the goal of nurturing national capabilities to realize the Republic of Korea's unification. The organization is designed to establishing and implementing unification policies to brace for "a united Korea" by flexibly coping with the political situation of neighboring counties with a tendency of diversification.
Mintong dates back to the establishment of a small civic organization on Dec. 15, 1977, in which Lee Su-ja of the Institute of Unification Education spearhead the launching of a unification movement on a voluntary basis.
The body, which hosted a nationwide convention in 1970, was transformed into Mintong in 1981 with the goal of unifying the Korean Peninsula as a civic unification movement.
Since its establishment, Mintong has played a leading role in carrying out civic activities to enlighten public awareness to build a foundation for unification, implementing projects to publicize unification, and establishing the right views of unification and nurturing their desire for unification. Mintong, headed by Chairman Lee, is a nationwide unification body with 17 city and provincial consultative councils as well as about 200 city, county and ward councils.
Approximately 100,000 members across the nation, with a sense of pride as leaders of this civic unification movement, conduct such activities as the nurturing of unification proponent forces, public education, publication and public relations projects, and organizational management development. Mintong also hosts walkathons "to be in one mind toward unification," unification quiz contests and unification exhibitions on top of a drive to share content on unification via mobile apps.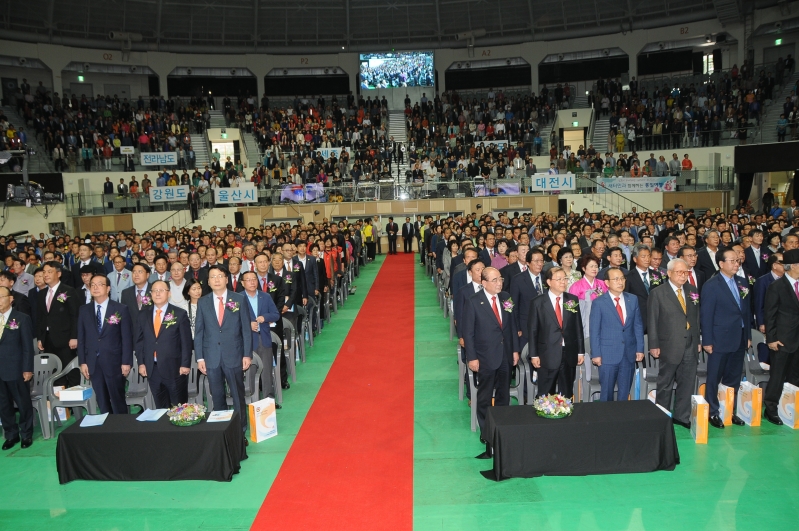 Mintong Chairman Lee Jeong-ik, Unification Ministry officials and Mintong members participate in an event to mark 35th anniversary and Seoul Metropolitan City's nationwide convention for unification.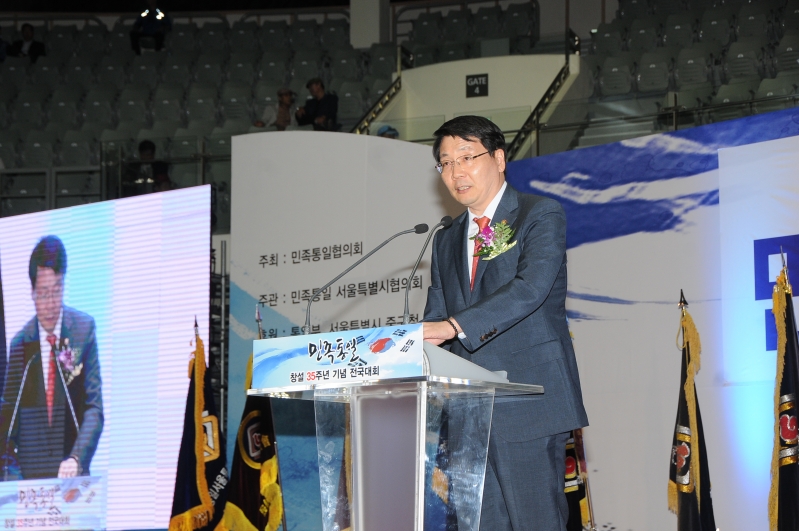 Vice Minister Kim Hyung-seok of the Unification Ministry delivers a commemorative speech at an event to mark 35th anniversary and Seoul Metropolitan City's nationwide convention for unification.
Since he took office, Chairman Lee has conceived and implemented projects to spread the work on unification nationwide, and publicize Mintong's activities. Chairman Lee has devoted himself to spearheading reforms at Mintong, which was stuck with inertia related to organizational "blinders" at an initial stage, and realizing its strategic tasks – augmenting membership, expanding education on unification to primary and secondary school students and other youth, and securing an expansionary budget.
Lee has been a corporate leader for 40 years and has a firm conviction for the unifying of the Korean Peninsula.
Mintong members across the nation continue to hold city and provincial conventions, lectures on unification, a project to support North Korean refugees, literature contests and other diverse projects. In particular, an annual literature contest for Korean people's unification, one of Mintong's representative events, is designed to hammer home the concern over unification and its necessity via literature, spurring the restoration of the homogeneity of both Koreas and reawakening Korean people's future vision through co-existence.
Chairman Lee, regretting the reality of youth indifference toward unification, decided to educate them on unification. He has since expanded each district's lectures on unification at primary and secondary school students from once annually to five times. The move has been found to have a great effect in raising students' awareness toward the operative and necessity of inter-Korean relations and peaceful unification.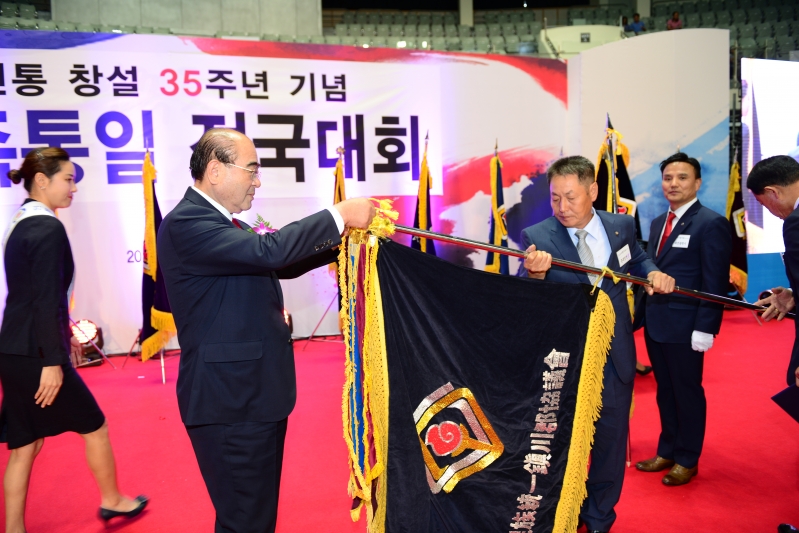 Mintong Chairman Lee Jeong-ik hands over the flag of Mintong's Jincheon County Council to the district council chief. (Photos: Mintong)
"Mintong is committed to nurturing youth as unification leaders, have people established with right views of unification by expediting the enlightening of the general public and imbuing them with a determination of unification," he said. Stressing that the expansion of inter-Korean people-to-people exchanges is a foundation for peaceful unification, Chairman Lee said, "Concern and support for North Korean refugees, which will be a strong unification asset in the future, should be expanded."