Chairman Hwang Young-key of the Korea Financial Investment Association (KOFIA) said there are some financial regulations that the securities firms find very restrictive for their operations, and thus, need to be reformed.
On the occasion of his two years in office, the KOFIA chairman told a group of reporters that securities firms have to be in a position where they can freely trade foreign exchange and settle payments for their corporate customers with fewer restrictions if they want to join the ranks of the top global investment banks, such as like Goldman Sachs or Nomura Securities.
Using the expression, "a tilted ground," Hwang, former chairman of the Woori Financial Group, said current financial regulations give banks too many benefits, pointing out the restrictions on securities firms to handle payments for corporate customers as the biggest disadvantage. Corporate customers are forbidden to open deposit accounts at securities firms and make deposits in those accounts under the financial regulations. Woori Bank was a key affiliate of the group.
Such restrictions prevent securities firms from providing integrated financial services to their corporate customers. Only banks, savings banks and credit trust cooperatives can provide integrated financial services to their corporate customers under existing financial regulations, he said.
Hwang said related legislative laws were passed by parliament and 337.5 billion won have been paid up as membership fees to the Korea Financial Telecommunications and Clearings Institute (KFTCI), but securities firms have yet to be allowed to handle corporate payments.
These problems can be solved by the KFTCI, but have been left unsolved due to objections put up by the banks, the KOFIA chairman pointed out. He said that it's unreasonable that the special interest group has been monopolizing the basic facilities that provide conveniences to the public.
As an example of the "tilted ground," Hwang also brought up restrictions placed on securities firms to deal with foreign exchange transactions not intended for investments.
"It's outrageous that securities firms have been forbidden to deal with the foreign exchange transactions that are allowed for Fintech and credit card firms," he decried, asking how key securities firms like Mirae Asset Daewoo Securities and Korea Investment and Securities compete with the likes of Goldman Sachs or Nomura Securities on the world stage.
Hwang criticized current regulations, saying that banks are able to expand their business territories to insurance and fund sales, and have also been eyeing asset management to their businesses portfolios to give a boost to their profits.
Hwang said that banks' low profits have been related to the low productivity of their employees, which is one of the lowest in the global banking community, and their inability to control expenses, not because of their business portfolios.
The KOFIA chairman also called for the lifting of the restrictions on securities firms to enter the derivative products market, the extension of the "sunset hours" for securities firms to manage overseas investment funds and a tax exemption for transactions outside the K-OTC market.
The KOFIA chairman said he will work hard to help make the capital market provide industrial funds, nurture venture funds, growth of the wealth of the people and protection of investors as the top manager of KOFIA.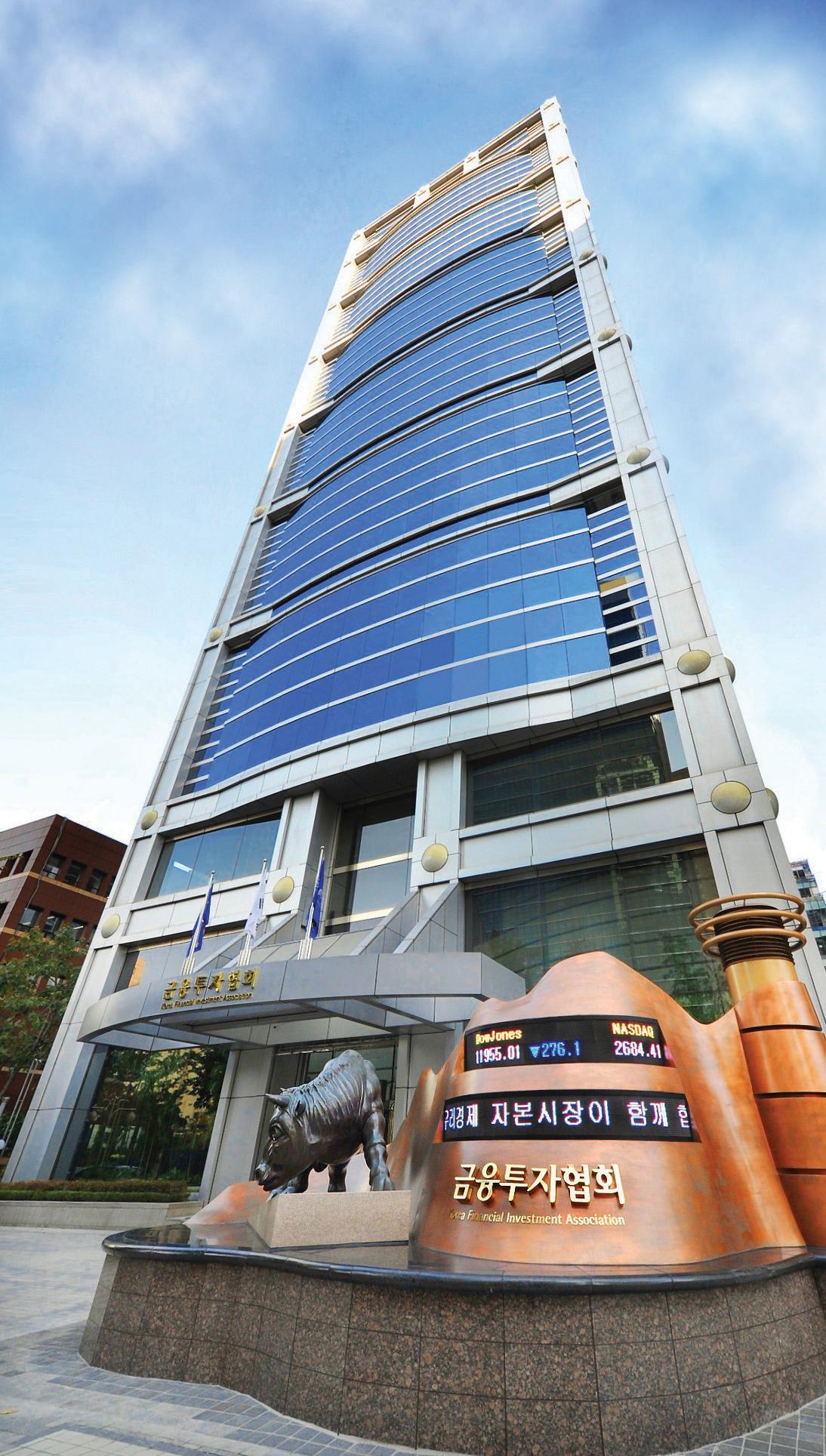 A view of the building in Seoul where KOFIA is located.(Photos: KOFIA)