Hana Financial Group posted 1.345 trillion won in net profit in 2016, up nearly 50 percent year-on-year, the group said on Jan. 24. It's the largest net profit since Hana Bank merged with Korea Exchange Bank in 2012.
Officials of the group attributed the superb performance to increases in loans with high returns such as housing mortgage loans as a result of intensified publicity of the new bank's marketing effort from the two banks' combined communications facilities.
The 4th quarter net profit alone came to 105 billion won, bringing the net profit for the entire year to 1.35 trillion won, an increase of 435.4 billion won over the preceding year. KEB-Hana Bank did more than its share to add to the group's earnings, with its net profit amounting to 1.39 trillion won for 2016. Its 4th quarter operating profit alone coming to 126.3 billion won.
KEB-Hana Bank combined the communications facilities of the two merged banks from the second half of last year to double up its marketing campaigns to attract funds from large conglomerates to its low-interest savings deposit accounts.
The bank's low-interest savings deposit accounts accounted for 46.686 trillion won at the end of last year, an increase of 6.4 trillion won in a year, or 15 percent of the total funds in the deposit accounts.
Hana Financial Group announced last July 26 that it signed a business cooperation agreement with Franklin Templeton Investments, a global asset management firm, with the goal of establishing a strategic cooperative relationship in Central America. The signing ceremony was held at the head office of the company in San Mateo, California, with Kim Byoung-ho, vice chairman of Hana Financial Group, and Gregory E. Johnson, chairman of Franklin Templeton Investments, in attendance.
Hana Financial Group plans to promote business cooperation with subsidiaries of Franklin Templeton Investments, including Darby Overseas Investments, in areas such as the extension of loans in Central America; exploration of investment opportunities in banks and finance companies in Central America; cooperation in real estate investment in Europe and the United States; search for opportunities to establish joint ventures in emerging markets; and participation in investment funds in Central America.
Franklin Templeton Investments is an asset management firm with a presence in 35 countries and assets of 843 trillion won, as of the end of June. Darby Overseas Investments, the dedicated private equity arm of Franklin Templeton, possesses considerable expertise and experience in investment in infrastructure funds, private equity investment funds, and mezzanine funds.
Hana Financial Group has a global network of 142 business locations in 24 countries, and as a long-term goal, aims to earn 40 percent of its total profits from its overseas business activities by 2025.
On Sept. 20, KEB Hana Bank announced that it had signed an MOU for comprehensive cooperation in yuan-denominated trade finance and won settlement transactions with China Everbright Bank at its head office.
China Everbright Bank, incorporated in 1992, is the 46th largest bank worldwide, the 12th largest bank in China in terms of Tier 1 capital, with 1,048 domestic branches.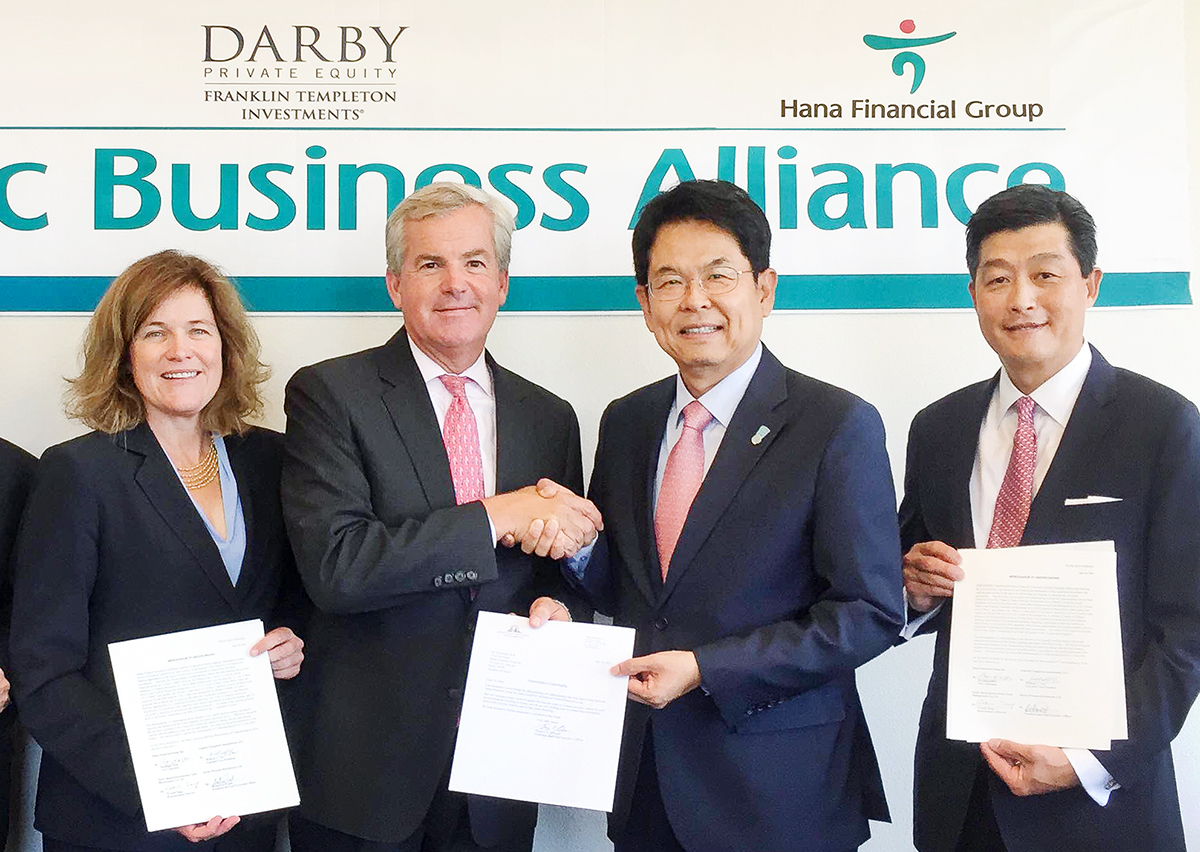 Vice Chairman Kim Byoung-ho of Hana Financial Group shakes hands with Chairman Gregory Johnson of Franklin Templeton Investment after signing a business cooperation agreement between their two firms in Latin America in the middle of last year at the head office of the U.S.asset management firm in San Mateo, Calif.(Photos: HFG)