Hyundai Heavy Industries, which is due to split its corporate structure in April, had a very good fourth quarter last year, with operating profit rising with the positive news that the U.S. marine plant market has been improving.
Unlike shipbuilding firms, HHI's shares have risen continuously, with signs that they may continue to rise further.
The company released its 4th quarter consolidated financial results, which showed that revenue in the 4th quarter amounted to 10.342,7 trillion won on operating profit of 437.7 billion won.
Although sales fell 7.15 percent YoY, operating profit turned to the black for the first time in three years. The company's total sales revenue for 2016 came to 39.317,3 trillion won, down 14.9 percent YoY, with operating profit for the entire year coming to 1.641,9 trillion won.
HHI officials said last year's depressed shipbuilding market made it difficult to secure orders for new ships. The company worked on rationalization of its operation to improve its operations.
HHI officials said all of the group's major affiliates had a very good year. HHI, Hyundai Mipo Heavy Industries and Hyundai Mipo Shipbuilding had a combined 710 billion won in operating profits last year, with Hyundai Oilbank following up with its own operating profit of 800 billion won. It was a tough year for new ship orders, but the company was able to meet its target, although the figures are lower than those in previous years.
Total new ship orders that the company got last year came to $9.150 billion or 10.471,3 trillion won, down 37.1 percent YoY, but came close (96.3 percent) to the annual target thanks to orders for large commercial vessels from Iran.
HHI attributes the yearly operating profits to the following factors: increased volume of ships that HHI won at profitable prices, continued efforts to cut costs, streamlined shipbuilding processes, improved oil refining margins and increased sales of Hyundai Oilbank, HHI's oil refinery subsidiary.
HHI Group's three shipbuilding companies and Hyundai Oilbank respectively contributed about 710 billion won and 800 billion won to the consolidated full year profits.
The stabilization of the manufacturing processes for offshore plant business, and efforts to reduce material costs of the construction equipment and electro electric systems division, also played a role in making the profit.
In 2016, HHI implemented a variety of measures to sharpen its competitiveness including carrying out a management improvement plan and reorganizing affiliated companies. The company also strengthened its financial soundness by lowering its consolidated liabilities-to-equity ratio to 175 percent from 220 percent by the end of 2016 with the sell-off of non-core assets.
An HHI official said, "The comprehensive management improvement efforts we made last year enabled us to make profits even with a dearth of new orders. Even if the market conditions are less likely to turn favorable this year along with shrinking work volumes, all of our employees will stand united to continue to make profits."
Hyundai Heavy Industries (HHI) announced that it held a production ceremony for the 5,000th propeller at its Ulsan factory. The 5,000th propeller, measuring 10.6 meters in diameter and 77 tons in weight, is scheduled to be installed on a 300,000 DWT VLCC ordered from Athens-based Thenamaris by the end of this month.
HHI is not just the only Korean propeller manufacturer capable of churning out large-sized ship propellers heavier than 40 tons, it also has the biggest slice of the global ship propeller market with the market share of 31 percent as of 2015.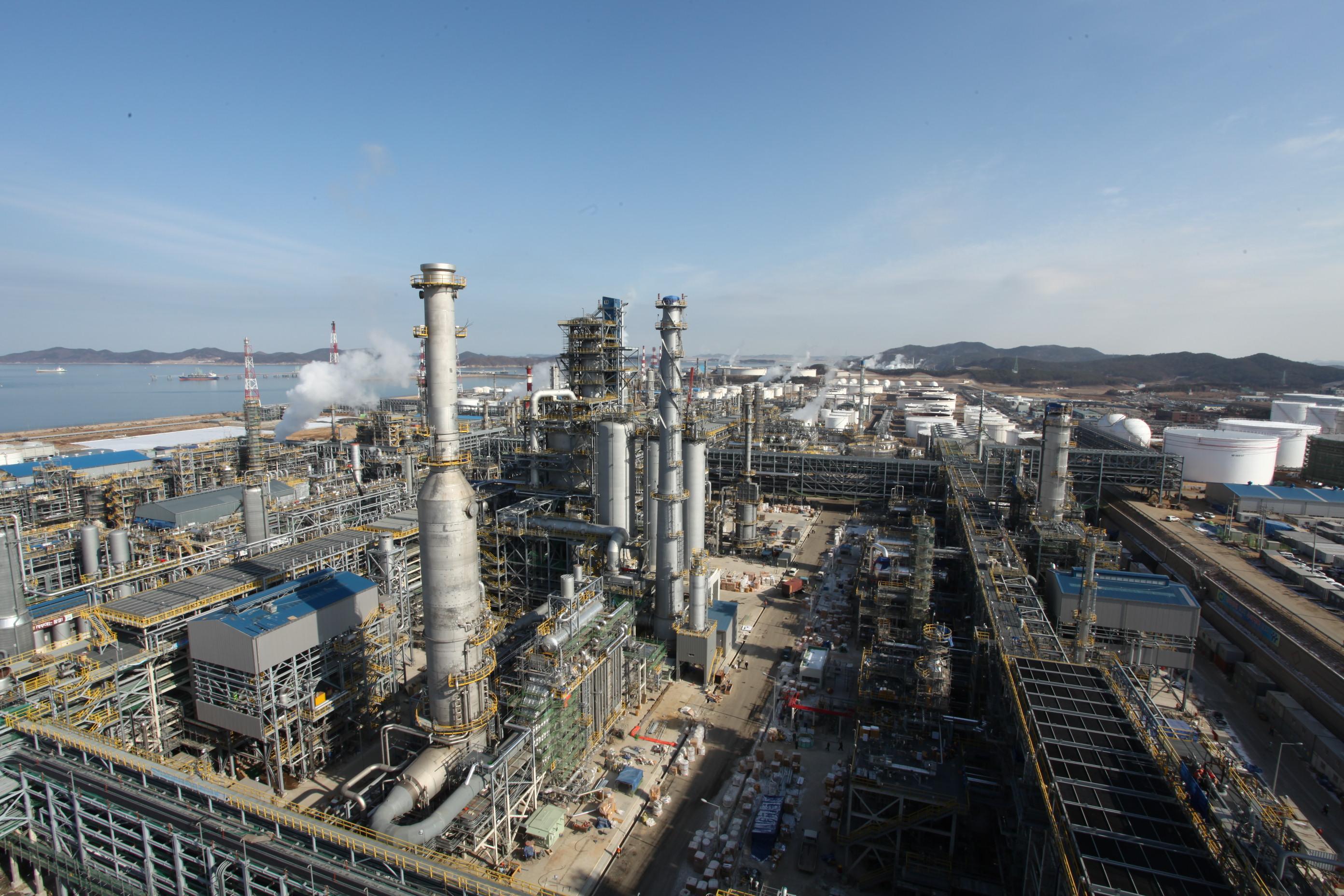 A view of Hyundai Oilbank's Daesan oil refinery in Daesan, South Chungcheong Province.(Photos: HHI)