LG Chem is mass-producing an advanced material that is 100 times stronger than steel and possesses higher heat and electrical conductivity. The step is part of the company's strategy to shift the paradigm to a focus on value-added product portfolios since the company cannot maintain a competitive edge only with general use items.
LG Chem said on Jan. 31 that it put a carbon nanotube plant in Yeosu, Jeollanam-do, into commercial operation at a cost of 25 billion won. Carbon nanotubes are in wide use for secondary batteries, semiconductors, automotive parts and aircraft fuselages. Carbon nanotube have become the subject of attention as a material designed to enhance the functions of lithium-ion batteries.
LG Chem's carbon nanotube plant has a production capacity of 400 tons annually, ranking it fourth in the world following China's SUSN Sinotech's 600 tons, the Unites States' C-Nano's 500 tons and Japan's Showa Denko's 500 tons. LG Chem's capacity is similar to Belgium's Nanosil's 400 tons and France's Arkema's 400 tons. It's the largest carbon nanotube plant in Korea.
The value of the global carbon nanotube market is estimated at 100 billion won. Carbon nanotube prices fetch about 100 million won per ton. LG Chem's annual sales from the carbon nanotube business are projected to stand at about 40 billion won, insignificant for its total annual sales of 20 trillion won.
The global carbon nanotube market is growing fast. The value of the market is predicted to soar with an average annual growth rate of more than 10 percent through 2020.
LG Chem's determination to restructure business portfolios with a focus on value-added products to drive away newcomers is extraordinary, according to analysts. The company's strategy is designed to block out Chinese and the Middle Eastern companies trying to elbow their way into the market.
Korea has to brace for the possible expansion of plants in China and the Middle East, which are flush with case because of the booming petrochemical industry. LG Chem believes it cannot maintain a competitive edge with only with only general-use products.
"We cannot go ahead only with the conventional products for general use, which is expected to get fiercely competitive," said President Son Ok-dong of the Basic Material Business at LG Chem. He added LG Chem plans to lead such next-generation materials markets as carbon nanotube.
In the past, global leaders in the United States, Japan and Europe focused on value-added products that late-comers cannot follow due to an advantages in economies of scale and technology.
LG Chem aims to raise revenues from value-added products from about 3 trillion won in 2016 to 7 trillion won by 2020. To this end, the company plans to pour 400 billion won in facility investments for the production of elasto by 2018. Elasto is an advanced material used for the production of car bumpers. The company plans to divert a portion of sales to "super engineering plastics" for lightweight and super absorbent polymer (SAP) for diapers, while striving to acquire companies with promising technologies.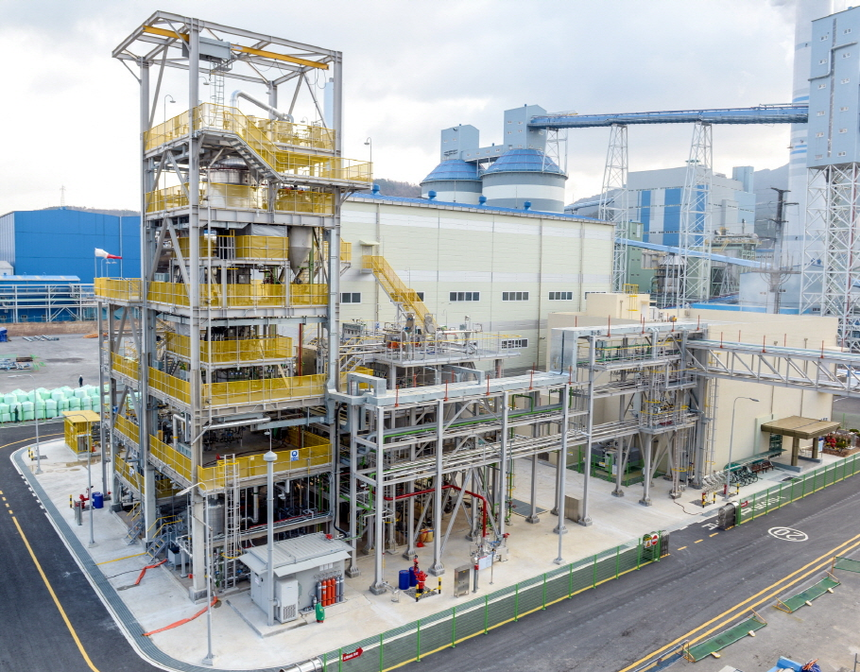 LG Chem's carbon nanotube factory in Yeosu. (Photos: LG Chem)