Minister Joo Hyung-hwan of the Ministry of Trade, Industry and Energy (MOTIE) participated in a New Year's gathering for those in the design industry hosted by the Korea Institute of Design Promotion (KIDP) at the Korea Design Center in Bundang, south of Seoul, on Jan. 11. He was one of about 250 people on hand at the event.
He said that design will play an important part in customizing service for customers by using smart technologies in the era of the 4th Industrial Revolution.
MOTIE Minister Joo gave words of encouragement to participants from the industry and academic circles for their contributions to the development of the Korean design industry and the achievements that the industry made in 2016. He shared with them the direction of the ministry's policies for the year ahead.
Looking back in 2016, Joo said that last year would be remembered as a year in which the industry made concerted efforts to regain the dynamics of its exporting prowess. The achievements were owed to the government's steps, which called for making design products "premium," among others, on top of companies' efforts.
The MOTIE came up with a plan last June, and strategies to innovate design last August. Minister Joo said consumer products, including daily supplies, helped the industry make feats: major consumer exports' surged a whopping 16 percent, aided by "design management."
But Minister Joo noted that external and internal conditions are predicted to be less favorable this year in the wake of uncertainties stemming from protectionist moves and U.S. interest rate hikes, as well as the exacerbating of dampened domestic consumer sentiment.
He stressed the need to secure new growth momentum by making the most of the 4th Industrial Revolution, which looms on the horizon. In particular, he said that design capabilities are forecast to play an important role in customizing in producing products and services customers want by using smart technologies in the era of the 4th Industrial Revolution.
Joo reiterated his commitment to implement steps the ministry announced in 2016 without wavering so that the design industry could raise its competitive edge, and SMEs and mid-size superstars can be rearmed with improved design capabilities.
The MOTIE plans to invest a combined 40 billion won by 2020 to foster the top 100 design mid-size superstars. The ministry also plans to introduce an R&D voucher program to support SMEs whose design development is badly needed for exports. They are designed to offer a full range of support, ranging from R&D for converging design and technology to design-oriented consulting services, the hiring of gifted designers and marketing and publication.
The government plans to cultivate more than 1,000 high-caliber designers with a comprehensive understanding of design and technology convergence by 2020. It plans to provide support to new designers who want to become innovate entrepreneurs with a challenging spirit. Design convergence graduate schools will be expanded from three in 2017 to 10 in 2020.
The government strives to reinforce institutional reform to protect patent rights in the design field. "IBM's success management tenet: 'Good design is good business' is still a good strategy that may be good for our companies making preparations for the advent of the 4th Industrial Revolution," Minister Joo said.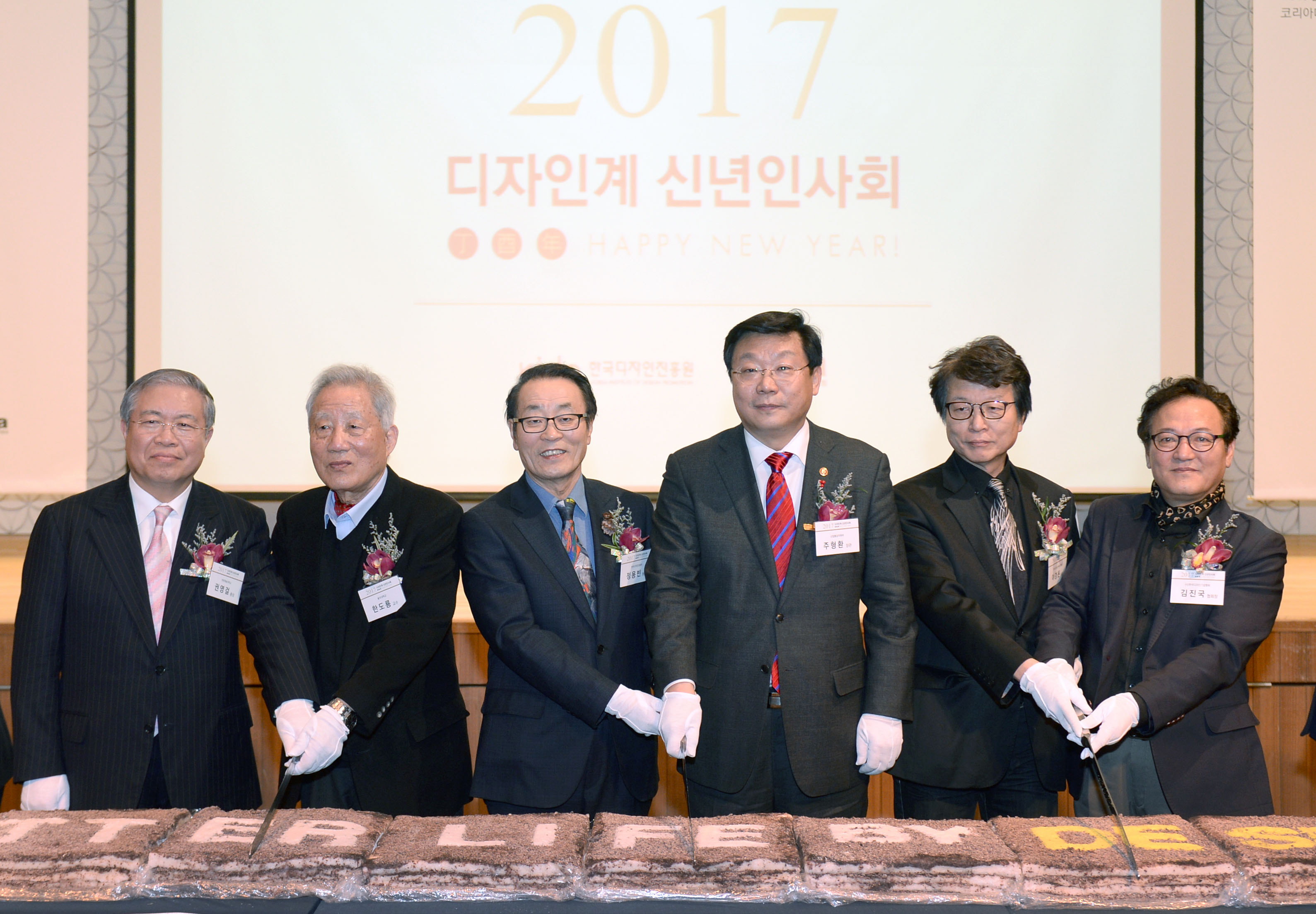 Dignitaries, including MOTIE Minister Joo and KIDP President Jung Young-jin, attend a New Year's gathering for those in the design industry. (Photo: MOTIE)