Officials in the Korean petrochemical industry community pledged to solidify fundamentals with a challenging spirit, renew themselves and kick off efforts to make the country an advanced chemical powerhouse. His remarks came at a New Year's gathering on Jan. 12 for with industry players.
About 160 people from government, industry and other walks of life attended the meeting at Seoul Plaza Hotel in Seoul, hosted by the Korea Petrochemical Industry Association (KPIA). Among those on hand at the event were Minister Joo Hyung-hwan of the Ministry of Trade, Industry and Energy (MOTIE); KPIA Chairman Huh Soo-young, current Lotte Chemical president; LG Chem Vice Chairman Park Jin-soo; and Hanwha Chemical President Kim Chang-beom.
MOTIE Minister Joo said, "The year 2016 was a year when a light of hope was able to be seen at the end of a dark tunnel."
He extended thanks and words of encouragement to the petrochemical industry for seeing exports rise 9.2 percent in the fourth quarter of last year, thus contributing to helping the nation's total exports increase 1.9 percent in the quarter, ending a seven-consecutive quarter decline.
The government, industry and civilian experts joined forces in establishing steps to ramp up the competitiveness of the petrochemical industry. The restructuring of the petrochemical industry has begun in earnest, while the industry focused on securing unit price competitiveness through the enlarging of facilities and diversifying raw materials. These contributed to laying the groundwork to help the industry rise to an advanced global chemical powerhouse, Minister Joo said.
As such uncertainties as geopolitical changes, protectionist moves and recent international crude oil hikes are forecast to be exacerbated in 2017, Joo called for the industry to take a step forward without wavering. He suggested three policies for this year: restructuring, boosting exports and creating new growth engines.
KPIA Chairman Huh said, "The year 2016 was evaluated as a year when the petrochemical industry posted the best-ever business performance thanks to rising product margins riding on a drop in law material prices, caused by low international crude oil prices." He called for the industry to improve fundamentals in the mid- and long-term to secure a competitive edge and to closely examine market environment and trade policy changes. Huh urged the industry to explore new opportunities in keeping with changes following the advent of the 4th Industrial Revolution. He also stressed the need for greenhouse gas emission reductions in the era of the Post-2020 Climate Change Regime.
Industry leaders shared the view that business restructuring on a voluntary basis and preemptive measures to brace for the advent of the 4th Industrial Revolution will be conducive to making 2017 the first year of efforts to help the nation rise to an advanced global chemical powerhouse.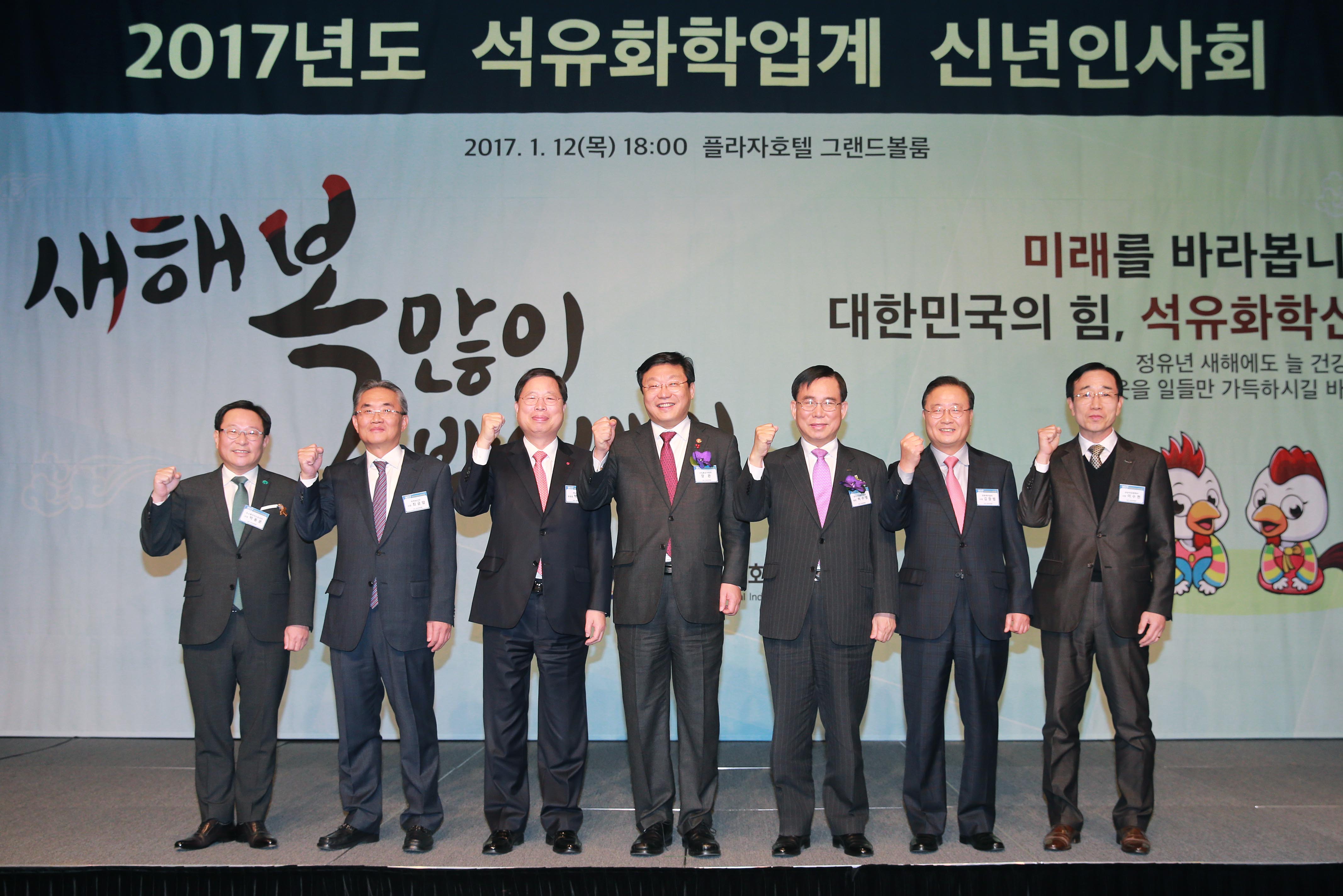 Dignitaries, including MOTIE Minister Joo, KPIA Chairman Huh Soo-young, currently Lotte Chemical president,; LG Chem Vice Chairman Park Jin-soo,; and Hanwha Chemical President Kim Chang-beom gesture at a New Year's gathering for people in the industry at Seoul Plaza Hotel in Seoul on Jan. 12 (Photo: MOTIE)