Korea Southern Power Co. (KOSPO) held sessions for companywide executives to take stock of corporation's future direction and pending major issues at the Samcheok Power Generation Headquarters in Gangwon-do from Feb. 2 to Feb. 3. The meetings were designed to mark the successful dedication of the Samcheok Power Generation Headquarters, now under construction, which will be a core power generation complex for the power company, and have a look at safety inspection of the site and put into practice site management tasks.
President Yoon Jong-geun and other KOSPO executives examined the current situation of the test operation to ensure safety and the implementation of steps to spread companywide awareness of safety during the upcoming thawing period. President Yoon urged the participants to do their best to fulfill their duties with a sense of caution until the completion of the construction.
Following the meeting, KOSPO held a ceremony to award a letter of appointment to Koh Myung-seok, former head of the New Business Corps, who was tapped as the head of the Technology Safety Division.
The session was followed by lectures by outside experts, and executives' team-by-team discussions that explored ways of implementing emergency management and innovations. In particular, the executives' team-by-team discussions brought innovative ideas toward 2020 mid- and long-term business strategies, and ways of invigorating a wage peak system, improving merit-based annual compensation, and upgrading management innovation.
President Yoon called for the participants to do their utmost to carry out their own duties despite external and internal hard business conditions. "KOSPO will have to concentrate its investments on the implementation of new energy businesses, and new and renewable energy business projects to give a shot to the national economy and the energy industry as well as spearhead a public entity's functions to make people happy by creating good-quality jobs for youth," he said.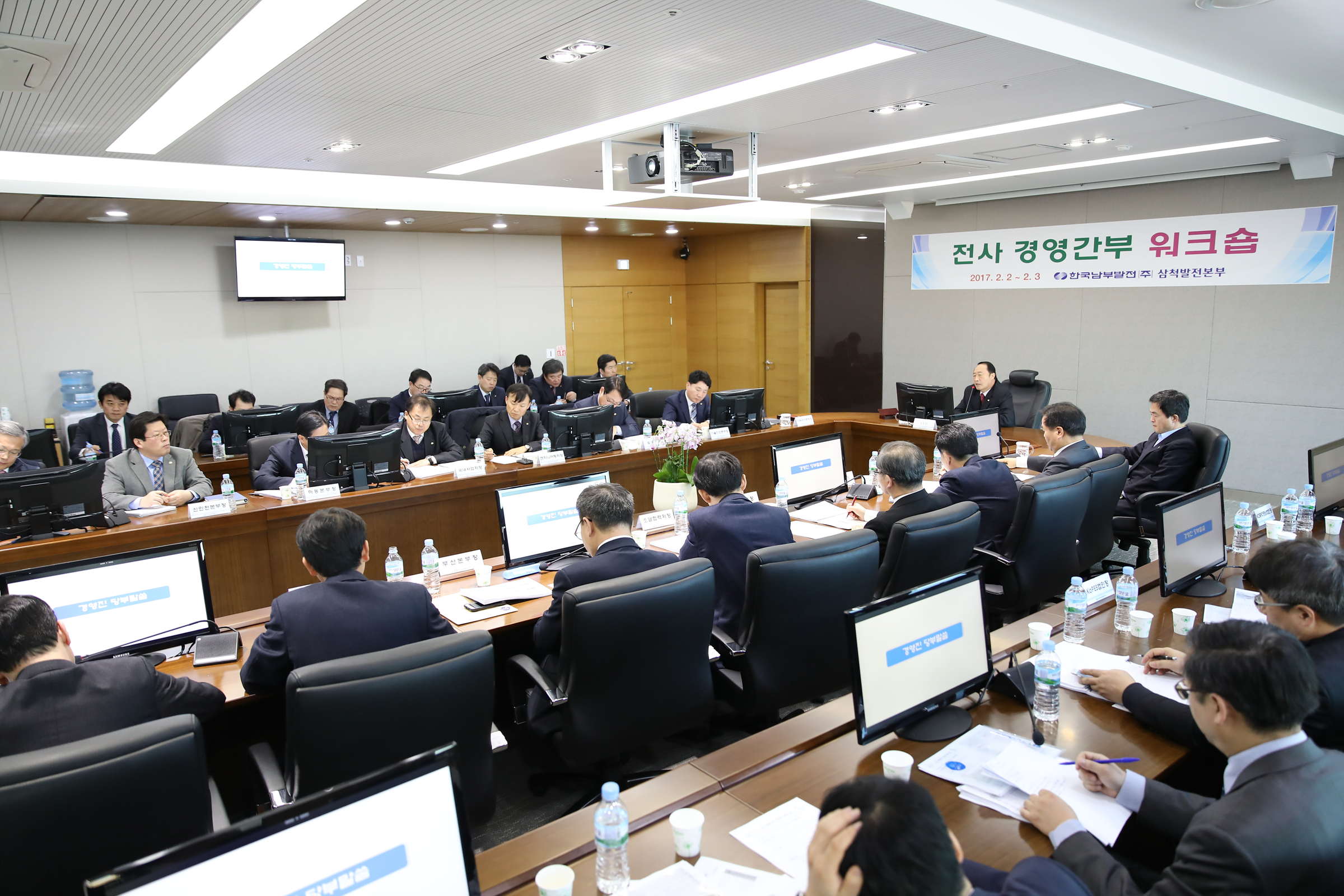 KOSPO holds an executives' workshop at the KOSPO headquarters.
KOSPO celebrates the commercial operation of the Samcheok Power Generation Headquarters in Gangwon-do. (Photos: KOSPO)
Andong Power Generation Achieves Five-fold Industrial Accident-free Period Goal
KOSPO's Andong Power Generation Headquarters held a session to celebrate the power complex's operation for 84,900 hours between July 4, 2011 and Dec. 7. 2016 without industrial accidents, achieving a five-fold industrial accident-free period goal on Feb. 14. It plans to continue to keep the streak going by exploring near-miss accidents and educational programs.
The power generation headquarters awarded prizes to those who contributed to the milestone, including Kim Cheol-hyun, head of the Geyongsanbuk-do branch office, who educated 60 employees and company officials on safety and hygiene. In his New Year's message delivered at a ceremony to kick off the 2017 business year on Jan. 2, KOSPO President Yoon said, "I'm sure that the New Year, which is the red rooster year of Jeongyu to herald the dawning in the dark, will be a year in which we'll pave the way for continued growth in the future."