Korea Western Power Co. (KOWEPO) offers a one-stop service program to promote shared growth with cooperative SMEs, ranging from support for their operation funds to manpower development. Business leaders appreciate a program that is tailored to meet their actual needs by providing financial support up to 100 percent of SMEs' export insurance premiums.
Cofacs, a valve maker, is an exemplary case KOWEPO's one-stop service program. The company has succeeded in localizing control valves whose market has been dominated by advanced countries, including the United States and Germany. Control valves that automatically control pressure, temperature and flow volumes are in wide use not only for power plants, but also in other industrial equipment.
Cofacs was once a mid-size superstar company armed with its own R&D technology, which managed to explore overseas markets. But the company fell on hard times in the wake of the global economic recession in 2008. Cofacs failed to receive payments on exports and saw its debt ratio soar to 5,000 percent due to investments into R&D.
Cofacs resorted to axing its manpower, but the company failed to turn the corner.
KOWEPO launched a program to rescue Cofacs. Initially, the power company extended 1 billion won in long-term funds for "shared growth" to Cofacs.
The former assisted the latter in participating in overseas tradeshows. In 2015, KOWEPO opened a SME support center in Iran, forecast to see power consumption surge, to form a network with local industry communities. The network has been utilized to publicize the brand of Cofacs.
KOWEPO signed an agreement to implement a task to promote shared growth through overseas marketing support with Cofacs, calling for boosting exports through the local production of automotive control valves for power plants by the end of 2017. Under the deal, KOWEPO shoulders 200 million won out of the total project cost of 270 million won. KOWEPO has decided to reinvest in SMEs or donate to social organizations 1.25 percent of revenues it makes from Cofacs.
KOWEPO's one-stop service offered to Cofacs has led to the latter's singing an agreement to transfer technology on the production of control valves to the Iranian state-run company FAPCO. KOWEPO helped Cofacs scrutinize documents on the technology transfer deal.
Under the deal, Cofacs will receive $2 million in technology royalties in return for transferring valve and production technology, including manpower development, to FAPCO on top of supplying $50 million worth of control valves for three years.
KOWEPO will educate Iranian manpower in cooperation with its research institute, which is armed with educational know-how and facilities.
KOWEPO plans to promote shared growth with SMEs by continuing to provide support tailored to meet their needs.
The power company plans to reinvest in SMEs or contribute to social bodies the proceeds KOWEPO receives by sharing the revenues. "We'll explore SMEs with world-class technology and growth potential and provide support to help them grow to hidden champions," KOWEPO President Jung Ha-hwang said.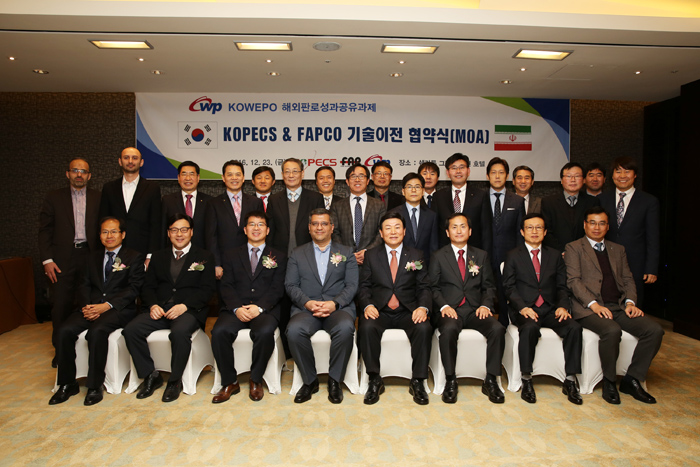 Thanks to Korea Western Power's one-stop service program, Cofacs has signed an MOA to transfer technology on the production of control valves to the Iranian state-run company FAPCO. (Photos: KOWEPO)