Korea East-West Power Co. (EWP) is expanding its business portfolio from the conventional power generation business to related consulting and operation and services.
The power company is developing a way of optimizing the operation of power plants by analyzing big data.
Last December, EWP opened a power generation technology development institute under the umbrella of the power company to evolve the core capabilities the power company has accumulated in the course of generating power into service business models. The institute plans to commercialize power generation solutions in 17 areas.
They include consulting service for building enterprise resource planning (ERP); the construction of power units; inspecting the quality of materials and equipment; power unit test-operation; biomass engineering; new and renewable equipment total solutions; retrofit design; fuel purchase; burnup control; operation and maintenance (O&M); smart power plant; remote control of power unit; equipment diagnosis; maintenance regime diagnosis; equipment management; function/unit price management; and operation manpower development.
EWP aims to raise revenues in the commercializing of the power generation solutions to 200 billion won by 2030. "EWP expects the technology development institute to play a leading role in an era of the 4th Industrial Revolution," said EWP President Kim Yong-jin. EWP is striving to develop technology to optimize the operation of power plants by analyzing related big data. On Jan. 19, the power company signed an MOU on technologies to spearhead the Power Generation Industry 4.0 Initiative with General Electric Energy Korea.
EWP plans to optimize the operation of its power plants by diagnosing and analyzing their big data by integrating its own database with the Asset Performance Management (APM), GE's industry internet solution platform. Under the agreement, EWP plans to accumulate expertise on the operation of intelligent "smart plants" and commercialize business models.
On Feb. 3, EWP signed an agreement on technology cooperation to lead the Power Generation Industry 4.0 Initiative with KEPCO KDN. Under the deal, EWP's power generation technology development institute plans to develop solutions to realize smart power plants by employing such new ICT technologies as artificial intelligence in the power generation industry in cooperation with KEPCO KDN.
The agreement will cover 10 tasks, including priority cooperation tasks analysis and improvement of ICT work processes for power generation and operation; cooperation in the development of new solution items for solution suppliers; the development of power generation solution technology solutions using big data; and human resources exchange of educational training support for the joint pursuance of solution suppliers.
EWP targets the laying of an infrastructure to utilize data from five power complexes ― Dangjin, Ulsna, Honam, Donghae, and Ilsan power plants. EWP plans to utilize Danjing Thermal Power Units 9 and 10, the nation's first 1,000MW-class power plants, as "smart power plants" by retrofitting advanced ICT technologies, an EWP official said. The power company plans to launch an alliance among corporate owners of new technologies in the power generation industry.
EWP is also devoting itself to exploring new energy industries. Its priority business is about the utilization of hot waste water.
The Dangjin Thermal Power Complex has delivered abalone it raised in a net-cage farm to the local fisheries community. Dangjin has been involved in the cultivation of abalone by converting hot waste water into an energy to raise the income of those in the local fisheries industry since 2012.
EWP's portion of the conventional photovoltaic power and wind power surpass those of other new and renewals energy sources. Starting with a 4MW-class photovoltaic power facility, the Dangjin Thermal Power Complex now operates photovoltaic power units with a combined capacity of 30.6 MW. The complex plans to raise the photovoltaic power capacity to 242.7MW, while expanding wind power facilities.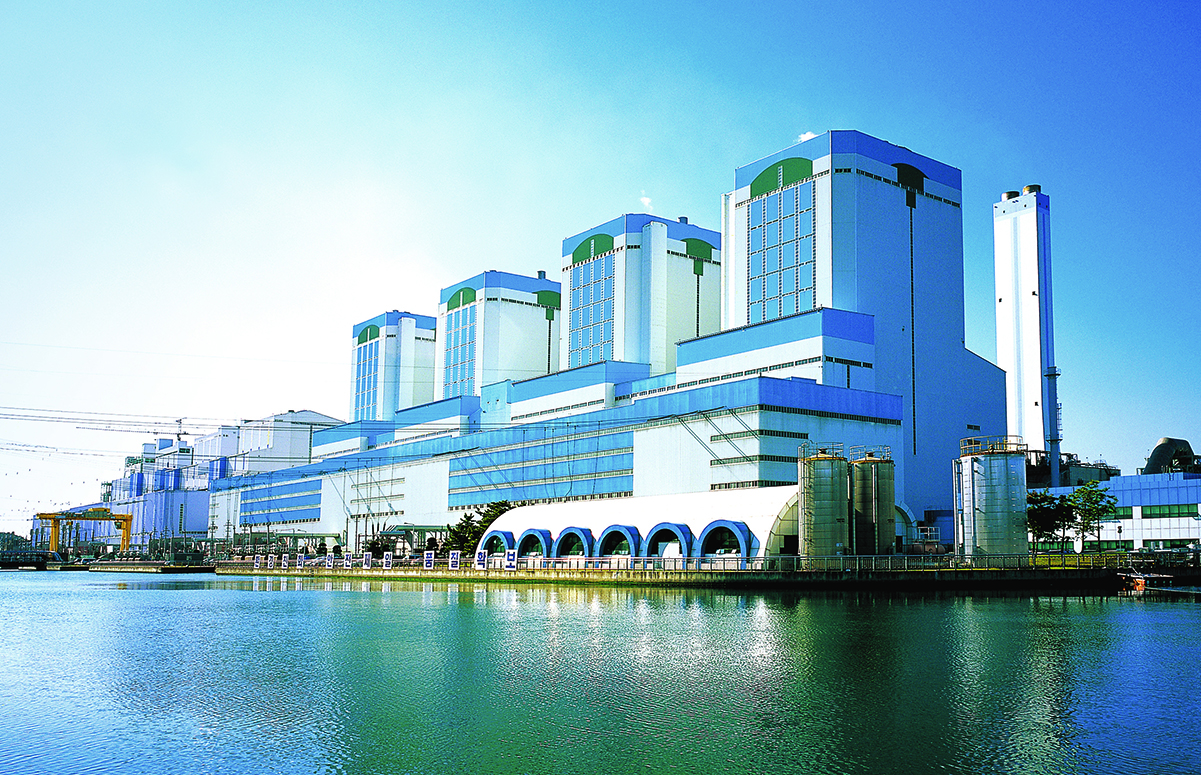 A view of the Dangjin Thermal Power Complex. (Photos: EWP)