Chairman Lee Pil-woo of Seoul National University's Advanced Center for Administrative Development Alumni (SNU-ACADA) is ushering in the "Year of Jeongyu." Lee has been reelected SNU-ACADA chairman; chairman of the Central Fraternity Association of Gyeongju Lee Genealogy; and chairman of the 11th National Assembly Parliamentarians Committee. Lee is also chairman of the Association of Chungcheongbuk-do Residents in Seoul.
Welcoming the New Year, the Year of Rooster, Chairman Lee said, "The Year of Jeongyu is the Year of Red Rooster according to the zodiac cycle of 12 animals."
"The rooster, deemed as an auspicious animal from ancient times, is said to be armed with five virtues," he said. "They are the pen for the cockscomb, a symbol of the crowned head, the sword for sharp claws, the guts for fighting with enemies without backing up, benevolence for sharing food, and trust for making it on time, that are equivalent to the five constant virtues human beings need to be endowed with."
Chairman Lee stressed the need for the restoration of the five virtues, while explaining the significance of the Year of Jeongyu.
Last year, he began to make preparations for the opening of Chunghyomun ("Gate of Loyalty and Filial Piety"), an educational institution to teach loyalty and filial piety, at Yongchuwon, his retreat at the Gaeryong-ni, his native village in Chupungnyeong, Yeongdong-gun. Lee had the inscription "loyalty and filial piety" on a rock placed at the gate of the retreat, and also the inscription "benevolence and rightness" on another rock, indicating his determination to make Chunghyomun a place to educate loyalty, filial piety, benevolence and rightness.
"Loyalty, filial piety and benevolence are the supreme virtues we in this day and age have to be endowed with," Chairman Lee opined. "Home is a foundation for human lives, and it is natural for individuals to cherish loyalty toward their homeland," noted the chairman, adding that "An ancient saying goes 'A man who practices filial piety at home is bound to be loyal toward the nation, isn't it?'"
Benevolence and rightness mean people need to share "upright attitude. Our society is getting prevalent with a tendency of getting stingy and incorrect virtues from some time ago," he said.
Noting that Korea was caught up with upheaval last year, Chairman Lee Pil-woo emphasized that "the president should be worthy of being a president just as a subject is worthy of being a subject and siblings do what they are bound to do."
Explaining last year's swirling vortex of unrest within Korean politics and society, Chairman Lee stressed that Korean society will be stabilized when people perform their own duties with the right attitude.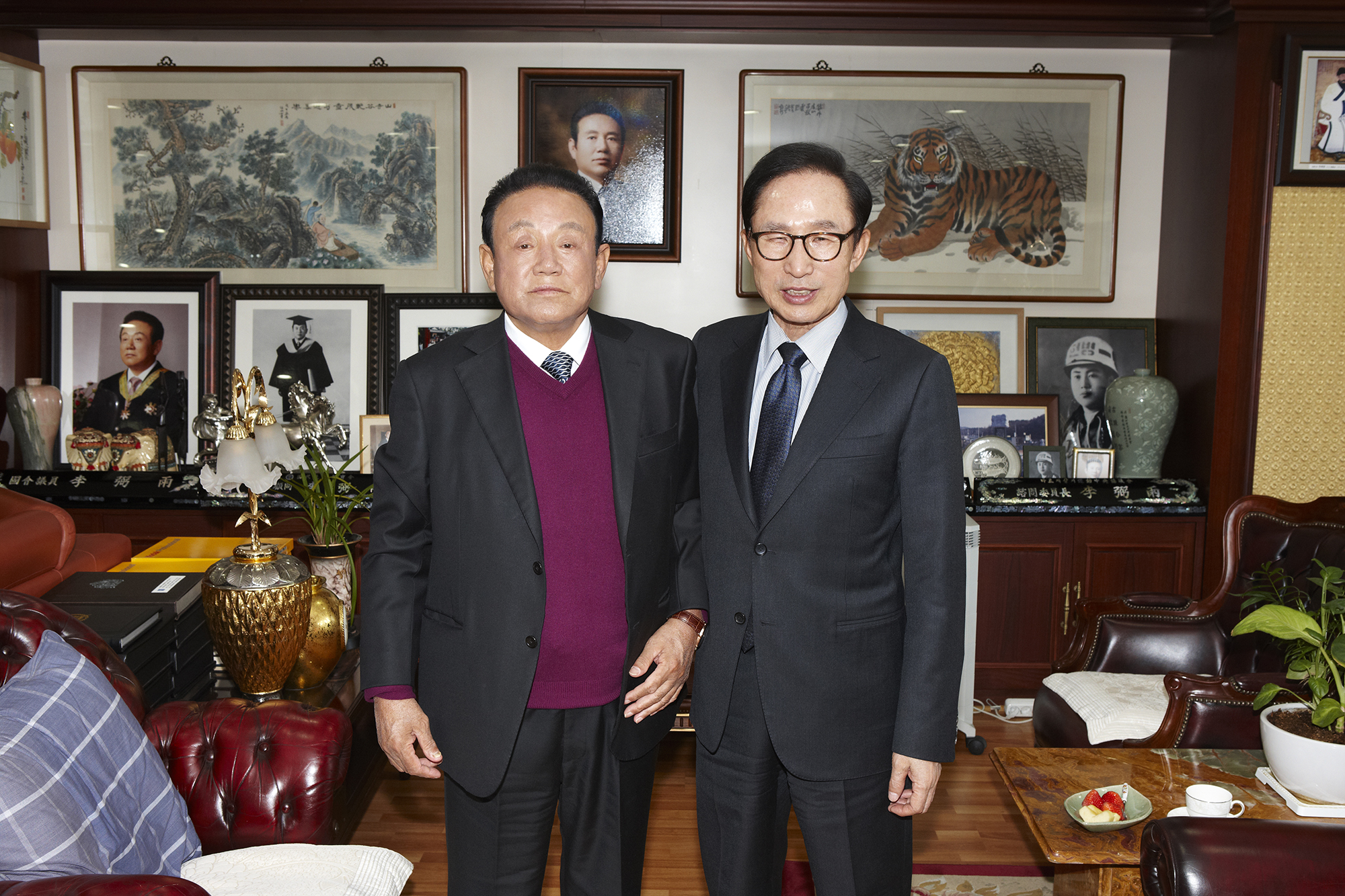 Former President Lee Myung-bak visits the Office of the Association of Chungcheongbuk-do Residents in Seoul to meet with Association Chairman Lee Pil-woo. SNU-ACADA Chairman Lee also serves as chairman of the Central Fraternity Association of Gyeongju Lee Genealogy, in which ex-President Lee is a member.
SUN-ACADA Chairman Lee Pil-woo gives a plaque of appreciation to former prime minister-ex SNU president Chung Woon-chan, who lectured on shared growth at the National Policy Forum.
Lee quoted "mushinbullim," a Chinese saying that means "trust is the strength by which individuals and society can be shored up." If a person gains credibility, he or she can succeed, and leaders need to receive support based on people's reliability, he added. Trust Chairman Lee has put into practice for his whole life has been the key to his success.
He has been utilizing the virtue not only with his superiors, but also to his friends and neighbors. "Those who work with a sincere attitude without lying are bound to succeed," Lee said.
Chairman Lee, serving as a Navy officer for the military, worked as an aide to the late president Syngman Lee. When he was posted as a security officer at the presidential retreat in Jinhae, Lee discovered two different editions of each newspaper published and delivered, since then-vice president Lee Ki-bung desired only a version delivered concocted with "good contents."
Lee had a meeting with the provost marshal general and told him, "How dare the president could be cheated with the different version of each newspaper being delivered to the presidential mansion on the same day?" The provost marshal general told Lee, "If something went wrong, you might be killed by Lee Ki-bung, so you should be silent."
But Lee presented the two different versions of each newspaper to President Lee. The president asked him, "Who did this?," and he replied, "The vice president did." The revelation of the cheating case served as a watershed moment in the fall of vice president Lee Ki-bung. Lee killed himself after he was fired as vice president. The chairman's fighting against injustice as a man of integrity and justice became an epoch in Korean history.
In the early days of the Year of Jeongyu, the lounge of Chairman Lee's office has been crowded with former influential figures in the political, government, academic, and media circles. Lee, who has met with all visitors without refusing anyone, would speak about how to live a life in a wise and trustworthy manner.
Chairman Lee's luncheon with leaders from several walks of life has become kind of a popular event along the lines of Warren Buffett. But if anyone wants to have a lunch with Buffett, that person has to land a bidding worth tens of thousands of dollars to be invited. Just as Buffet has been speaking about his personal life experiences during luncheon meetings with invited persons, Chairman Lee would tell visitors stories about a process of accumulating wealth and how to live a life in a wise manner.
In such meetings, he emphasizes that living a life with the right attitude -- free of telling lies and in a sincerely manner -- is the key to a successful life. He stressed that if anyone is indulged in greed, it will sully himself or herself, and success will be impossible to attain.
Lee has built a four-story structure with 870 sq. meters of floor space in a high-priced lot in Nonhyeong-dong, Ganganm-gu, Seoul. He opened up the office to be free for members of the association to relax and have meetings, when he could have received hundreds of millions of won in deposit money and tens of millions of won in monthly rental fees. The free tenant organizations of the structure include the 11th National Assembly Parliamentarians Committee, the Headquarters of the Campaign for Sending Books to Overseas Korean Expats, the SNU-ACADA, the National Elders' Council, and the Association of Yeongdong-gun Residents in Seoul.
Chairman Lee's strenuous 17-year-old support of the Headquarters of the Campaign for Sending Books to Overseas Korean Expats demonstrates his patriotism. Last year, through the headquarters, he distributed about 100,000 books to schools in remote areas, military barracks and homes for the elderly, as well overseas Korean expats. He was honored with the Civil Merit Medal in recognition of his contributions to the cause. His winning of the order is owed to his innate compassion and affection. Lee also gives away his book "99 Success Stories" containing his life philosophies.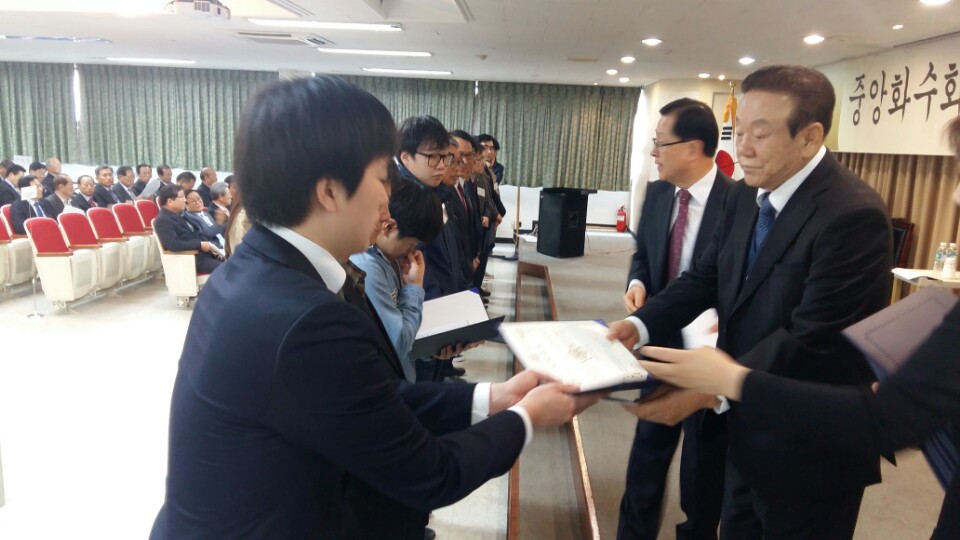 Chairman Lee Pil-woo of the Central Fraternity Association of Gyeongju Lee Genealogy presents scholarships and filial piety awards to youths at a association's meeting. (Photos: Chairman Lee's Office)
Last December, Chairman Lee offered scholarships in the name of the Association of Chungcheongbuk-do Residents in Seoul. His support of the scholarship program is said to be extraordinary. The number of beneficiaries who have received scholarships from Lee over the decades stands in the thousands.
Lee launched the scholarship program with 100 million won in seed money. The scholarship has since swollen to 20 billion won. A few million won is now offered each year to exemplary students who want to continue their studies. Many talented beneficiaries of the scholarship program have grown up to serve as lawmakers and ranking officials in the judiciary, police and other public offices. Lee invites chairmen of the associations of cities and county residents to a year-end meeting to hand out scholarships, which they deliver during their respective general assembly meetings.
He contributed an article on the virtue of harmony to the New Year issue of the journal of the Association of Central Fraternity Association of Gyeongju Lee Genealogy.
Lee stresses "solidarity" as his New Year buzzword. He emphasized that each family needs not only to have harmony, but also to a spirit of forgiving and servicing others.
"Elderly people miss their native towns. My hometown of Chupungnyeong is specially lovable with good water, air and agricultural produce. I've apparently got to grasp ancient ministers' idea of returning to their native town and spending remaining years of their life. Please come over and relax to the Chunghyomun, to be rebuilt at Gaeryong-ni."
Of late, he has been making frequent visits to Yongchuwon to take care of his parents' tombs and the construction of the Chunghyomun. His favorite Chinese poem is "Homecoming," Song Tao Yuanming's poem about relaxing and living free from worldly fears. The Yongchuwon is a space for accommodating about 100 people, including students for education in loyalty and filial piety, as well as acquaintances from Seoul. An application has been field for a construction permit for the Chunghyomun, with groundbreaking slated for spring.
Chairman Lee's volunteering philosophy is "do not let your left hand know what your right hand is doing." For instance, he donated 1 billion won for the construction of the building of the Central Fraternity Association of Gyeongju Lee Genealogy, but would not divulge it to the media.
Lee toured the United States to take a rest with his daughter and granddaughter, which was summa cum laude when she graduated from the prominent University of California, Berkely and is now attending a life science graduate school at Harvard University. She has become the subject of envy from people for the cleverness she has apparently inherited from her maternal grandfather.
Chairman Lee's travels with his family are part of his life philosophy "When one home is harmonious, all goes well."