At its press conference at CES 2017, Samsung Electronics unveiled its vision for 2017 and how it is reaching higher with a wide range of innovations to provide consumers with their best experience yet. Key product announcements included the stunning new QLED TV lineup, FlexWash™ + FlexDry™ laundry system, Samsung's first-ever gaming laptop, and updates to the Gear S3 smartwatch. With these innovations, Samsung demonstrated its leadership in pioneering new technology that truly fits with consumers' lives in more personalized, intuitive ways.
"Despite some challenges, we've made big strides in 2016, gaining market share in TVs, home appliances, wearables and smartphones," said Tim Baxter, President and Chief Operating Officer of Samsung Electronics America. "By listening to our consumers and building on our heritage of innovation, we are delivering on our vision of the future one that is powered by connected and elegantly-designed products and services that put consumers firmly at the center."
Featuring incredible advancements in the development of Quantum dot technology, Samsung unveiled the 75-inch Q8C QLED TV, which adds new metal material to nano-sized semiconductor quantum dots to deliver the perfect mix of light and color currently available in display technology. The result is a stunning large-screen QLED TV, with an incredibly accurate and precise picture that can be viewed from any angle or in any environment.
Samsung QLED TV takes Quantum dot technology to new heights with advanced light efficiency and stability, as well as a wider color spectrum than ever before.
The new QLED TV also features truly deep black levels, perfect 100% color volume when measured with DCI perfect match, and HDR optimal brightness of 1,500 ~ 2,000 nits. Samsung QLED TV's new panel design also reduces reflection so consumers can see every bold detail with unbelievable levels of contrast. Finally, QLED delivers this level of performance regardless of where one is sitting, with consistent color and picture quality from any viewing angle.
New design elements introduced by Samsung enhance the QLED TV experience even further.
The practically invisible optical cable helps to solve the issue of unsightly cords and clutter that can be found in the home with a sleek, single cord system. Additional accessories include the optional "No-Gap Wall Mount," which makes mounting a TV flush against the wall simpler and faster than ever before. Finally, for those who desire a variety of stylish options when displaying their TV, Samsung introduced two new optional elegant TV stands — Gravity and Studio — that appeal to the consumer who prefers an un-mounted TV.
In addition to the new TVs, Samsung also detailed plans to deliver a more unified experience for customers using various services and devices. Last year's hit Samsung One Remote has been enhanced to support even more devices and offer voice control capabilities across more Smart TV features. And Samsung SmartView app — available on Android and iOS — allow users to get their personalized SmartHub experience right on their phone, as well as notifications of new content even when the user's TV is off.
New to the Smart TV experience in 2017 is the Samsung Sports service. The Sports Service ensures that sports fans will never miss a moment, with customizable content and alerts based on a user's team preferences, powered by real-time partnerships with the biggest content players in sports today.
Rounding out this year's new Smart TV portfolio of offerings, Samsung has extended its popular global service, TV PLUS, to the U.S. market. A new entertainment app exclusively available on Samsung Smart TVs, TV PLUS conveniently brings high quality content into a single app on your TV for the most premium viewing experience. Paired with Samsung Checkout, TV Plus is the fastest way to connect with the entertainment consumers love, right out of the box. In addition, Samsung has also partnered with FandangoNow in the U.S. to bring instant access to rent or buy more than 40,000 movies and shows, including new releases in 4K HDR.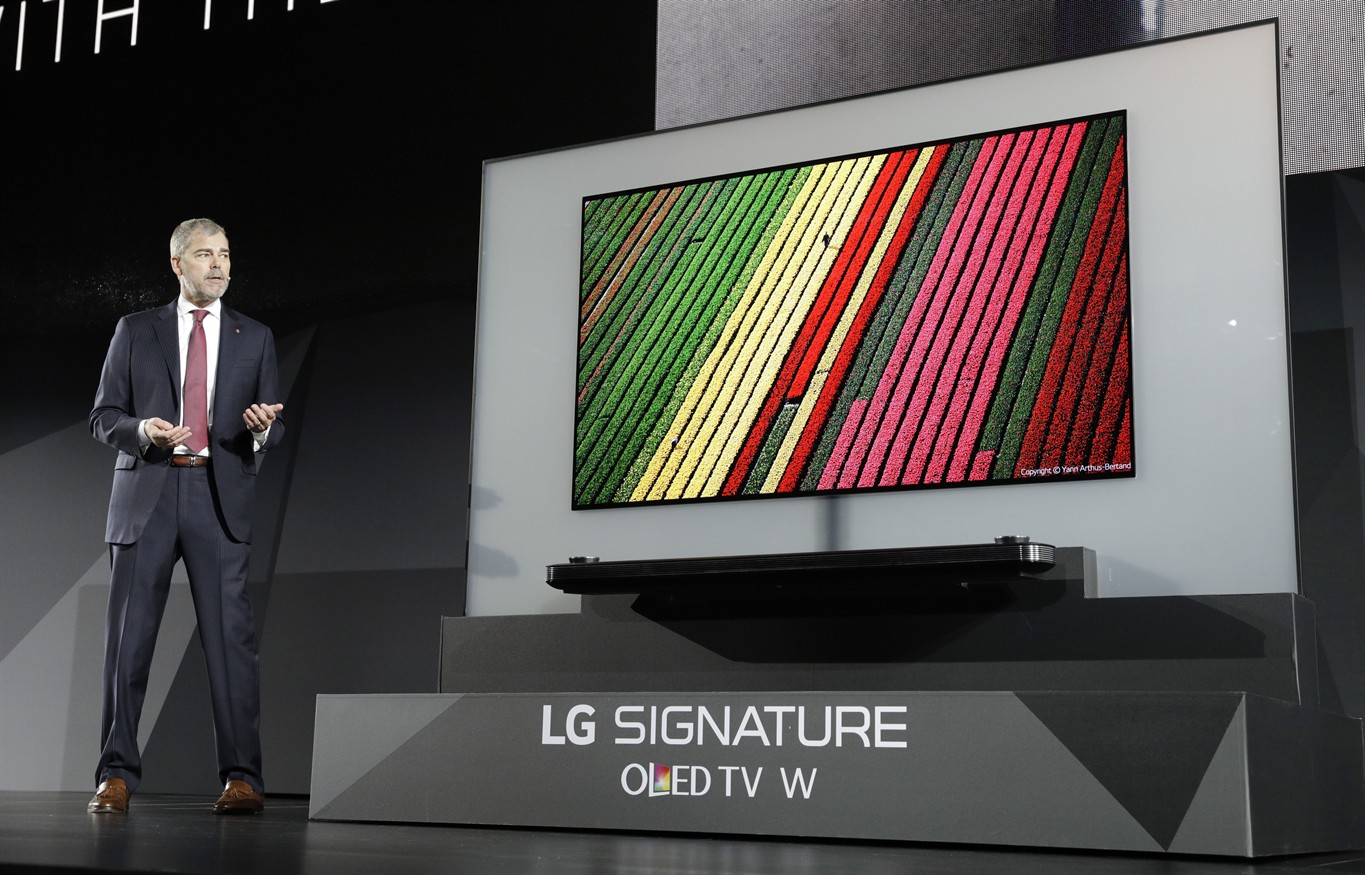 LG Signature OLED TV Pushes TV Design into a New Dimension at CES 2017
INTO A NEW DIMENSION AT CES
Featuring Picture-on-Wall Design, Dolby Vision, Dolby Atmos, Color Science Expertise by Technicolor, Most Premium OLED TV Delivers Unrivaled Home Cinema Experience
LG Electronics (LG) took the stage at CES 2017 to unveil its newest top-of-the-line LG SIGNATURE OLED TV W as the pinnacle of its new lineup of flat-panel TVs at CES 2017. Featuring Dolby Vision™ and Dolby Atmos™ sound, the new lineup includes a total of ten different models, highlighted by the 2017 CES Best of Innovation Award winner, the 77-inch LG SIGNATURE OLED TV W exemplified by its Picture-on-Wall design.
The LG 2017 OLED TV lineup, consisting of models 77/65W7, 77/65G7, 65/55E7, 65/55C7 and 65/55B7, will continue to live up to its unrivaled ability to reproduce the most lifelike images of any TV product with perfect blacks, infinite contrast and an expanded color gamut. The company's latest OLED TVs are built on this foundation of excellence and come with a number of new cutting-edge features designed to transform the TV into a comprehensive entertainment hub. LG's 2017 OLED TVs feature the amazing blade-slim design of the B7 and C7 series, Picture-on-Glass design of the E7 and G7 series and the unique Picture-on-Wall design of the newest W7 series.
The innovative design of the W7 series follows LG's "less is more" philosophy, stripping away everything to emphasize the beauty of the screen alone. The W7's sleek razor-thin profile makes the TV appear to be levitating in mid-air, adding to the sense of immersion. The OLED panel, measuring only 2.57mm thin in the 65-inch model, can be mounted–directly on the wall with only magnetic brackets, eliminating any gap between the TV and the wall.
The sense of immersion is completed by up-firing speakers and unrivaled Dolby Atmos sound. This design of the W7 series invites the illusion of gazing out a window, not of watching TV.
The W7 OLED TV series builds on LG OLED's revolutionary pixel dimming control technology, which renders perfect black without any light leakage to offer a limitless contrast ratio, with one billion possible colors. What's more, all LG's 2017 OLED TVs use ULTRA Luminance technology to deliver greater brightness where needed.
Leveraging the high dynamic range (HDR) technology that powers Dolby's most advanced cinemas around the world, Dolby Vision elevates the home TV viewing experience by delivering greater brightness and contrast as well as a fuller palette of rich colors. Dolby Atmos puts viewers inside the action with rich sound that fills the entire room — even the space overhead — with powerful, moving audio that flows around the audience. Dolby achieves this by isolating the relative location of each sound to create incredibly intricate audio that is as rich and multi-layered as the real world.
As the first TV in the world to offer Dolby Atmos, 2017 LG OLED TVs can deliver content with both cutting-edge imaging and state-of-the-art sound technologies simultaneously, creating an entertainment powerhouse. Together, Dolby Vision and Dolby Atmos deliver a comprehensive solution supported by professional content creators and distributors the world over.
Over 80 studio titles are compatible with Dolby Vision and more than 100 titles are currently available for Dolby Atmos, with 25 available in both formats. What's more, over 100 hours of original content is available in Dolby Vision across leading OTT providers worldwide and soon consumers will have access to Dolby Vision titles on Ultra HD Blu-ray disc, with anticipated availability in 2017.
The W7 series and all LG 2017 OLED TVs feature Active HDR for displaying next-generation HDR content designed to render brighter scenes and greater shadow detail.
Active HDR allows LG TVs to process the picture frame by frame, inserting dynamic data where needed. This technology allows the TV to offer the best picture even if the original HDR content contains static or no metadata at all. And all of LG's 2017 OLED TVs support the full palette of HDR formats, including Dolby Vision, HDR10, HLG (Hybrid Log Gamma) and are ready to support Advanced HDR by Technicolor technology. This versatility is compounded by the new HDR Effect feature which processes standard definition content frame-by-frame to improve brightness in specific areas, enhance contrast ratios and render more precise images.
Featuring the latest version of LG's intuitive webOS smart TV platform, version 3.5, viewers will have no trouble accessing premium HDR content online. In order to offer viewers access to the most convenient home cinema experience possible, LG has partnered with leading digital content providers such as Amazon, Netflix and Vudu.
To demonstrate the capabilities of HDR content on LG's OLED TVs, HLG programming from DIRECTV, Dolby Vision content from Netflix and HDR10 titles from Amazon Prime Video will be featured at LG's booth at CES. The new LG OLED TVs embed cutting edge technology and renowned color science expertise from Technicolor. They apply the same technology and expertise used in the majority of premium Hollywood productions from movies to episodic series.
This allows consumers to enjoy the most vibrant and lifelike viewing experiences while accurately recreating the artistic intent of content creators. Because of the superior picture quality of OLED technology, Technicolor is working with LG to expand the capabilities of its OLED TVs for use in production facilities around the world.