Ewha Womans University Cancer Center for Women Is Rising to World-Class Cancer Hospital
Director Paik of the cancer center says they are accelerating strategies to go both global and local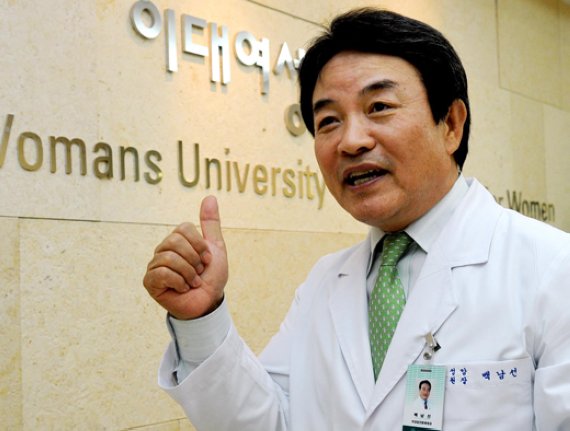 Dr. Paik Nam-sun has been putting into action his strategies to globalize Ewha Womans University Cancer Center for Women, the nation's only cancer hospital for women, the vision he unveiled as he took the helm at the center about one and a half years ago.
Paik led a volunteer medical team comprising Dr. Hong Sung-chul of internal medicine at Ewha Womans University Medical Center and eight resident doctors on a tour of Mongolia for a week from Aug. 16-22 at the invitation of Mongolian First Lady Bolormaa Khajidsuren. The team joined together with local Mongolian medical staff in treating about 300 patients at a local public health center in Argalant, 100 km from Ulan Bator.
Paik also performed an operation on two breast cancer patients at the National Cancer Center of Mongolia in the presence of the hospital's senior doctors following the volunteering tour, and he also appeared on Mongolia' s USB TV 's "Coffee & Tea" program to speak about how to prevent cancer. He has earned a reputation as a breast cancer specialist in Korea and abroad. Paik is famed for performing the first breast-conserving surgery in Korea. He has held such positions as chairman of the Asian Breast Cancer Society and vice chairman of the Korean Cancer Society. Paik became the 2001 Man of the Year in the United States and he was put on the list of the global top 100 gastric, breast, and cancer surgeons by the International Biographical Center of Cambridge in the UK in 2006.
Dr. Paik' s medical tour to Mongolia is part of his center' s scheme to make his center "global and local" with the goal of introducing other countries to Korea's medical ascendancy by conducting volunteer medical services, carrying out operations, and giving lectures in foreign countries. He has been conducting volunteer medical services in such countries as Kazakhstan and Russia and giving lectures on his expertise on breast cancer.
He plans to flesh out his globalization strategies by forging strategic alliances with globally-recognized hospitals and cancer centers in the United States, Hungary, and China. Nawal Abdulla Aljawhari, 44, became the first breast cancer patient from the United Arab Emirates who underwent an operation at Ewha Womans University Cancer Center for Women this past July in accordance with a hospital service agreement signed by the center and the Health Authority of Abu Dhabi (HAAD).
Paik stresses his center's strengths in differentiating it from other hospitals by citing such catchphrases as "The First, Best Global Women's Cancer Hospital," and "Patient Friendly, C-SMART Hospital." C-SMART Hospital is an acronym for: C (Creative, Confidence, Convenience and Comfort), S (Speed and Science), M (Management and Medical Tourism for foreign patients), A (Alumni and Alternative), R (Research and Revival), and T (Trust and Technology).
"We' re devoting ourselves to building the first and the best global women's cancer hospital beyond Asia by accelerating customer-oriented, creative and innovative activities based on assets the medical center has accumulated over the past 124 years of education for women, research, and medical treatment," he said.
Paik said he strives to make his medical center a good-value-for-money place by offering medical care to patients in a speedy and convenient fashion in order to enhance confidence among patients and make them feel confident in their healing as well as by taking into account the quality of their life so that they can enjoy comfort and solace after finishing medical treatment. The reality is that the cancer center is fast-tracking the diagnosing and performing of an operation within one week by removing red tape.
The center is gaining popularity as health checks are conducted in spaces exclusively for women, separating it from men, and expert coordinators are in place to give one-on-one services tailored to meet patients' specific needs, thus easing their anxieties and misgivings.
As part of efforts to accelerate the exploration of a broader clientele, he said, his hospital has been forming a human network among new Ewha Womans University graduates and overseas alumni and is introducing a wide range of state-of-the-art technologies. In particular, in the latest developments, Paik said, his hospital has introduced the Digital 3D Tomosynthesis Mammogra-phy, a cutting edge technology for clear imaging, fewer calls, and faster detection of cancer, and the Trilogy, a radiation machine that can treat cancer anywhere in the human body by precisely targeting a tumor and delivering a higher dose of radiation and requiring fewer treatment sessions. The latest medical systems promise to be a magnet for attracting more patients since it could minimize the time, economic, and psychological burdens by finishing radiation treatments after only one operation or reducing it to one week instead of the conventional two months.
Ewha Womans University Medical Center is setting its sights on rising to a world-class center in the soon-to-be "Magok Era" as a new medical center with 1,200 beds, more than the current medical facility with 850 beds, is to open in Magok-dong near Gimpo International Airport by 2017, a new satellite city now under development, he said. The hospital has already purchased a 4,455 square-meter (13,500 pyeong) plot under its mammoth master plan.
The scheme calls for Ewha Womans University Cancer Center for Women to make a leap forward toward the global medical market beyond Korea. The center is now famed for its excellent medical staff, including globally famed Center Director Paik, Dr. Moon Byung-in, chief of the Breast Canter/Thyroid Cancer Center, and Dr. Kim Seung-chul, head of the Female Tumor Center.
His current position may be the last of his contribution to the development of the Korean medical field, he said, adding that he thinks Korean hospitals will have to turn to medical tourism to combat the stark reality of the deficit-laden Korean medical field °™they cannot make ends meet solely through the reimbursements from treating insurance patients. He noted that Korea' s medical treatment levels do not fall behind those of the United States. The reality is that Korean expatriates who have toiled all their life to make money overseas would end up spending it on expensive medical treatments overseas, so Paik said he plans to encourage such overseas Korean compatriots to return to their motherland to undergo high caliber medical treatments at reasonable prices.
His management capability is noteworthy. Paik said his center has seen the number of patients from Korea and abroad surge over 2.5 times more than before he became director. The center, capitalizing on its strength in the women's treatment area, is on a roll by attracting patients from Mongolia, China, Russia, the United States, and Middle East countries.
THE SINGING DOCTOR
Paik loves to sing, write poems, and learn foreign languages, including English, Chinese and Japanese. He still wants to communicate with patients, particularly with foreigners, so that they can undergo treatment in a more amiable and familiar environment. Paik took the stage to sing in addition to the invited singers brought in to entertain patients during his inauguration ceremony. He has held jazz performances five times so far with Korea's first generation jazz musicians Yoon Hee-jung, Lim Baek-cheon, Ryu Yeong, and German jazz group Saltacello. He has been dubbed "Namsun Sinatra," after the late famed American singer, Frank Sinatra, as he takes the stage to sing songs whenever he tours foreign countries to participate in medical workshops or to give lectures on breast cancer.
His favorite songs include Tony Bennett' s "I Left My Heart in San Francisco," Matt Monro's "Walk Away," and Korean singer Jo Yong-pil' s "Broken Heart." He loves to drop into a noraebang (singing room) frequently after dining with his hospital colleagues and staff members.
Paik earned the nickname "Singing Hospital Director" after he took the stage at a performance to sing "I Left My Heart in San Francisco" in July 2009 shortly after he took office as director of the Konkuk University Medical Center. He shot to stardom when a video of his appearance at the debut performance by the medical center' s newly inaugurated vocal group circulated.
He recalled that the reason he adores singing was owed to learning English. He learned singing such lyrics as "Sad movies always make me cry" along with an English teacher, a Canadian missionary. For instance, Paik said, singing the lyrics "Sad movies always make me cry" made it easy to for him to understand the structure of the English sentence combining subject, predicative verb, object, and complement, and whenever a situation changed, he changed words, so he loves singing songs and taking the stage, adding that he is innately optimistic.
He would take the stage to sing while holding seminars or dining with doctors from Korea or other countries. But he never took regular courses to learn to sing, so practicing the lyrics repeatedly is the best policy, he said.
"Some people question why I like to sing jazz at such an advanced age. I have a different mindset, and I still think that today is the youngest day of my life," he said. He said for him, the foremost thing for good health is to think many positive thoughts and lead a pleasant life, so he chose singing as a way to lead a positive life. Paik relieves the stress he has accumulated during risky cancer operations by singing.
As to the secrets of his success, he compared each moment of his life to integral calculus, saying, "Here and now, do our best." He also quotes former first lady of the United States, Eleanor Roosevelt, who said, "Yesterday is history; tomorrow is a mystery; and today is a gift." Paik said, "We cannot idle away now, so we have to pave the way for success, like solving questions related to integral calculus." In this vein, he loves to quote Roman poet Horace's poetic lyrics "Carpe diem, quam minimum credula posetero," meaning "rejoicing the present and believing in the minimum of tomorrow."
A graduate of Seoul National University Medical College in 1973, Paik has been in the medical field for more than 40 years, becoming one of the doctors who have shot to stardom in Korea and abroad. Paik, who earned a doctorate at the Seoul National University Medical College Surgery Department, has held such positions as the director of the Korea Institute of Radiological & Medical Sciences (KIRAMS) and the director of Konkuk University Medical Center. He studied at the ESO, Italy Breast Cancer Course; the CME, USA Breast Cancer Course; the ESCO, Italy Breast Cancer Course; and underwent a clinical doctor' s training course at the Dana-Farber Medical Center in the United States, an affiliate of Harvard University. He now also serves as a visiting professor at Northern Jiangsu People's Hospital in China; the standing director of the Asian Congress of Surgery; the standing director of the Korean Hospital Association; and the president of the Korean Society for Cancer Prevention.
He successfully performed the nation's first breast-conserving surgery, listed as "Paik's Procedure." He has demonstrated a keen interest in breast cancer since the late 1960s when he was participating in academic meetings on the then most frequent female cancer in the United States. At that time, he expected breast cancer to emerge as the number one female cancer in Korea if the nation changes its lifestyle to a more Western one.
Umberto Veronesi, an Italian surgeon and oncologist, announced in the New England Journal of Medicine his finding of a breast cancer treatment with the invention of the quadrantectomy technique during breast-conserving surgery. He was confident of the use of the innovative surgery method when he heard during his stay in Italy that Paik succeeded in performing a breast cancer operation employing the innovative method for the first time in Korea despite initial worries over the intrinsic risks. Paik's desire to perform a breast-conserving procedure was in the interests of breast cancer patients, who not only suffer from the initial shock of having breast cancer, but are further stunned by the loss of a breast through surgery, which often leads to divorce or to the patient avoiding appearing in public bathhouses. Paik's tenet for offering medical treatment is to focus not only on treating breast cancer, but also on the oculoplastic procedure for the reconstruction of the breast. With the oculoplastic surgery in mind, he came up with the catchphrase "Patient-friendly hospital" for the center he now directs.
Paik is also famous for having tided over the so-called VIP Syndrome in which doctors are stressed by the worry of a bad result of an operation on their family members or acquaintances, as he himself removed his wife's gastric cancer. He suggests early detection of cancer symptoms, as was the case with his wife.
"Ewha Womans University Cancer Center for Women is a hospital specializing in treating women' s cancers, and I have been in the field of breast cancer and thyroid cancer, so I will throw my heart and soul into the further development of the hospital," he said.
Paik stressed the importance of strengthening the level of one's immunity through dietary habits.
He says dietary habits are 85 percent responsible for causing a variety of cancers. In this regard, Paik was engrossed with research on dietary habits while staying at the Japanese National Cancer Medical Center for one year in the 1980s. At that time, he asked numerous questions about the dietary habits of patients who were diagnosed with cancer. He has gained public recognition for his focus on the importance of dietary habits for the prevention of cancers by stressing the point whenever he has been involved in symposiums or published books on health, including "54 Products Considered Effective for Preventing Cancers."
He disclosed his 20 recommended dietary habits to prevent cancer, including eating three to five pieces of garlic plus ground fruits and some fishes. "It is more important to avoid salty, hard foods in the interests of the stomach, than it is to refrain from eating spicy and hot foods. Among the habits he recommends are avoiding smoking and keeping a positive mental attitude as well as exploring ways of reducing stress. And definitely sing frequently.