Chairman Yoon Jong-kyoo of KB Financial Group captured the 2016 Dasan Financial Award in the Global Digital Finance Sector at a New Year's gathering among financial officials on Jan. 3 at Lotte Hotel in downtown Seoul.
The coveted award recognizes the chairman's achievement in leading the financial group, especially in the digital financial sector in the Southeast Asian financial market.
Liiv KB Cambodia is a mobile bank based on a rechargeable electronic wallet that can transfer funds, remit funds overseas and settle payments from person to person. The facility is a kind of financial platform allowing multi-language chatting, and provides non-financial services such as recharging prepaid mobile phone coupons. Liiv KB Cambodia has been able to attract many subscribers since its introduction in the market and is able to conclude tie-ups with a number of local banks. It has conducted marketing programs targeted at youths, including college students. KB Kookmin Bank plans to introduce Liiv KB Cambodia to its customers in other S.E Asian countries, including Vietnam and Myanmar.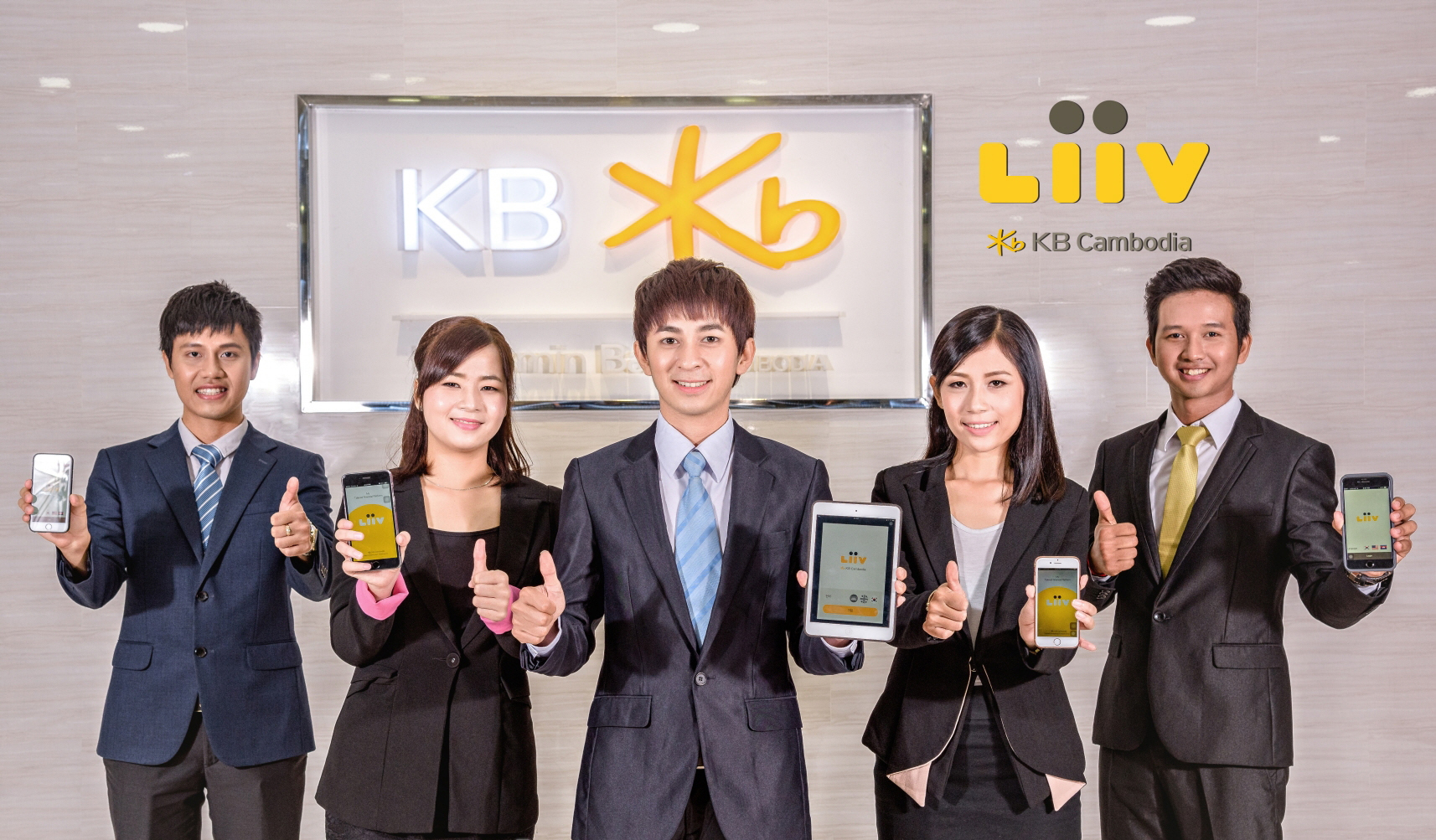 A group of staff with KB Kookmin Bank pose in an ad for Liiv KB Cambodia, a mobile banking service, which the bank introduced recently allowing fund transfers with just hand-phone numbers without account numbers. (Photos: KB Financial)
What Can Liiv KB Cambodia Do?
Liiv KB Cambodia can transfer Liiv money to anyone with a phone number. You can send money anytime when you don't have a receiver's bank account number.
Liiv KB customers can experience financial service in a chat room setting and can talk and transfer Liiv money simultaneously. You don't need to go anywhere to send money when you are talking with your friends. Customers can top up their mobile phones with liiv money and use Liiv money to pay for purchases at any Liiv merchant.
KB Kookmin Bank Enters Cambodia
KB Kookmin Bank, one of Korea's leading lenders, said on Sept. 28, 2016 that it had opened a digital bank in Cambodia.
The Seoul-based outfit said that the mobile-oriented bank, named Liiv KB Cambodia, is geared toward local relevance so that customers will be able to easily use it.
"The bank offers various services such as account transfer, cross-border remittance and mobile payment services as well as a variety of non-banking features like letting people top up their handsets," a KB official said. "In the future, we will enable our customers to withdraw money at automatic teller machines by forming business alliances with Cambodia's leading players including Acleda Bank and Canadia Bank."
He added that the digital bank is a perfect example of Fintech, the crossover between financial systems and technology, which the Seoul administration has stressed as a next-generation growth engine.
People can download the Liiv KB Cambodia application through the Google Play Store or Apple App Store.
KB Kookmin Bank is aiming to expand its digital technology business in Southeast Asia. The bank has worked with local mobile banking and e-money service providers with the aim of offering convenient and simplistic financial services to customers.
The bank is also forming alliances with a number of leading financial players in Cambodia, which will allow users to withdraw money at various ATM machines.