LG Group Chairman Koo Bon-moo called for his executives and staff members to lay a foundation by seizing growth opportunities amid changes and overcoming crises. Chairman Koo made the remarks at the group's New Year's gathering at the LG Twin Tower in Youido, Seoul, on Jan. 2.
LG celebrates its 70th anniversary this year. The group is not holding an event to mark the occasion, but is instead having a ceremony to kick off the 2017 business year.
"The global economy is glued to a low growth rate, and the global economic order is being reshaped with a shift from free trade to a protectionist mode, as the U.S. political landscape change and Brexit have shown," Chairman Koo said. He urged them to recall LG's founding spirit of exploring new businesses from naught.
Chairman Koo stressed the need for fundamental changes in business portfolios and ways of doing business, saying that "success models of the past no longer hold for new management environments." He called for the upgrading of business portfolios to overcome the harsh management environment of the current times, innovating management systems and making LG a company respected by the people.
"Such sectors as automotive parts, household appliances, batteries and life health have made way, but a few businesses fall short of expectations," Chairman Koo said. He called for the strengthening of business competitiveness through R&D and production changes and the production of items that customers need.
In regards to innovation of management systems, Koo emphasized the need to discard practices of quantitative growth, enhancing the speed of value-oriented work process and efficiency, and strengthening a corporate culture for principle-based management. He wants them to get back to the basics when it comes to such fundamentals as quality, a foundation for customer trust and safety.
Lastly, Koo said however business portfolios are upgraded and innovated, companies cannot last for a long time without approval and trust from society. He urged his executives and staff members to enhance management transparency to remain steadfast to investors and society's trust and to come closer first to areas in need of care.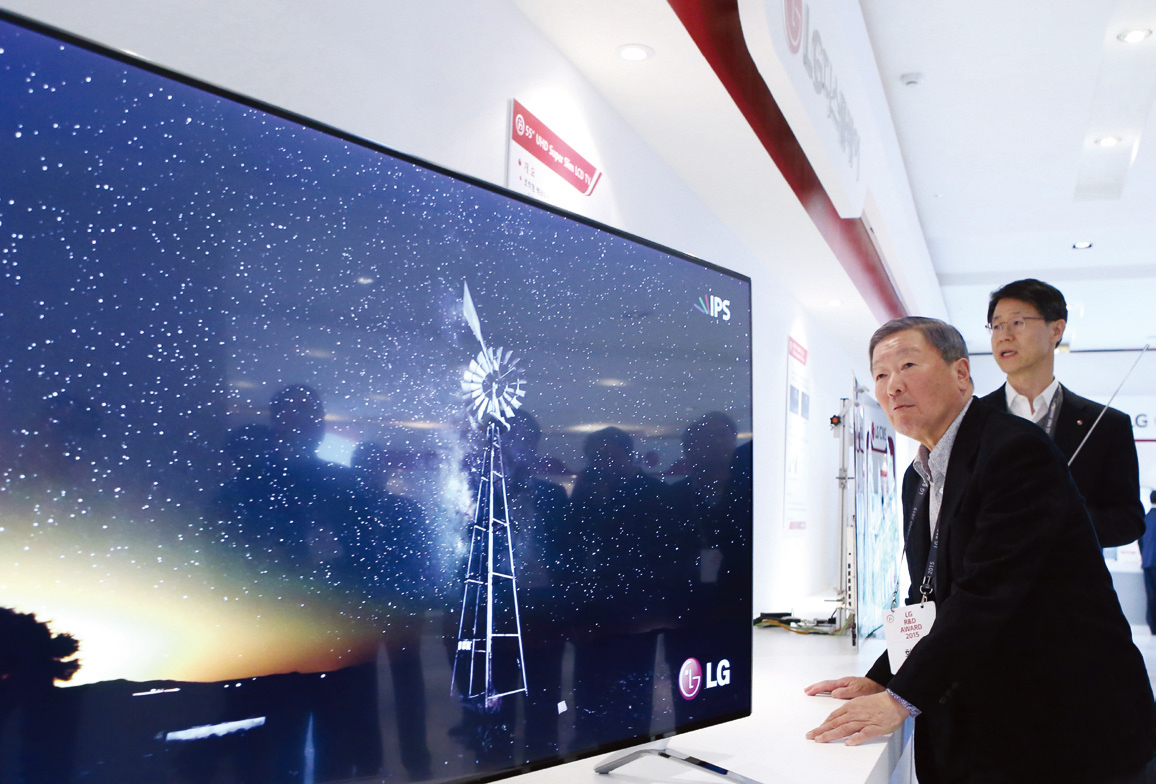 LG Group Chairman Koo looks at the latest TV products on display at an event. (Photos: LG Group)