Samsung Electronics Vice Chairman Kwon Oh-hyun delivers a speech at a ceremony to kick off the 2017 business year at Samsung Digital City in Suwon, south of Seoul on Jan. 2.
(Photos: Samsung Electronics)
Samsung Electronics held a ceremony to kick off the 2017 business year at Samsung Digital City in Suwon, south of Seoul, on Jan. 2. At the event, about 500 executives and staff members, including Vice Chairman Kwon Oh-hyun, pledged to make a fresh start and innovate in a "perfect fashion."
In his New Year's message, Vice Chairman Kwon said, "Taking a lesson from the experience we paid so dearly last year, we have to renew ourselves in perfection." He urged his executives and staff members to not overlook minute issues to ensure quality, essential for the competitiveness of products, and restore their pride toward quality by improving processes and ramping up verification.
Vice Chairman Kwon also called for thorough preparations for the future to explore new opportunities. He called for endless technology innovation and business upgrades as well as creating new value through in-depth research into markets and customers.
He demanded the building of a "creative corporate culture" in which excellent ideas can be realized, and a system in which any problems can be immediately fixed. Samsung Electronics aims to take the lead in such future core technologies as IoT and VR.
External and internal business situations surrounding Korean companies are not favorable. Samsung Group plans to overcome the difficulties through innovation, quality improvement and customer satisfaction, to expound high-level customer value in a long-term perspective.
Samsung Electronics is at the center of the move. Samsung Electronics has turned to the creation of continued growth based on mid- and long-term strategies and vision, rather than sticking to short-term business performances. To this end, the company attaches top priority to the development of innovative solutions, finding opportunities for timely investments in businesses with a high potential, concentrating its capabilities to ramp up the competitiveness of core businesses, and realizing the goal of becoming an example of utilizing assets and enhancing shareholder value.
This move served as an opportunity for "us to reflect on what we've rested on our laurels and make a fresh start," particularly in the context of Samsung Electronics' Vice Chairman Kwon's remarks last November on the Galaxy Note 7 incident, which was caused by faulty batteries.
Specifically, Samsung Electronics plans to concentrate on enhancing the competitiveness of its core businesses.
The company strives to strengthen the core competitiveness of such component businesses as semiconductors and flexible OLEDs while endeavoring to supply high-quality mobile gadgets, TVs and home appliances as well as their related convergence technologies.
Samsung Electronics devotes itself to securing leadership positions in such next-generation technology fields as IoT, cloud, VR, AR, artificial intelligence, and automotive electric parts.
The company plans to parlay its core technologies in the automobile industry by making the most of the acquisition of Harman, a U.S. infortainment and car audio company, to led in automobile technology.
Samsung Electronics' semiconductor division plans to expand the supply of high profit-taking V-NAND memory chips, while the System LSI business division plans to expand the 10-nano technology process leadership. The display business division aims to post bigger profits this year compared to 2016 by supplying flexible OLED products, which will see rising demand from smartphone makers.
The LCD business division plans to ramp up the competitiveness of such value-added products as UHD LCD panels and large-sized LCD panels and expand sales of products in order to differentiate itself from others to enhance profitability.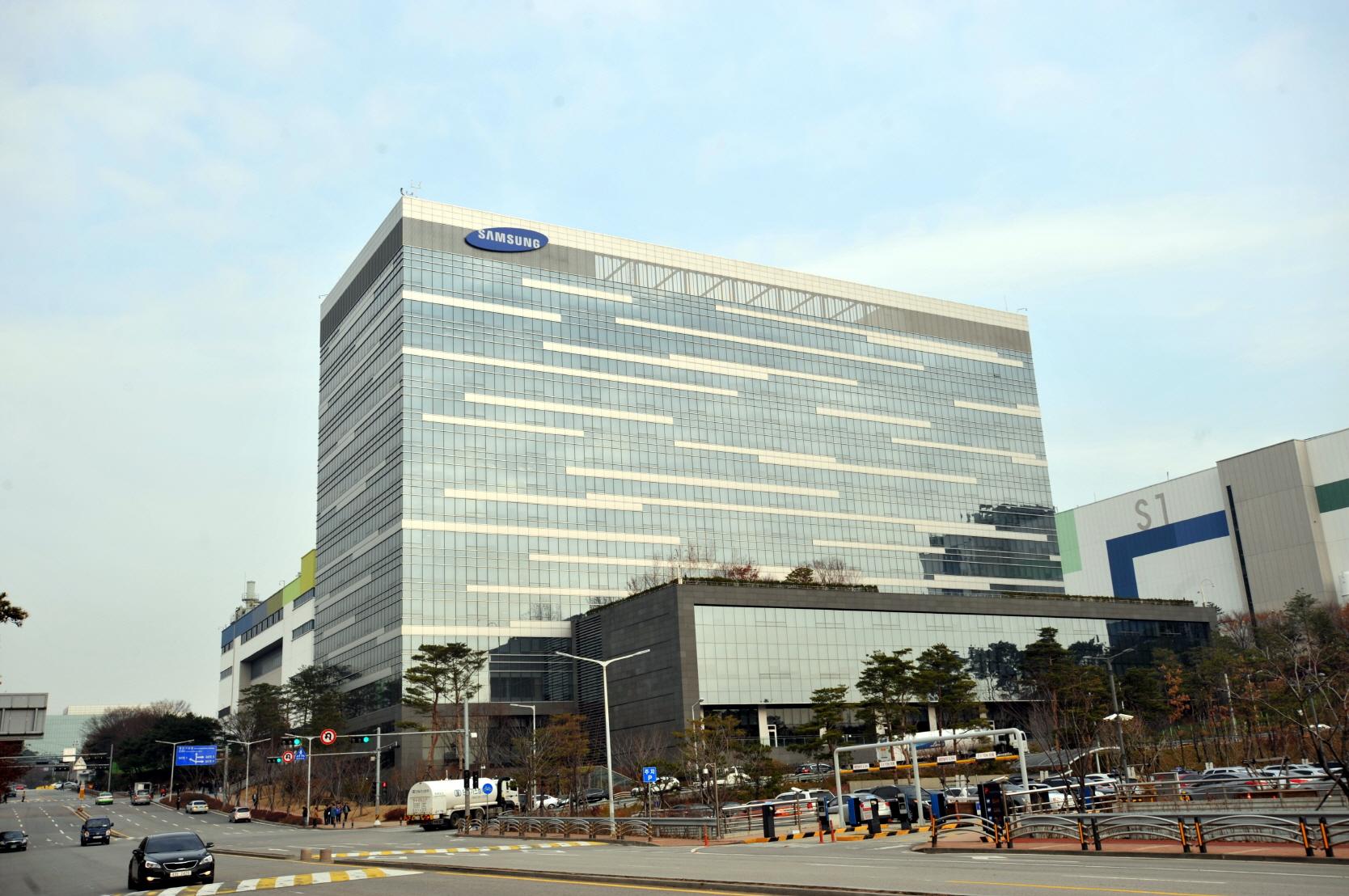 Samsung Electronics' building in Giheung, Gyeonggi-do.