Portugal is one of Europe's most vibrant tech and entrepreneurship ecosystems. Software Solutions, Business Analytics, Health, Education, Enterprise Services, Hospitality, Mobile, Cleantech, Digital Media and Fashion are the key areas for entrepreneurship in Portugal. Despite its relatively young history, the Portuguese ecosystem is able to produce tangible results. For results, we are talking about "scaleups" — companies able to produce employment and innovation at scale, like Feedzai, Talkdesk and Uniplaces, and "exits" — companies interesting enough to stimulate the appetite for acquisition from larger ones, like Digisfera and Best Tables that were bought by Google and Tripadvisor, respectively.
Portugal's value proposition for entrepreneurs and investors is very attractive: availability of talent, a strategic location to access Western markets, excellent transport and technological infrastructures and premium office space at competitive prices.
To facilitate the development of new, innovative companies, the government has lowered the level of bureaucracy in setting up companies and launched the Startup Portugal initiative, aimed to promote and accelerate Portuguese startups but also to attract international ones.
All over the country experienced incubators and accelerators support innovative ideas and transform them into global companies.

Beta-i: promoting entrepreneurship and innovation in Lisbon
Based in Lisbon, Beta-i is an innovation hub with the mission to improve entrepreneurship through 3 main acting principles: create and boost a network for entrepreneurship, accelerate startups with global ambition and facilitate their access to investment, space, services and products that support startup growth.
Beta-i was considered the biggest startup and entrepreneurship promoter in Europe by the European Enterprise Promotion Awards in June 2014 and highlighted as the key Lisbon accelerator by Wired Magazine in 2016, in their 'Europe's hottest startup capitals report.
Its hub hosts an average of 40 startups at different developmental stages and is a meeting point for national and international ecosystem players from investors to corporates, entrepreneurs and startups themselves among many others.
Beta-i presently runs a series of accelerators per year, starting with the flagship Lisbon Challenge,an ambitious 10-week acceleration program aimed at eager international tech startups, recently elected the 2nd most dynamic European accelerator by Fundacity, and including a number of corporate accelerators.
Alongside regular smaller events organized for the community, Beta-i is responsible for the Lisbon Investment Summit (or #LIS) and the Tourism Day conference.
The startups that went through the program raised 50 million euros of investment in total — from 175 'Alumni' startups, 40% got invested in, with 4 going into YCombinator, 3 into TechStars and 7 into Seedcamp. Looking at 2016, with all the buzz around entrepreneurship and startup related activities in Portugal, and what with the Web Summit choosing Lisbon as its base, it's easy to sense that this ecosystem is maturing and coming of age.
UPTEC's central building.
UPTEC, University of Porto's Science and Technology Park
UPTEC is a fundamental structure of support knowledge transfer between the university and the industry. By fostering the creation of technological, scientific and creative based companies and attracting national and international innovation centers, UPTEC contributes in a sustainable way to the growth of the Northern Region of Portugal.
UPTEC is divided into thematic centers - Technologies, Creative Industries, Biotechnology and Sea. Through this strategy, startups find the necessary support to turn their ideas into businesses with fast growth potential. Innovation Centers of national and international companies find at UPTEC the space and mechanisms to host and operate their projects and activities, benefiting from the synergies that are available with the R&D Departments and other U.Porto's institutions. Every year, UPTEC holds more than 200 initiatives to promote entrepreneurship and business development, like School of Startups, ESA BIC Incubator and internships in startups.
UPTEC's School of Startups is addressed to entrepreneurs with business projects that wish to startup their own company. At the School of Startups, entrepreneurs have the opportunity to work in UPTEC's spaces, while being part of its national and international network of companies and institutions. They also receive mentoring from senior entrepreneurs and strategic partners.
Being an ESA BIC Incubator, UPTEC provides entrepreneurs comprehensive business and technical support to set up their business using space technology for non-space industrial and commercial uses.
Companies incubated and accelerated in UPTEC can receive Portuguese and international students from different areas, ranging from engineering, economic, to design and communication. This provides the student with a real entrepreneurial experience and at the same time helps startups improve their business.
UPTEC hosts technology centers for international companies such as Alcatel Lucent, Vodafone, Yieldify (UK), Fraunhofer, Semasio, Clipkit, HPS (Germany), AgoraPlus (France) and works daily to attract international companies to the North of Portugal, as well as to expand international cooperation networks with universities, investors and multinationals. UPTEC also cooperates with several institutional partners to build contact points in many countries.
In 2016, UPTEC supported the development of 194 business projects, from which 50 companies graduated. In total, it provides more than 2200 highly skilled jobs, 90% of whom are graduates and post graduates. Since the beginning of its activity, in 2007, UPTEC has supported more than 420 business ideas.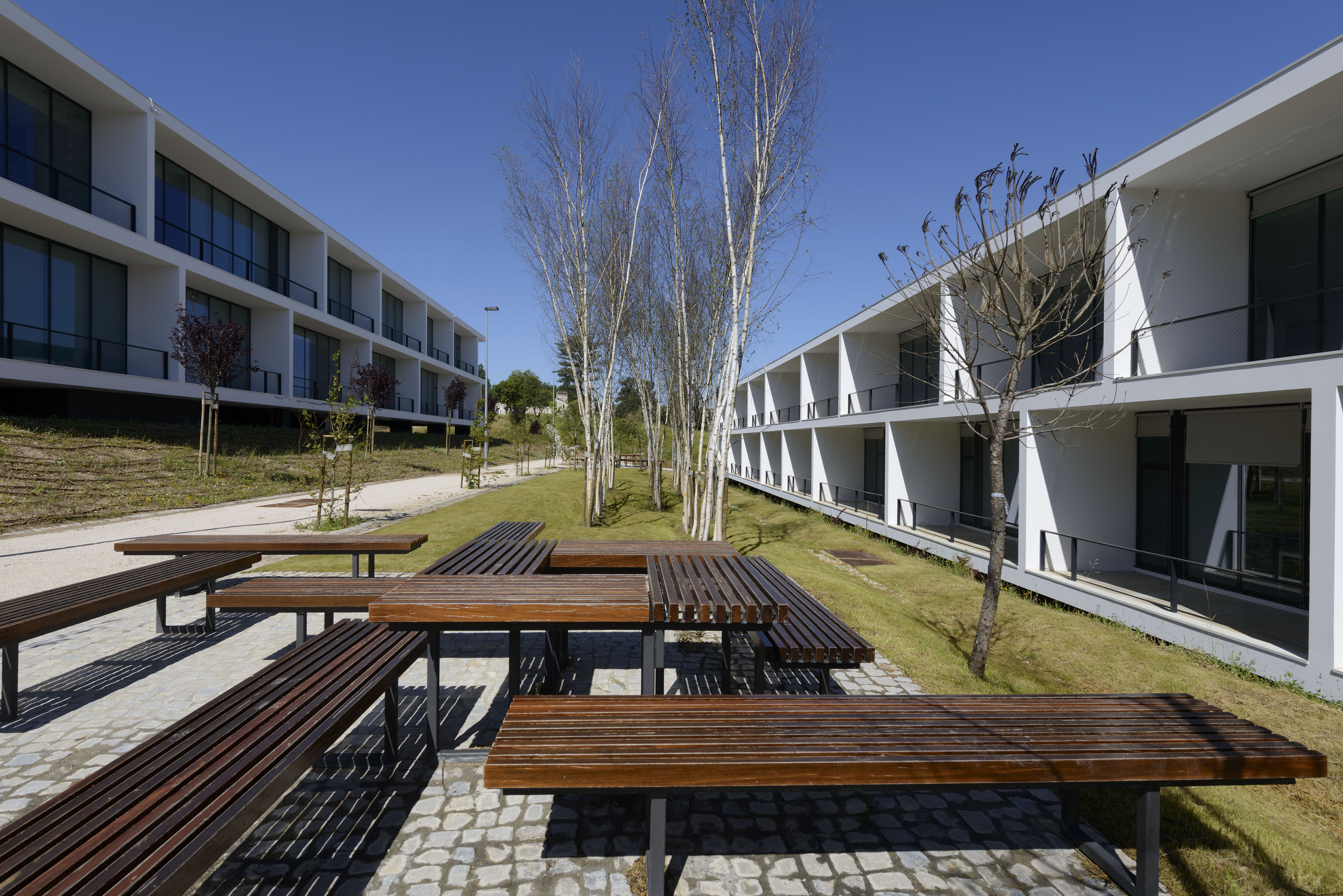 Exterior space of IPN's business accelerator building.
Coimbra's Pedro Nunes Institute: Applied Research to Innovative Entrepreneurship
The importance that innovative entrepreneurship — best leveraged by proficient practices of incubation and acceleration of technology-based companies — has for the modernization, development and internationalization of a country's economy is being increasingly recognized in the context of the activity of higher education institutions.
In one such ecosystem, led by the University of Coimbra, the Pedro Nunes Institute (IPN) has been a force for change for the past 25 years now; anchored in an advanced training department for entrepreneurship and 6 applied research labs (Informatics, Electronics & Automation, Materials,Electrochemistry, Geotechnics and Phytopathology), and working as an interface between academia and business, IPN's business incubator has supported the creation of more than 250 innovative technology-based companies. To date, about 75% of those companies remain active, delivering an aggregate annual turnover close to 130 M1, with an export rate of about 50%. Yet, the fact to be highlighted is that those companies have directly generated more than 2,000 highly qualified jobs and have indirectly induced the creation of 5,000 others. This impressive performance in a city with only 140.000 inhabitants lifts IPN Incubator to an international benchmark and case study recognized as a top 25 world incubator by UBI Index.
In 2014, the Pedro Nunes Institute took a long-time treasured vision and made it real: an environment for post-incubation business acceleration. Thus, was born IPN TecBIS, which is a continuous support accelerator with a physical infrastructure of excellence with optimal characteristics for enterprise hosting. IPN's TecBIS - Business Accelerator offers about 4,500.00 m2 of space for installation and business development and the companies stood up to the challenge: 2016 ends with 92% occupancy rate, 23 companies supported and more than 500 jobs hosted.
(joana.neves@portugalglobal.pt)