The Korea Grand Sale, a shopping and tour festival organized by the Visit Korea Committee, will be held from Jan. 20 through Feb. 28 to attract foreign tourists and boost domestic consumption in the winter season.
This year's event, scheduled one year ahead of the PyeongChang 2018 Olympic Winter Games, will focus on promoting the Olympics and winter sports to visitors. Ski resorts in Gangwon Province will provide discounts of up to 50 percent on ski lifts, gondola lifts, and equipment rentals.
The Korea Grand Sale Event Center in Dongdaemun will offer foreign tourists a hands-on program to experience winter sports in virtual reality. In partnership with the 2017-2018 Visit Gangwon Year declared last December, the Visit Korea Committee will actively promote winter festivals in Gangwon Province, such as the Olympics Festival and Hwacheon Sancheoneo Ice Festival, thus ensuring more visits to Gangwon Province by foreign tourists.
Major discounts are available, include flight and accommodation packages by Korean Air. Asiana Airlines is offering up to 60 percent off on tickets to China and Europe, and up to 91 percent off on international flights to Korea by Jeju Air.
Shilla Stay will provide a 50 percent discount on rooms and a free upgrade to a deluxe room on a first-come, first-serve basis. Entrance tickets to N Seoul Tower will be available at a 30 percent discount, while The Face Shop and Lotte Hi-mart will offer buy one, get one free deals on popular products. Other retailers participating in the shopping campaign are Grand Ambassador Seoul, All Mask Story, Galleria Duty Free 63, Doota Duty Free, Shinsegae Department Store, and Hyundai I'PARK Mall.
In addition, three event centers will operate to help tourists enjoy convenient shopping. Tourists can enjoy a variety of services, from interpretation and tourist information to free Wi-Fi and mobile phone charging at the event centers in Dongdaemun and Myeong-dong. Giveaway events will be held in front of Lotte Department Store's main branch from Jan. 20 to 31, coinciding with Chinese Lunar New Year.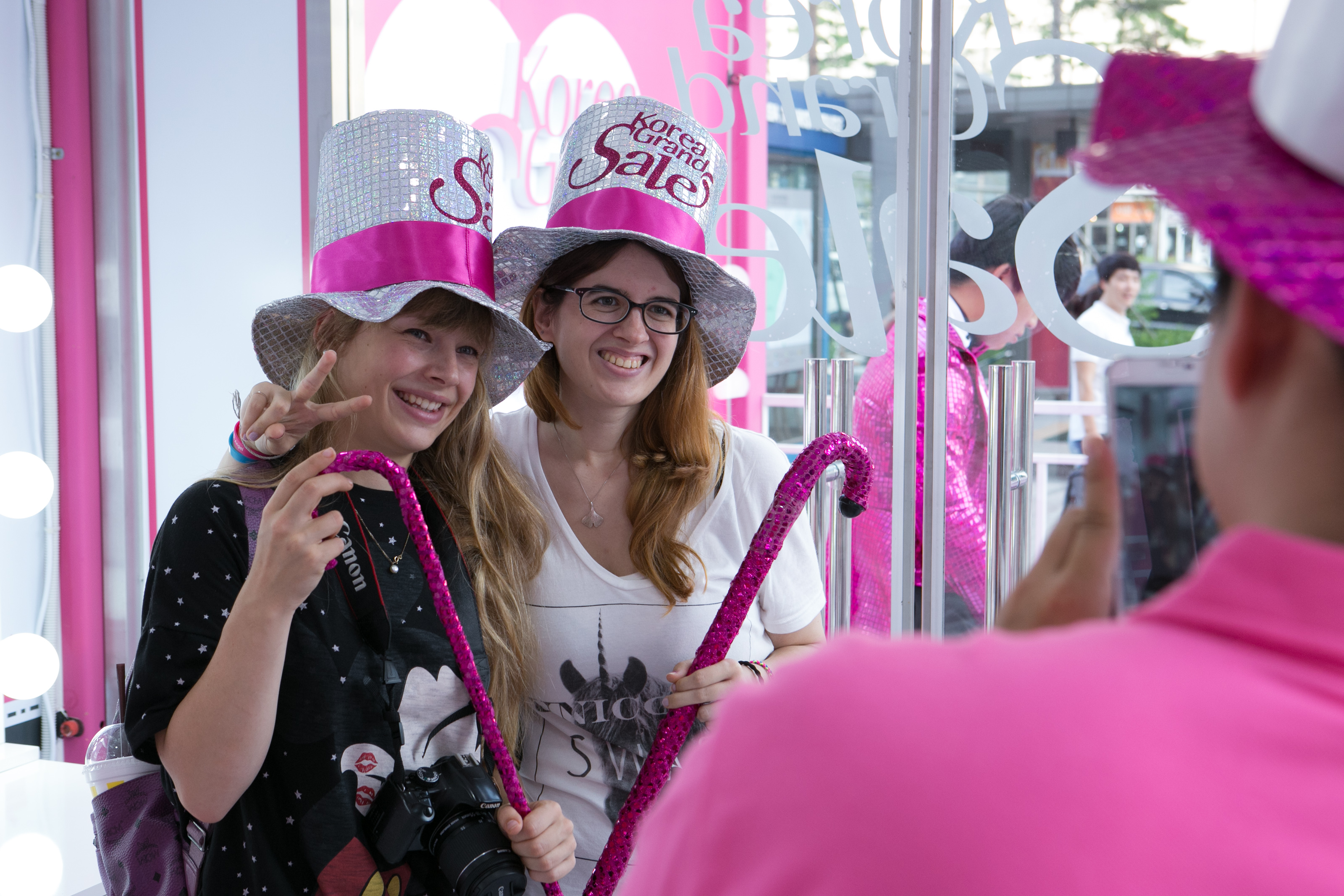 Foreign visitors can buy Korean-made items at discounted prices during the Korea Grand Sale, a shopping and tour festival organized by the Visit Korea Committee.
A mobile event center named Tourist Service Center will stay at a number of locations across Korea, including Lotte World Mall in Jamsil, Shinsegae Department Store in Myeong-dong, I'PARK Mall in Yongsan, and Sangsangmadang Hongdae.
"Event centers" have arranged Special Theme Weeks with a different theme for each week to allow foreign tourists to experience various aspects of Korean culture. Tourists will be given different gifts depending upon their purchase amounts during the Must-Buy Week, and they will have the opportunity to watch traditional plays, performances, and concerts. The Must-Do Week will feature virtual reality programs to enjoy skiing and bobsleigh. The Must-Eat Week will 30 Korean dishes specially developed by famous chefs, such as Edward Kwon, Choi Hyun-seok and Kim Su-jin for the PyeongChang 2018 Olympic Winter Games, and will hold a tasting event of popular Korean foods.
The Korea Tour Card, a transportation card for tourists, will be launched on the first day of the Korea Grand Sale. With the new card, tourists get a discount of up to 50 percent on the Hands-Free Service, which delivers and stores baggage between departments, hotels, the airport and other main tourist points in Seoul for those wishing to shop and visit sights without their heavy bags.
Efforts will be made to encourage visits to smaller restaurants, cafes and mid-range hotels to participate in the festival. Google Korea, a member company of the Visit Korea Committee, will hold a digital marketing session on Jan. 13 for owners of small and medium-sized businesses to effectively market their products online. Rural villages will join by organizing cultural and leisure activities to attract foreign guests to their regions.
"This year's Korea Grand Sale, scheduled a year ahead of the PyeongChang 2018 Olympic Winter Games, will feature various events related to the Olympics and winter sports," said Secretary-General Han Kyung-ah of the Visit Korea Committee. "We will do our best to promote the beautiful winter of Korea as a means of ensuring that more foreign tourists are interested in the Olympics and thus visit Korea."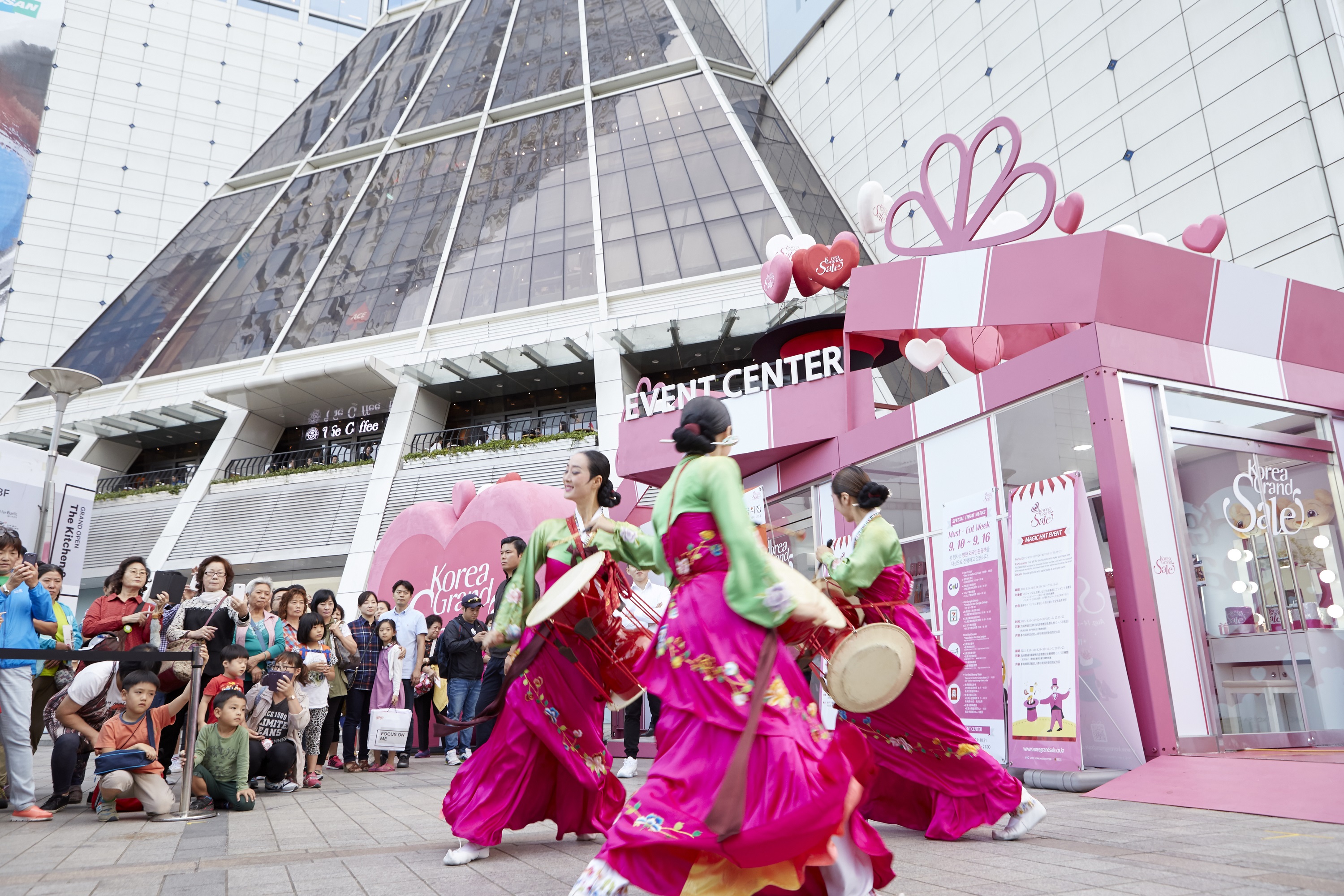 A traditional Korean troupe performs at a Korea Grand Sale promotion period in Seoul.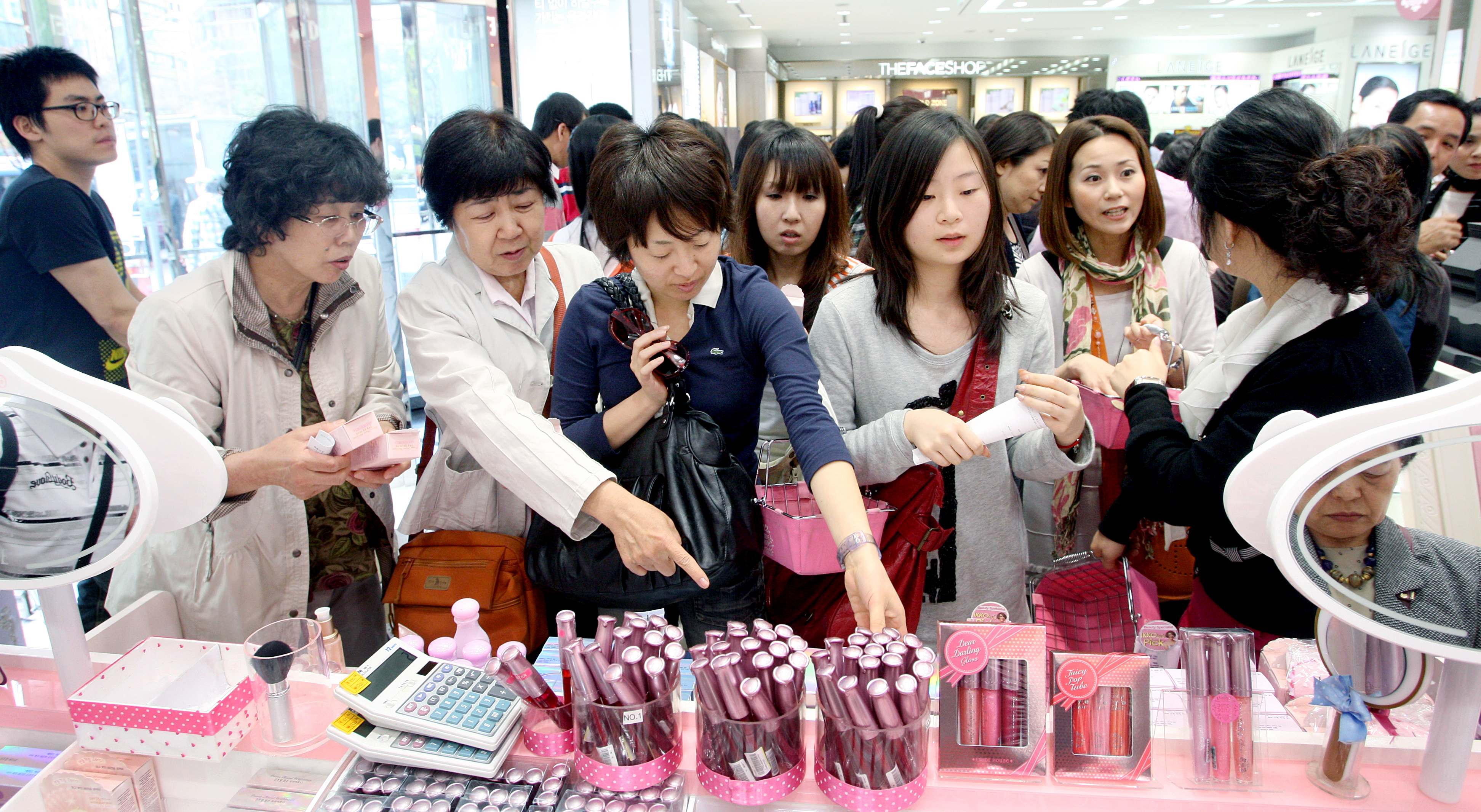 A throng of foreign visitors choose Korean-made cosmetics products in a duty-free shop.
In celebration of the Korea Grand Sale, the official website of the Visit Korea Committee will have an online event My Must-Have Shopping Item for both Korean and foreigners from Jan. 9 to Jan. 20. Koreans can participate in the event by writing a comment about their recommended must-have item for foreign tourists and its reason, and foreigners by writing about an item they would like to buy during the Korea Grand Sale and its reason.
Winners will be announced on Jan. 24 on the official website and the Facebook page, and receive prizes such as a gift kit, free nights at hotels, iPads, and mobile drink coupons.
For inquiries, contact Kim Hyeon-joon, Service Marketing Team
(hjk@vkc.or.kr / +82-2-6272-7305)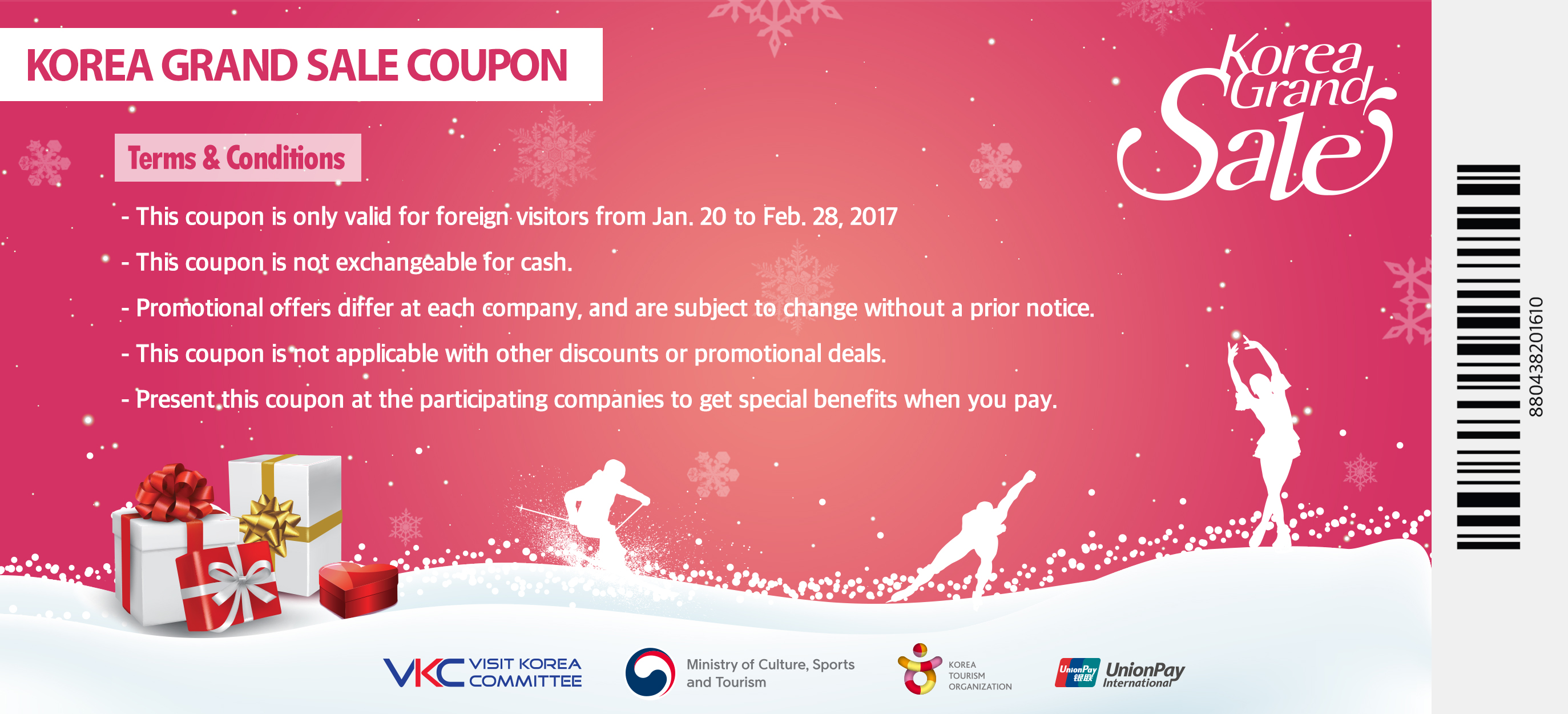 Foreign visitors can get discounts during the Korea Grand Sale, a shopping and tour festival organized by the Visit Korea Committee. (Photos: Visit Korea Committee)