KT achieved an earnings surprise by posting a higher-than-expected 400 billion won operating profit in the second quarter of this year in four years.
The nation's second largest telecom service provider saw average revenue per user (ARPU) top the Korean market, outperforming market leader SK Telecom. It is the first time KT has surpassed SK Telecom in terms of ARPU since 2012 when the three Korean telecom service providers simultaneously launched LTE services.
In a public filing, KT said it chalked up 427 billion won in operating profit in the second quarter on a consolidated basis, a 15.8 percent surge over the same period last year. The telecom service provider logged 5.677 trillion won in sales. It is the first time KT has seen its operating profit top 400 billion won since the first quarter of 2012. The figure surpasses the consensus standing at 400 billion won.
The overall excellent performances in sales and operating profit were attributable to a good showing of the mobile and media businesses, including IPTV, analysts said.
The mobile business division saw sales surge to 1.88 trillion won, up 2.8 percent on a YoY basis. KT's mobile subscribers rose to 18.37 million in the second quarter, up 4.2 percent over 17.64 million over the same period of 2015. The ratio of LTE price subscribers shot up to 74.1 percent, a 6.7 percentage point rise from 67.4 percent.
The mobile business division's improvement in ARPU is noteworthy. ARPU is closely related to a decline or increase in sales and operating profit. KT saw ARPU in the mobile business edge up 1.3 percent to 36,527 won in the second quarter, the highest-ever level. KT has fallen behind SK Telecom by 600 won since 2012 when the LTE services were inaugurated, but the former outperformed the latter by 500 won in the second quarter.
KT Group's wire and wireless businesses based on mobile and wired GoGA infrastructure saw their operating profit surge more than 25 percent on top of mobile and wireless businesses to play a leading role in the group's excellent performance overall, said KT CFO Shin Kwang-suk. He added that such future convergence services as IoT and LTE services exclusively targeting companies will be eagerly pursued.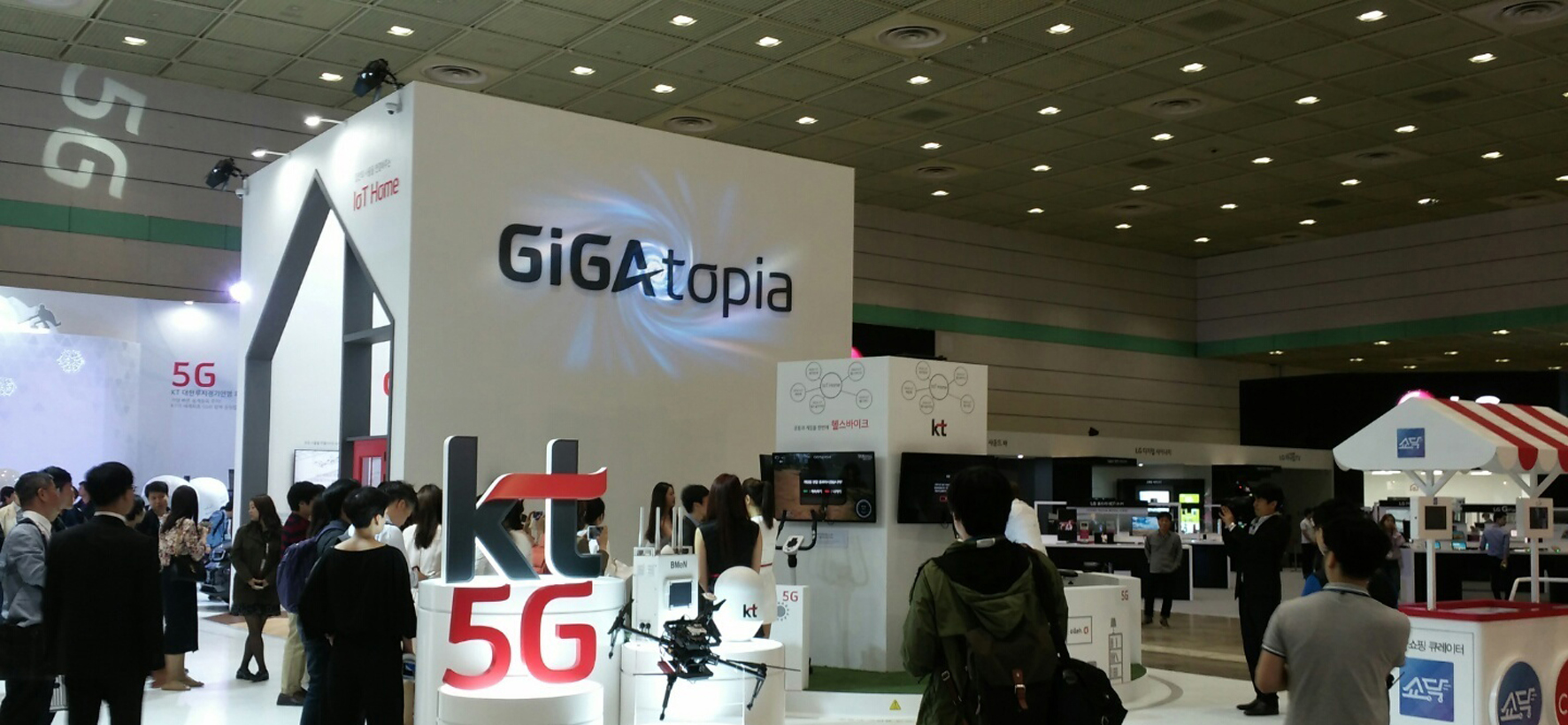 A view of KT's booth at the 2016 World IT Show held at COEX in Seoul from May 17 to 20. (Photos: KT)
KT Chairman Hwang's Magic
KT's excellent business performance in the second quarter was owed to KT Chairman Hwang Chang-gyu's innovative leadership in differentiating its wireless and fixed businesses from its rivals, and the restructuring of subsidiaries, strategies he has implemented since January 2014 when he took office.
He has since stressed so-called GiGAtopia Vision connecting human beings and all things based on Giga infrastructure. To this end, KT has built solid foundation to hit on all cylinders to explore technology convergence businesses by disposing of 17 non-telecom subsidiaries, including KT Rental. KT, which suffered losses for three years from 2012, turned a 1.292 trillion won operating profit last year, rejoining the exclusive 1 trillion won operating profit club.
Market prospects for KT's stocks are rosy. Looking at a rise in ARPU in the wireless business, KT is the sole telecom service company that is forecast to maintain explosive growth in the third quarter or later, said Ahn Jae-min, researcher at NH Investment & Securities Co. A constant improvement in KT's mobile and media businesses will have an additional affirmative impact on KT's stock prices, he added. KT is in a better position to attract more IPTV subscribers since the telecom service provider has a head start in inaugurating ultra-high definition (UHD) services, which will be commercialized via territorial broadcasting next year.
KT shares rose 250 won to close at 31,750 won on July 29.