LG U+ said it will provide a built-in smart home IoT system to 1,000 officetel units in the Seoul metropolitan area, which are to be built by Taerim Synthesis Construction.
Outfitted with LG U+'s home IoT system will be "Taerim the Kkulium Officestels" near Gurae Station in Gimpo, a new satellite city in Gyeonggi-do, and in Cheongna District in Incheon whose construction will be launched by Taerim Synthesis Construction in October.
Subscribers can confirm the opening and closing of the front door of their home and windows via a smartphone app. They are able to turn on or off lights and lamps as well as monitor electricity or gas consumption remotely. Boilers, air-conditioners, refrigerators, washing machines, cookers and other home appliances can be also controlled remotely. Voice orders can be activated.
For instance, if you say "let's clean up" via the smartphone, you can set in motion ventilators, air purifiers, robot cleaners and curtains simultaneously.
LG U+, which made its debut at the home IoT market in July 2015, has maintained the No. 1 position by securing 360,000 households in one year. "We will continue to expand the provision of the home IoT services to such housing units as officestels and large-sized apartments," said Ryu Chang-soo, managing director in charge of home IoT at LG U+.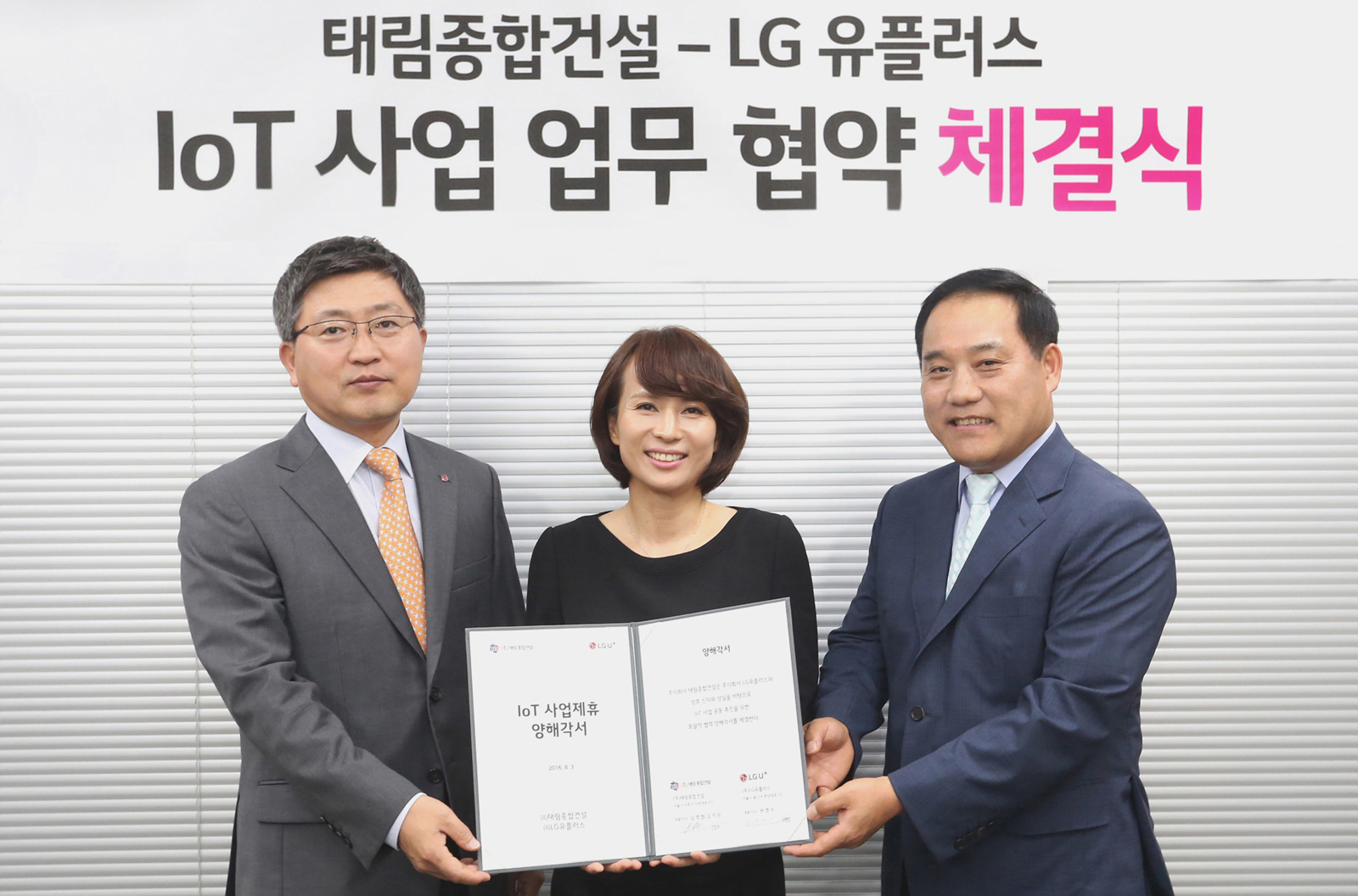 LG U+ Managing Director Ryu Chang-soo, Taerim Synthesis Construction CEO Kim Ji-eun and Taerim Synthesis Construction CEO Kim Myung-hyun hold an MOU on a built-in smart home IoT system they signed. (Photos: LG U+).
LG U+ on the Move in IoT Service Market
LG U+, which designated the Internet of Things (IoT) as a new growth engine, is stepping on the gas to explore new services in the IoT sector, penetrating people's daily lives.
With determination and concentration, LG U+ has a strategy to walk the walk in such of core business segments as video and electronic settlements, making them sustainable profit models.
The Korean financial information company FnGuide said on Feb. 18 that LG U+ posted 632.3 billion won in operating profit in 2015, up 9.7 percent over the previous year, as well as 351.2 billion won in net profit, a 54.5 percent jump. The telecom service provider's operating profit is projected to grow to 701 billion won this year.
LG U+ promises to take an omnidirectional approach to diversify the IoT business arena. LG U+ plans to nurture such industry IoT segments as smart factory and smart buildings as growth engines that can create value for customers by differentiating itself from rivals in the industry and public fields. The company strives to develop IoT services with diverse service developers and manufacturing companies while building an IoT ecosystem with SMEs and venture companies.
LG U+ has already invested $2 million and acquired a stake in Jibo, a U.S. intelligent robot venture company, which is developing the world's first social robot for home, "Jibo." If the development of the robot with intelligence and emotions is completed, it will be commercialized in the United States early next year.
The company is working on the launch of such new businesses as IoT total solutions outfitted with electric vehicles and electric ships in collaboration with U.S. EV developer Leo Motors, Inc.
"The LoT market is now expanding into diverse services based on big data, and innovative changes will like take place in such areas as self-driving, robots, other systems and sensor-based IoT platform solutions in the years to come," LG U+ officials said.
LG U+ plans to realize IoT services closer to customers' daily lives by collaborating in diverse fields.