POSCO Engineering and Construction Co. (POSCO E&C) has kicked off its plan to look for an agent to sell the POSCO E&C Tower in the Songdo International Business District in Incheon.
Investment banking sources said on July 8 that the construction affiliate of POSCO is about to send RFPs to major securities firms and accounting firms as the company plans to put the building on a public bidding this month after an assessment of its market value. The company was consulted by EY Han Young, a member firm of Earnest Young, on the sale of the tower in April.
The sale of the POSCO E&C's head office will likely pick up speed as the company has recently obtained full ownership in the building after paying 356.6 billion won ($307.7 million) worth of asset-backed commercial papers (ABCP) in lieu of POSCO E&C Songdo International Building Inc. (PSIB), which is a special purpose vehicle (SPC) and previous owner of the Songdo property that was set up in 2008 to build POSCO E&C headquarters. Terra P&D Co. invested in 51 percent of the SPC, along with 49 percent by POSCO E&C.
An official who asked not to be unnamed also said that as POSCO E&C plans to complete the sale by the end of the year, and is expected to select a preferred bidder no later than August or early September.
But market sources said that the bidding price would be a major setback in its sale. They note that even if POSCO E&C sells the property in the form of sales and leaseback - where it leases back the asset from the purchaser, guaranteeing rent - the expensive price tag of over 10 million won per 3.3 square meters that POSCO E&C is said to be hoping to receive could scare off potential buyers. Market participants said it is appropriate to set the price in the 8 million won per 3.3 square meters range or 360 billion won in total.
Market insiders note that key to the success of the sale is whether POSCO E&C is willing to lower the price. An office building in Pangyo, a new bustling tech valley in Gyeonggi Province with a lower vacancy rate than those in Songdo, was sold for a maximum of 10 million won per 3.3 square meters. Some people think POSCO E&C is eager to secure funds and may willingly agree to narrow the price gap to expedite a sale of the property.
POSCO, the nation's leading steelmaker, said in June 3, 2015, it inked a deal to sell a stake in its construction arm to Saudi Arabia's sovereign wealth fund.
The company said it sold a 38 percent stake in Posco Engineering and Construction (E&C) to Saudi Arabia's Public Investment Fund (PIF) for 1.24 trillion won ($1.08 billion). The deal was finalized at the headquarters of Posco E&C in Songdo, Incheon, by POSCO Chairman Kwon Oh-joon and PIF Secretary General Abdulrahman Almofadhi.
It includes a 25 percent stake already owned by the steelmaker in the construction arm and a 13 percent stake coming from an issuance of new shares by POSCO E&C.
The two sides also planned to establish a joint venture for a series of infrastructure projects including a railway, hotel and other construction projects undertaken by the Saudi Arabian government, which has been trying to foster local manufacturing industries, including a car business, in response to recent changes in the world energy market.
The nine-month negotiation was supported by President Park Geun-hye, who talked up the deal when she visited Saudi Arabia in March.
Established in 2008, PIF's estimated total assets are about $300 billion and it has been investing in manufacturing industries under the guidance of Saudi Arabia's finance department.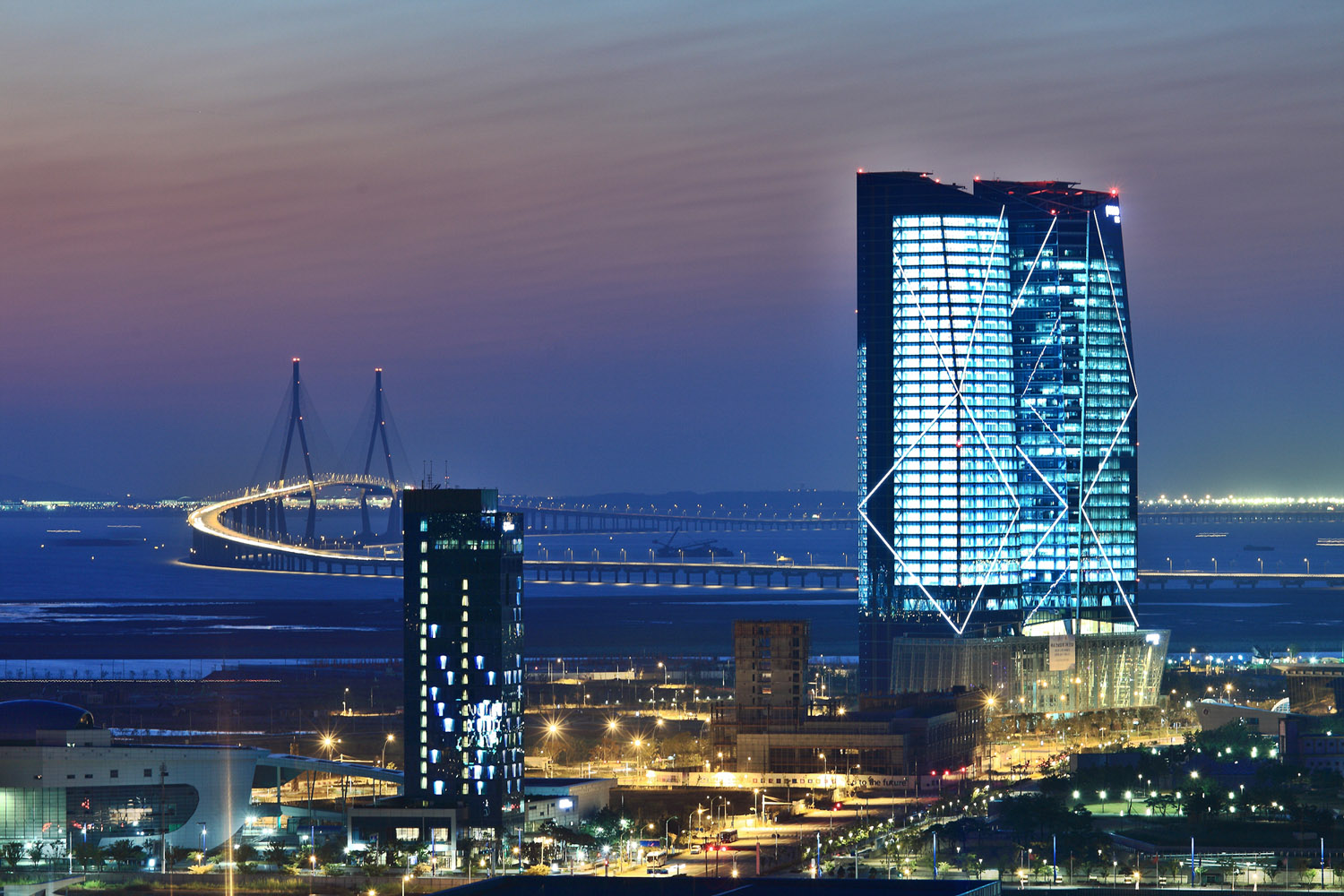 A view of POSCO E&C Tower in Songdo International Business District in Incheon.(Photos: POSCO E&C)