President Lee attends annual event for last time as president and thanks biz leaders for their support and cooperation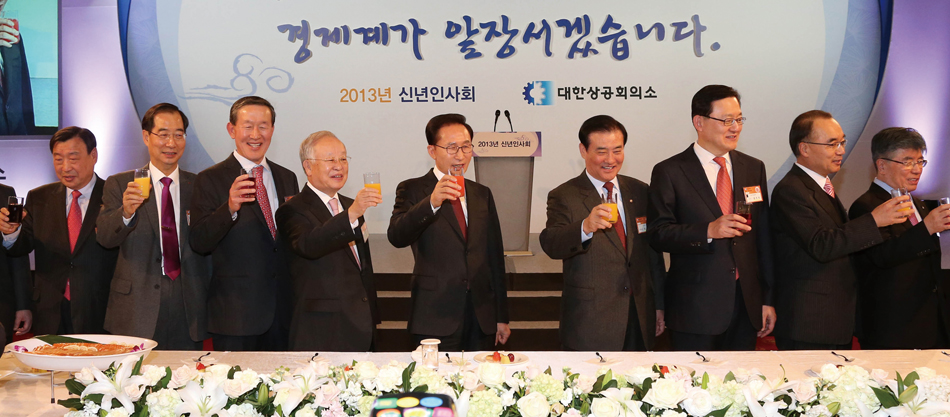 A slew of dignitaries led by President Lee Myung-bak, 5th R, Speaker Kang Chang-hee of the National
Assembly, Chairman Hwang Woo-yea of the ruling Saenuri Party, Minister Hong Suk-woo
of the Ministry of Knowledge Economy, Minister Bahk Jaewan and Chairman Sohn Kyung-shik of
the Korea Chamber of Commerce and Industry, the host of the New Year event hold a
toast to wish for a happy New Year at Coex, in southern Seoul on Jan. 4.
The Korea Chamber of Commerce and Industry (KCCI) held its New Year's reception on Jan. 4 at COEX in southern Seoul, where some 1,400 participating members of the business organization and related institutions swore to do their best to overcome low-economic growth trends both at home and abroad through the display of a strong entrepreneurial spirit. They also appreciated the outgoing President Lee Myung-bak's efforts to boost the nation's status in the world and overcome the economic crises during his five-year tenure.
Among those on hand were legislators led by Speaker Kang Chang-hee, Chairman Hwang Woo-yea of the ruling Saenuri Party, and Reps. Lee Hyun-jae and Ryu Sung-gul, cabinet members and other government officials including Minister Hong Suk-woo of the Ministry of Knowledge Economy, Minister Bahk Jae-wan of the Ministry of Strategy and Finance, and Gov. Kim Joong-soo of the Bank of Korea. Also in attendance were heads of economic organizations including Chairman Huh Chang-soo of the Federation of Korean Industries, Chairman Han Duck-soo of the Korea International Trade Association, Chairman Park Byung-won of the Federation of Banks, Chairman Park Jong-soo of the Korea Financial Investment Corp. and Chairman Sohn Kyung-shik of the KCCI. Among the heads of large conglomerates were Chairman Chung Mong-koo of Hyundai Motor Group, Chairman Chung Joon-yang of POSCO, Chairman Hur Dong-soo of GS Caltex, Chairman Park Yong-man of Doosan Group, Chairman Cho Yang-ho of Hanjin Group, Chairman Shin Dong-bin of Lotte Group, and Chairman Kang Duk-soo of STX Group.
Also present were Chmn. Lee Pal-seung of Woori Financial Group, Chmn. Euh Yoon-dae of the KB Financial Group, Chmn. Kim Jung-tae of Hana Financial Group, Chmn. Han Dong-woo of Shinhan Financial Group, Chmn. Park Sam-koo of Kumho-Asiana Group, Chmn. Choi Tae-won of SK Group, Chmn. Kim Yoon of Samyang Group, Chmn. Kang Shin-ho of Donga pharmaceutical Co., Chmn. Lee Woon-hyung of SeAh Steel Group,, Chmn. Moon Kyu-young of Aju Group, Chmn. Lee seung-han of Homeplus and others.
President Lee in his speech said he and the country appreciate the hard work of the business community, noting that the economy is still holding its own, despite the global economic slowdown affecting top economies like the United States and Europe.
Chairman Sohn, in his speech, said, "We would like to give thanks to President Lee for his achievements in many areas, the economy in particular, despite the global slowdown. This year, too, will have many problems including excess household debts and a sluggish real estate market, but our resilient people will wash away the concerns for the low growth of our economy and be a huge force in boosting our per capita earnings to over $30,000 per annum."
The KCCI chairman said he hoped that this year would be the year for communication and harmony among the people, overcoming division and confrontation, achieving development and maturity in various areas in the country such as the economy, politics, and social and cultural areas.
He also hoped that the event would be a meaningful occasion for renewing the business community's determination to share hope and upgrade the country's development progress.
President Lee shook hands with many participants at the function, urging them to do more for the nation's development in every area of society and in all sectors and seek greater harmony among the people.