Operates the Mobile KOTRA team to provide consulting services on the exploration of overseas markets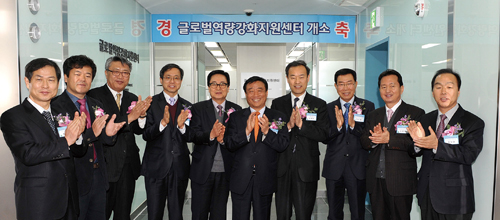 KOTRA President Oh Young-ho and other KOTRA officials celebrate the inauguration of
the Center for Strengthening Support for global Capacity at the Daejeon Trade Center on Jan. 10.
Korea Trade-Investment Promotion Agency (KOTRA) announced a plan to operate Mobile KOTRA, designed to provide free overseas market exploration consulting services to provincial SMEs.
The key to Mobile KOTRA is its fleet of three buses with 15 experts which will make the rounds of provincial small and medium enterprises (SMEs) to provide consulting services on their exploration of overseas markets. The experts, versed in foreign languages including English and French, will be divided into four fields °™machinery/plant, parts & materials, IT/electric home appliances, and household items.
Starting this year, the Mobile KOTRA team will visit SMEs in such provincial clusters as industrial complexes, agricultural industrial estates, and techno parks, which have insufficient traffic access. The team will make the first rounds of SMEs in the Gyeongsangbuk-do sphere, including Daegu and Gumi, the Gyeongsangnam-do sphere, including Gimhae and Haman, and the Jeolla sphere, including Gwangju, Mokpo and Iksan.
The Mobile KOTRA team plans to provide consulting services ranging from trade and investments to job creation for manpower from provincial areas. The team plans to offer consulting services tailored to meet exporting capacities of provincial companies with Korean clientele and export beginners. The team's members will accompany foreign buyers who visit provincial SMEs.
The operation of Mobile KOTRA is designed to exceed the limit of areas without KOTRA branches. Yoon Hyo-chun, chief of the Global SME Support Center at KOTRA, said the Mobile KOTRA team is designed to provide help to provincial SMEs that cannot afford to visit the KOTRA head office in Seoul to receive consulting services. The team will also offer services to the SMEs in the smallest administrative units.
RAMPING UP GLOBAL CAPACITY
KOTRA said on Jan. 10 it has established the Center for Strengthening Support for Global Capacity at the Daejeon Trade Center as part of efforts to step up SME's global capacity.
A KOTRA official said the establishment of the Center for Strengthening Support for Global Capacity is designed to ease the difficulties SME entrepreneurs experience while attending lecture courses in the Seoul metropolitan area.
The center will offer educational courses on such issues as KOTRA's state information, success stories on overseas market exploration, and overseas marketing activities for start-up companies. The center will be rented free of charge to SMEs seeking to take courses on global marketing activities.
KOTRA President Oh Young-ho said, "We've achieved the feat of surpassing $1 trillion in trade for the second straight year, but SMEs account for around 30 percent of the total, and it will be difficult for the nation to jump to $2 trillion in trade unless SMEs' portion increases."
The center has been established to expand educational programs on overseas market entries, now being converged in the Seoul and Gyeonggi-do area, to provincial districts, Oh said.
KOTRA said the center will offer additional specialized programs on starting a business, the understanding of international economies, and expertise on attracting foreign investments.