The first to achieve Gold Level UL Environment certification for TVs and winning four 2013 Eco-Design Awards demonstrate Samsung's commitment to advancing technology that promote sustainability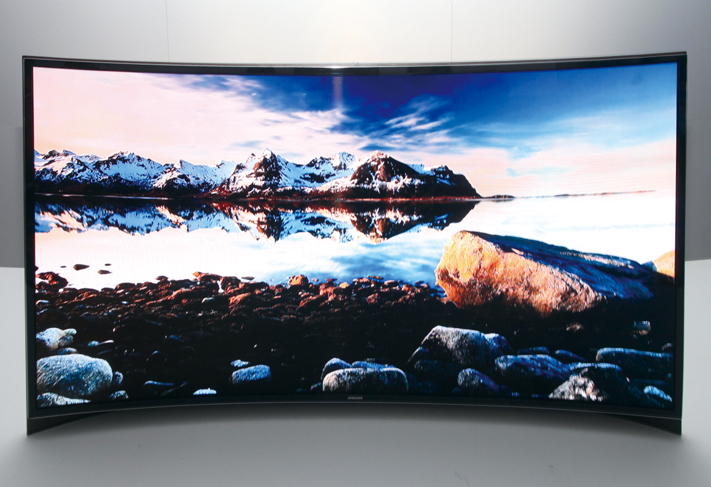 Curved OLED TV, unveiled by Samsung Electronics at 2013 Int'l CES.
Samsung Electronics Co. Ltd., a global leader in consumer electronics, highlighted its leadership in creating innovative, eco-conscious technology at the 2013 International Consumer Electronics Show (CES) in Las Vegas on Jan. 10. In addition to being the Exclusive Green Sponsor of this year's CES, the company demonstrated its wide variety of beautiful products with eco-conscious features at the Eco Zone of the Samsung booth (#12004) in Central Hall of the Las Vegas Convention Center.
Three of the four Samsung 2013 Eco-Design Award-winners the Series 9 Premium Ultrabook, the CLP-365W Laser Color Printer, and the Green DDR3 were on display at the Eco Zone.
¢∫Samsung's Series 9 Premium Ultrabook is designed to meet strict performance and environmental criteria with extremely low energy consumption both in idle and standby modes, which leads to a reduction in environmental impact. The Series 9 is also free of polyvinyl chloride (PVC) and brominated flame retardants (BFR). Samsung also developed a longer-lasting battery specifically for the Series 9 which delivers up to 10 hours of power on a single charge and an optimized Smart Step Charging Algorithm that improves the multi-way charger by control charging conditions depending on voltage and current. Samsung's unique suite of software allows people to choose between Power-saving and Eco-modes. The Series 9 has been certified worldwide with energy certifications such as ENERGY STAR v5.2, EPEAT Gold rating, and TCO notebooks 3.1.
¢∫Samsung's CLP-365W Laser Color Printer offers a number of environmentally friendly features such as the "One-Touch Eco Button" and the "Easy Eco Driver" which are designed to save power, paper and toner. As part of Samsung's commitment to the environment, all of the latest color models have earned the ENERGY STAR-certification and all toner is eligible for Samsung's S.T.A.R. Program, a free service that recycles empty cartridges into usable component materials.
¢∫ Samsung's Green DDR3 is a highly advanced memory module designed for server systems used to support the infrastructure of a wide variety of server applications. It delivers the highest memory performance available today for servers (1333 Mbps) and at its highest density enables extremely high capacity (3TB max) memory configurations for four-way server systems. Operating with a voltage of 1.35V, according to Samsung tests it provides an average 70% power savings (per unit density) over a 50nm class equivalent, 1.5V DDR3-based RDIMM.
"Samsung's Eco Zone Display at CES exemplified our continued commitment to the environment and the long-term life expectancy and durability of our products that make our technology truly sustainable," said David Steel, Executive Vice President of Strategy for Samsung Electronics North America. "We look forward to creating new technology that will provide people with the next generation of eco-friendly features they never dreamed was possible."
The other 2013 Eco-Design Award-winner, Samsung's new LED Smart Bulb, was unveiled at the Official Press Event of the International CES on Jan. 6 and will be featured at the Innovations Design and Engineering Awards Showcase in The Venetian.
¢∫ Samsung's LED Smart Bulb uses less energy and lasts longer than incandescent bulbs. The 13.6W bulb casts a pleasant warm white glow that matches the brightness of a 50W incandescent bulb which is sufficient for the most common areas of the home. It is also flicker-free, and unlike CFLs, reaches full illumination immediately. This state-of-the-art product is also integrated with a wireless communication protocol, which allows people to easily control the lighting by using their smartphone to change the ambience of a space - even from the comfort of their sofa.