Chmn. Hur of GS Caltex Transfers CEO duty to Vice Chmn. Huh
In a huge personnel shake-up at GS Group, Hur named board chairman of both GS Caltex and GS Energy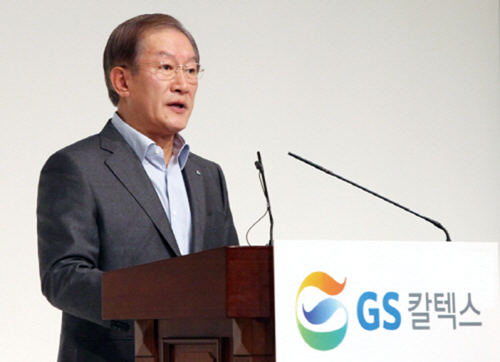 Vice Chairman Huh Jin-soo of GS Caltex who was made the CEO of the oil
refinery in Yeosu, South Jeolla Province on Dec. 4, last year.
GS Group, in a huge personnel shake up on Dec. 4 involving 37 top executives, named Chairman Hur Dong-soo, chairman and CEO of GS Caltex, chairman of the board, relegating the CEO job to his cousin Huh Jin-soo, vice chairman of GS Caltex currently in charge of the marketing headquarters of the oil refinery. Chairman Hur will also oversee GS Energy as board chairman.
The personnel move has been focused on seeking growth under a stable organization, unlike other conglomerates that went through large personnel changes promoting the younger generations of leaders and reorganizing their business structures to be ready for an unfriendly business environment in the new year.
GS Group officials said the group sought stability in its organization while strengthening its management to cope with tough business conditions.
Vice Chairman Huh, 60, is considered a seasoned top executive as he has been involved with the oil refinery in a number of key positions since joining the company in 1986, in areas such as the marketing headquarters, the production headquarters, the petrochemical headquarters, and the management support headquarters, one of the very rare CEOs who has had such wide-ranging experiences in charge of GS Caltex's various operations. The new CEO is expected to unfurl a dynamic management plan considering his vast experience with running an oil refinery.
Huh considers communication very important and shares opinions even with the front line staff members to find out what's happening in all corners of the oil refinery. He would sometimes invite staff to a soju dinner for down-to-earth conversations with them. He is a younger brother of Chairman Huh Chang-soo of the GS Group and a younger cousin of Chairman Hur.
Hur will take care of long-term strategies for oil refining and oil exploration for both GS Caltex and GS Energy. Officials of the group said the group has for the first time separated the chairman of the board and the CEO in an effort at boosting the organization's effectiveness and professionalism.
GS Construction, in the meantime, named President Im Byung-yong, a financial expert, as Chief Financial Officer (CFO), to take charge of tough financial matters in such a difficult time. In light of the importance of the company's finance in the days to come, the CFO's rank has been upgraded to president.
Rumors say that he will be in charge of restructuring if such a need arises, especially since he had worked for LG Restructuring Headquarters before coming to GS Construction.
An outstanding feature of the current personnel move has been that a number of the owner family's third and fourth generation members were promoted to important positions. Huh Yoon-hong, a son of Chairman Huh, has been promoted to standing director of GS Construction, while Chairman Huh's younger cousin, Yon-soo, was promoted to president of GS Retail. Another younger cousin, Yong-soo, was made vice president at GS Energy, while a nephew, Joon-hong, was promoted to director at GS Caltex.
Others involved in the personnel moves were Director Kim Ki-hwan of GS Holding Co., a career M&A expert and the youngest director in the group, and Vice President Hong Soon-ki, in charge of the financial team at GS Holdings; while Yeo Eun-joo, a woman, has been promoted to managing director at GS Holdings in charge of personnel and public relations.