SK Engineering and Construction Co. secured a contract to build a multiplex in the Kwangyo New City Business 5-1 Bloc in Suwon, Gyeonggi Province, just outside Seoul, the company announced on April 28.
The project involves the construction of the SK View Lake Tower, an office building and Kwangyo SK View Lake, and a commercial building. The twin buildings will have 41 floors each and five basement floors, with a total space of 104,116 sq. meters. The structures will have 565 section offices and 112 officetels.
The Kwangyo SK View Late Tower will be the tallest office building in Gyeonggi Province, shooting up 175 meters into the sky. Most of the offices in the building will have a nice view of Kwangyo Lake Park, which is located nearby. The Kwangyo View Lake structure will have 41 floors above-ground with five-level basement floors. Most of the apartments in the building will come in 84 sq. meters in size.
Easily accessible by residents in SK View Lake Tower is the extension of the New Bundang Line connecting Jeongja and Kwangyo. Kwangyo Central Station is the terminal for the line. It takes only half an hour to get to Gangnam District in Seoul.
The Suwon Convention Center, the new administrative building for the Gyeonggi Provincial Government, along with offices for 13 state-owned companies will either build their office buildings or move into the buildings nearby, the SK View Lake Tower Complex in the near future.
The SK View Lake Tower will begin selling office and apartment units this month, while those in the SK View Lake will go on sale in July. A number of model structures are on display at 1351-5 Iick-dong, Youngdong District, Suwon, Gyeonggi Province.
Last December, Chairman Guan Qing of China State Construction Engineering Corporation Ltd (CSCEC) met in Beijing with Mr. Choi Kwang Chul, CEO & President of SK Construction Co., Ltd.
Chairman Guan Qing first extended his welcome to President Choi for his visit to CSCEC, before introducing his company's operations and business layout, especially the "One Belt One Road" strategy and the "Going out" strategy. President Choi talked about current operations and development of SK Group. He also expressed his desire of furthering cooperation with CSCEC in such fields as exploration of international markets, procurement of equipment and material from China as well as training of technical talents. Both parties reviewed the long-standing cooperative relationship and discussed strengthening their cooperation on development of infrastructure projects related to "One Belt One Road" initiative, overseas PPP Projects, and construction industrialization.
After the meeting, the Strategic Cooperative Agreement was signed between Overseas Operations of CSCEC and SK Group,under the witness of Chairman Guan Qing. Based on the agreement, the two sides will conduct all-round cooperation on overseas financing, investment, and construction, IPP project, PPP project, new market development, supply and procurement chain development, etc. from Overseas Operations.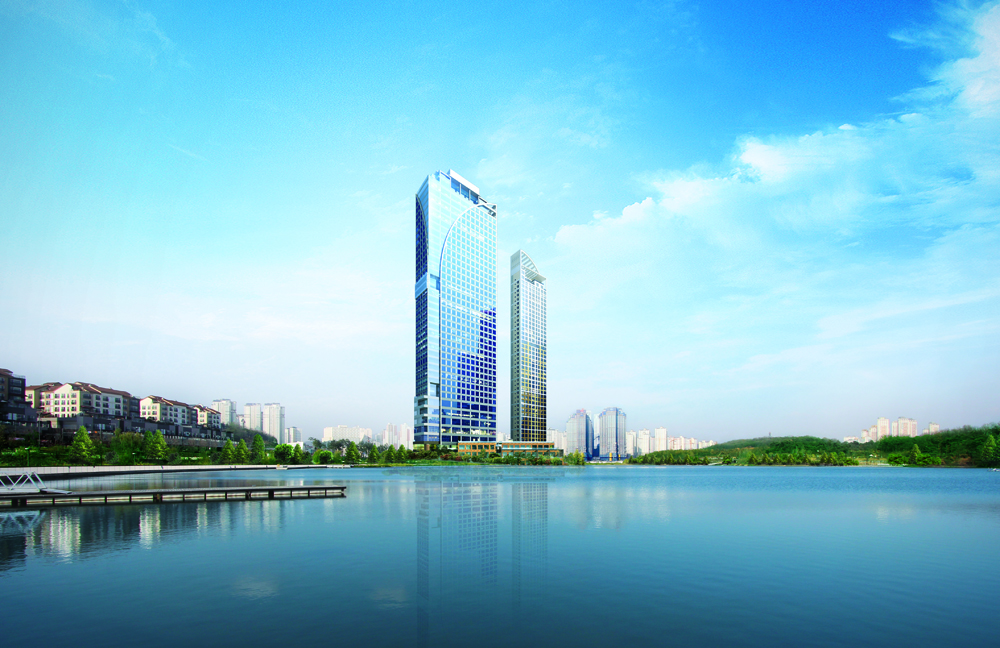 A bird's eye view of the projected the SK View Lake Tower to be built by SK E&C in Suwon, Gyeonggi Province.(Photos:SK E&C)