New LS Group Chmn. Koo Stresses 'Sustainable Growth for a New Leap'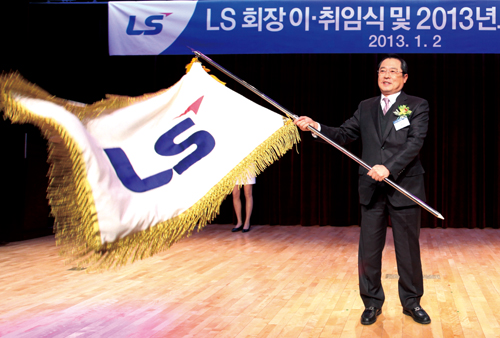 LS Group Chairman Koo Ja-yeol waves the group's flag at the head
office as he took the helm as chairman of the business group, replacing his cousin John Koo.
Koo Ja-yeol, chairman of the nation's top wire and cable maker, LS Cable, took office as the chairman of LS Group, replacing his cousin John Koo at an inauguration ceremony, which coincided with a New Year's gathering at the LS Tower in Anyang, south of Seoul, on Jan. 2.
Koo said in his inaugural speech, "We've seen world-class juggernauts fall behind suddenly after failing to cope with changes in the business environment, so we'll devote ourselves to making this year the first year for embarking on a leap forward by securing solid capabilities to weather any changes."
He extended thanks to Chairman John Koo for spearheading growth since the group's inauguration and setting a beautiful precedent of rotational chairmanship. He added that now is the time for the group to purse sustainable growth by building a management and corporate culture commensurate with its stature.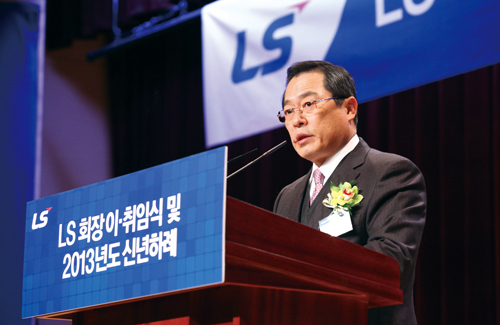 LS Group Chairman Koo Ja-yeol
"Let's embark on LS's new era under the catchphrase 'With a Challenging Sprit afresh, Let's Unfold the Future Together.'"
First, Koo called for revamping the group's management in a way to overcome the effects of slow growth. LS Group will pursue sustainable growth so that the foremost competitiveness can be secured in business areas selected through a choice & focus strategy. The group will have to build a sound management foundation based on a low-cost, high-efficiency production process, while ramping up financial sustainability, the chairman said.
Second, he urged his group's staff to continuously explore new growth engines. The group needs to secure growth momentum that will dominate the future market in all categories, including market, product and service in order to maintain sustainable growth based on a strong competitive edge. Koo said the group has got to make preparations for dominating future markets by exploring new growth engines such as green & solution businesses in the energy field.
Third, he called for strengthening its presence in the global market. It is urgent for each group subsidiary to secure global top-level competitiveness in its core and mainstay businesses. The group should ramp up the conventional businesses' standing while continuously exploring new markets to take the lead in the global market.
Third, he said, LS Group will do its utmost to promote corporate social responsibility (CSR). The bigger companies grow, the more they should shoulder corporate social responsibility. The business group, he said, will carry social, economic and environmental responsibility based on transparent, fair management tenets it has declared as one of the nation's representative companies. CSR is a concept of translating what is dubbed the LS partnership into action with the goal of realizing continuous growth based on LS's management tenet "Together for Greater Value."
An LS Group official said, "Chairman John Koo has built up a foundation for stellar growth for the past 10 years, and Chairman Koo Ja-yeol is expected to spearhead a second take-off for sustainable growth."
The business group will likely maintain stable growth amidst the continuing support in manpower development, corporate culture, and brand value, the official said.