Lotte Chairman-in-Chief Shin calls for bracing for uncertainties with renewed determination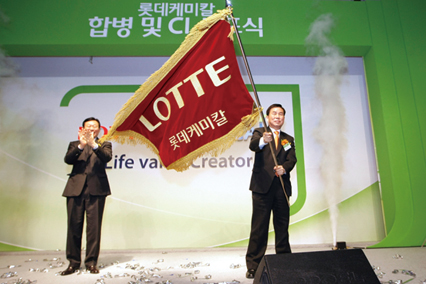 Lotte Chemical President Huh Soo-young waves the flag of Lotte Chemical,
established by merging Honam Petrochemical and KP Chemical Corp.,
as Lotte Group Chairman Shin Dong-bin claps in the background.
Lotte Chairman-in-Chief and CEO Shin Kyuk-ho said in his New Year's message, "Last year was a difficult year with the domestic downturn and global economic uncertainties, and this year we will likely be faced with fiercer competition due to global low-growth trends and prolonged economic recession."
"Lotte Group has so far wisely coped with several crises, but worry is mounting that the coming situation before us will be unprecedented," Shin said. He urged his staff to take a cautious attitude and to have renewed determination to go through the latent risk factors that lurk in every nook and corner.
"Now is the time when we should do soul-searching and reflect on if we are too insensitive and casehardened with repeated crises," Shin said.
First of all, he said, his business group should strengthen their core businesses' competitive edge through solid management. He noted that Lotte should ramp up its strengths and core capability through reorganization and thorough risk and investment management when the reality is that no company's future is guaranteed amidst market uncertainties.
Second, he said, Lotte Group should be committed to successfully joining the ranks of Asia's top 10 companies through continuous expansion and growth of overseas businesses. The group has seen its overseas business, launched six years ago, show a solid growth with sales now amounting to close to 10 trillion won. It is more important to select the proper time to enter markets than to take a caution attitude based on clear-cut survey and analyses to make an overseas business a success, he said.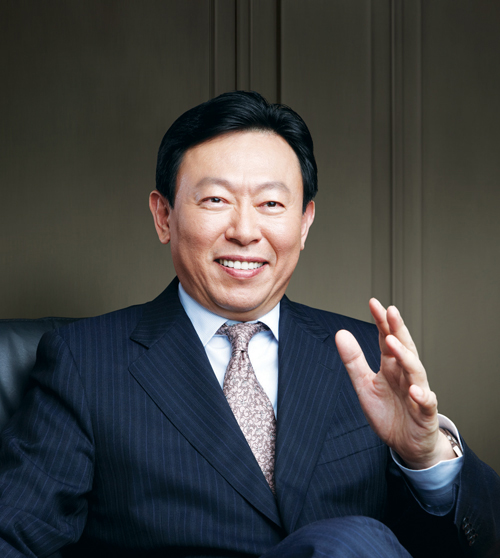 Lotte Group Chairman Shin Dong-bin
Third, he said, strengthening Lotte Group's brand power is essential to grow into a world-class company.
Lastly, Shin said, the group will have to spare no efforts in upholding their corporate social responsibility. He called for his group subsidiaries to ramp up their social contribution activities and to meet the mounting public and social call for shared growth with SMEs and district shop proprietors. "When we dispense to local communities the knowhow of what we can do best and pursue shared growth with cooperative partners, Lotte group will likely see its competitiveness and brand value soar as a company trusted by customers," he said.
Chairman-in-Chief Shin started his career in the food industry while studying in Japan during the Japanese occupation period. From then on, he promoted businesses in both Korea and Japan throughout the industries of food, distribution, tourism, service, petrochemicals, construction, production, and finance.
Currently, Lotte Group has grown as a global enterprise that covers China, Vietnam, Russia, Indonesia, and India. Shin is recognized as a businessman who became the foundation for the reconstruction and industrial renaissance of Korea, which was regarded as an industrial wasteland, before and after the Korean War.
LOTTE CHEMICAL, A MERGER OF HONAM PETROCHEMICAL AND KP CHEMICAL
Lotte Group Chairman Shin Dong-bin announced a plan to nurture heavy and petrochemical businesses as the group's growth engines. Group Chairman Shin made the remarks at a ceremony to declare the corporate identity of Lotte Chemical, established by merging Honam Petrochemical and KP Chemical Corp., at the Lotte Hotel in Seoul on Dec. 27.
Shin said, "Lotte Group plans to attach priority to nurturing distribution/service industries and petrochemical sectors as its core businesses with the latter, led by Lotte Chemical." He said Lotte Chemical will be committed to realizing the group's vision of becoming a top 10 company in Asia and one of Asia's most exemplary petrochemical firms.
Honam Petrochemical has changed its name to Lotte Chemical, 34 years after it was acquired as a petrochemical unit of the business group in 1979.
Lotte Chemical President Huh Soo-young said the company will redouble its efforts to go abroad, beyond the saturated domestic market.