Korean steel giant takes over 15 percent stake of iron ore mine in Canada from ArcelorMittal in partnership with China Steel of Taiwan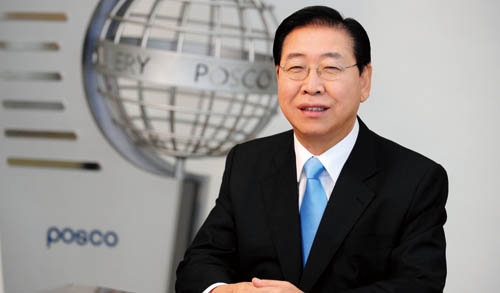 Chairman Chung Joon-yang of POSCO.
POSCO opened 2013 by pledging to secure a higher level of competitiveness through value management and innovation management. On Jan. 2, the first working day of this year, POSCO held the POSCO Family year opening ceremony at the Pohang headquarters main auditorium, and shared the 2013 POSCO Family management goals.
Approximately 300 people, including employees of POSCO, investing companies, and external partners, attended the ceremony, which was carried out simultaneously with the Gwangyang Innovation Center via video. This year, overseas subsidiaries including China's Zhangjiagang Pohang Stainless Steel and Indonesia's Krakatau POSCO were connected as well to deliver New Year's greetings from abroad. The opening ceremony was also broadcast live via TV and PCs in the office.
The opening ceremony started with New Year's greetings and messages of encouragement from employees in China and Indonesia, followed by a silent prayer for those who passed away in the line of duty.
In the New Year's speech that followed, CEO Chung Joon-yang emphasized that amidst the world's economic stagnation and difficult steel market conditions, the company needs to focus on client success rather than cost competition, secure market leadership and profitability in a 'value competition,' and overcome the crisis through a higher level of 'innovation management.' Also, to overcome the double crisis of oversupply and a slowdown in demand, the company must capture the hearts of customers and develop unique products that can raise customer value.
CEO Chung also said, "We cannot achieve the '100 year POSCO' vision with defensive and passive crisis management. We must focus on risk management by maintaining organic relations with overseas subsidiaries." CEO Chung requested that all employees propose ways to solve issues and take responsibility, and always have a mind of gratitude and think with the 'heart of an owner,' and through this become a POSCO Family that 'creates answers.'
In the meantime, POSCO in partnership with China Steel of Taiwan bought a 15 percent stake in ArcelorMittal's iron ore mine located in Canada for $1.1 billion, it was reported on Dec. 31, last year.
Investment banking sources in London said the POSCO consortium signed a SPA in London with officials of the largest steel company in the world. China Steel participated in the deal as a strategic investor in the consortium. POSCO and China Steel intend to invest $270 million each, totaling $540 million, and borrow the balance of the $1.1 billion needed to take over the stake in the Canadian iron ore mine. The National Pension Service and other domestic investors are willing to lend the consortium the $560 million needed.
The Canadian mine produces 15 million tons of iron ore a year, roughly 40 percent of the total iron ore produced in Canada, making it the largest iron ore mine in North America with its own wharf and railroad, thus requiring the lowest production cost.
ArcelorMittal, the largest steel maker in the world, has had to sell its assets to cut its $23.2 billion in debts with the steel market remaining sluggish as the global economy sags. The price of iron ore showed signs of a rebound with POSCO buying the stake in the Canadian iron ore mine, sources said.
The price of iron ore fell to $90 to $100 per ton in September 2012 when POSCO began its move to consider the Canadian mine deal, but in recent months the price has risen to around $140 per ton, up 40 percent.
The National Pension Service will participate in the deal as a financial investor due to its connection with POSCO as a partner in the formation of a private equity fund totaling 500 billion won to finance M&As overseas.
POSCO and China Steel began their close cooperation in overseas operations when POSCO sold 2.5 percent of its 15 percent stake in the Roy Hill Iron Ore Mine in Australia last year.