Increase sales through distribution of virtual goods and solutions in the global markets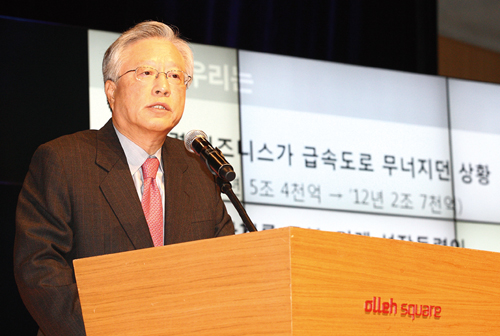 KT Chairman Lee Suk-chae delivers a speech at a ceremony
to kick off the 2013 business year on Jan. 2.
"Even though its core business, wire/wireless businesses collapsed KT overcame the challenge with passion and sweat of employees without structural adjustment and any change of ownership."
KT's chairman, Lee, Suk-Chae, stressed KT be armed with strong entrepreneurship in 2013 announcing KT's working principles for the year of 2013 during a kick-off meeting with employees on Jan 2.
"KT has been taking the lead in ICT convergence for the past four years showing the vision for the distribution of solutions in order to prepare for the broadband business on the basis of its wire/wireless networks" said Lee "2013 will the first year for making huge growth making profits on the basis of our broadband infrastructure."
To achieve these goals, new working principles set for 2013 are as follow -
First, KT will prepare for the future opportunities by generating new values of broadband networks and enhancing its competency in virtual goods and solutions. Particularly, the company plans to provide more than IT operating services and provide solutions, planning and supervising services, optimization and consulting services which can enrich its service value.
Second, KT plans to extend to non-telecom services including convergence, content, and cloud computing service to increase sales and strengthen its identity as an ICT convergence enterprise. To make synergy effects with non-telecom business sectors making huge growth of 500% in the last four years KT also plans to find quality content through KT Media Hub, which was established at the end of the last year to enrich its expertise, and utilize its global platforms such as Genie, Soompi, and Ustream to take the lead in distributing virtual goods in the global market.
Third, KT plans to build its global competency stronger by changing the way that the employees work based on a BIT (Business & Information System Transformation) project. The company kicked off the BIT project in Nov 2011 to innovate its IT platforms including those of management information, sales, facilities, and service. This year IT systems of all of the business areas will be innovated and an infrastructure to systemically reduce costs to maintenance separated systems for each area will be also built.
Forth, KT will reform the systems in all directions to reduce VOC (customer complaints) to half. It will enhance customer satisfaction by removing after-service problems causing degradation in profit and customer loyalty.
Fifth, KT will make tangible results from the global market.
The company plans not only endeavor to ensure the competence of KT in the overseas markets but also to promote the export of devices and content.
It also expects to focus on commercialization of know-how of Smart Home and content, and export them overseas. To promote the export of Kibot as an edutainment robot and to promote package products of content catching up with Kpop trends are good examples.
Leading the convergence era along with the growth of itself, KT group also promotes the re-growth of IT industry in Korea. The company plans to create jobs for young people by sustaining its Econovation policy and raising funds of 100 billion won from the content business field, giving opportunities to enter the global market with its global platforms. As a result, KT is expected to continue generating CSV (Creating Shared Value).
"KT Group has done lots of work to change the industrial paradigm by promoting accompanied growth, the software industry, Smart Working systems and by raising content funds" said Lee "In 2013 ensuring to become a role mole in our society we will endeavor to be the tip-topmost company armed with strong entrepreneurship to lead the ICT convergence globally."