Chmn. Park urges every affiliate of the Doosan Group to set up and aggressively push Star Projects this year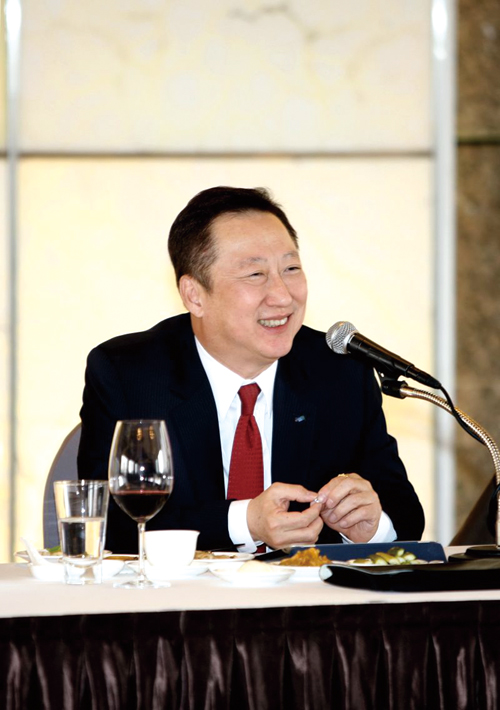 Chairman Park Yong-man of Doosan Group.
"We have to be ready for the period following the low-growth period this year, starting now," said Chairman Park Yong-man of the Doosan Group in his New Year's address. He pointed out that strengthening basic competitive power and advanced business operations in a scientific way was the answer for the period of challenge that lies ahead for the group this year and beyond.
He went on to say that they are at the point where they should prepare to jump ahead of others as a top tier conglomerate. Because the group has caught up to the leaders, it should replace old processes and methods that lag behind the times.
In order to do that, the chairman said each affiliate of the group should create "Star Projects" to enhance its competitive power drastically and make maximum efforts to achieve them.
Park also said the best way to hold down expenses and eliminate ineffectiveness is to work in an advanced and scientific way, which is more preferable to being defensive.
"I will try to have our Doosan Way, declared last year, take deep root in the group this year," the chairman said. "We are becoming a business group made up of strong people with warmth," he said, adding that everyone should grow as a person through his daily work and in turn let the group grow at the same time.
Doosan is on track to further globalize its operations this year with its high-tech commodities and technologies. Doosan Heavy Industries & Construction, for one, aims at boosting its competitive edge in the areas of technology development, and it plans to hold down costs particularly in the sectors of water treatment, thermal and nuclear power plants, and wind power to secure top-class products in those sectors with strategies to make each of them global leaders ahead of the market recovery.
Last November, the group took over a British water refining company, N-Pure, in a bid to strengthen the competitive power of the group's water refining facilities operations. Park said he sees the growth trend for the power generation sector to continue this year and plans to expand the operations particularly in Southeast Asia and emerging nations.
Doosan Infracore, too, will go all-in to generate profits where it can and improve its physical structure to enhance its capacity to make profits particularly in the area of construction machinery aimed at Southeast Asia, Central and South America, and emerging nations.
The company opened product display and logistics centers in Singapore and Brazil at the end of last year, directed at countries in Southeast Asia to cut the expenses for the delivery of its products and services for customers in those regions. The company will set up the display and logistics centers in China and the United Arab Emirates this year to handle its machinery and products.
Doosan Infracore, based on its premier technologies, aims to maximize customer value, deliver excellent quality to the world, and become a global leader.
The company's goal of reaching the rank of the world's top three machinery companies means being a company that posts the industry's top revenues and profits, faithfully performs its corporate social responsibilities, and continues to provide the best value to all those involved, including shareholders.
To achieve this vision, the company is endeavoring to practice the Doosan Way, to establish a powerful corporate culture unifying its multinational employees, and to foster global talent.
Further, in order to supply excellent products that maximize customer value, Doosan Infracore is pushing to further enhance its capabilities to analyze market and customer needs, to develop innovative technologies, to secure fundamental quality competitiveness, and to innovate productivity.