Dignitaries including STX Chmn. Kang push buttons to signal start of the construction of the power plant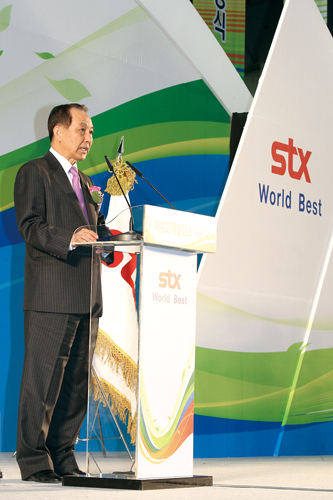 Chairman Kang Duk-soo of STX Group gives a speech at the
groundbreaking ceremony on Dec. 26, last year for
the North Bukpyeong Thermal Power Plant in Donghae City,
Gangwon Province, the first privately invested power plant in Korea.
STX Group kicked off the construction of the first base-load thermal power plant, the North Bukpyeong Thermal Power Plant in Donghae City in Gangwon Province, on Dec. 26 at a ceremony held at the project site with a number of dignitaries in attendance led by Gov. Choi Moon-soon of Gangwon Province, Rep. Lee Ei-jae, and STX Group Chairman Kang Duk-soo.
The base-load power plant, which uses coal as fuel, is operated 24 hours per day without stopping to supply basic power needs and is being built in a partnership between STX Power and Korea East-West Power Co., with a 51 percent stake and a 49 percent stake, respectively.
Around 70 percent of the cost will be met with project financing. The project involves the construction of two 595 Kw power generators on a 400,000 square meter site in Donghae City.
The first generator is scheduled for completion in February 2016 and the second one in June the same year to supply power to 1.5 million homes along the east coast of Gangwon Province.
Both STX Power and the KEPCO affiliate will take charge of construction, management, operation, and maintenance of the new power plant.
The government has allowed private firms to participate in the construction of power plants since 2010 under the 5th Electricity Supply and Demand Plan, which included the North Bukpyeong Thermal Power Plant.
The projected power plant was designed based on environment-friendly and high fuel efficiency power plant design technology and it will drastically lower the emissions of pollutants such as sulfur and carbon dioxide, officials of the partner companies said. Ash from the burnt coal will be used as raw material for cement, as part of the new power plants efforts to reduce the generation of waste material as well.