The prime minster encourages Chmn. Chung to continue to steer the steel complex to help the national economy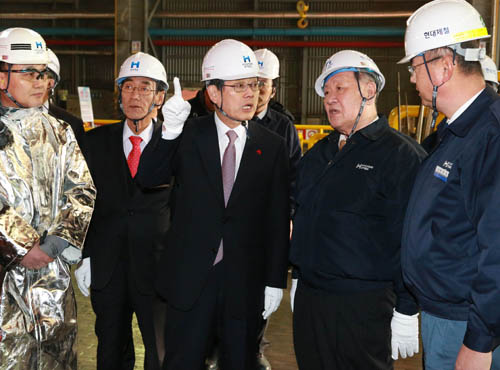 Prime Minster Kim Hwang-sik, 3rd R, talks with Chairman Chung Mong-koo of
Hyundai Motor Group, 2nd R, during his tour of Hyundai Steel Dangjin Complex in
South Chungcheong Province on Jan. 7.
Prime Minister Kim Hwang-sik visited Hyundai Steel's steel complex in Dangjin, South Chungcheong Province, on Jan. 7, the first private business he has visited in the new year, in a move to congratulate the steelmaker's excellent export record last year in excess of 4 million tons for a second consecutive year.
The prime minister was met by Hyundai Motor Group Chairman Chung Mong-koo and Vice Chairman Park Seung-ha, Hyundai Steel President Woo You-chul, and Kia Motors President Lee Sam-woong and toured the steel complex, the first privately owned steel plant in Korea. He was accompanied on his tour by First Vice Minister Yoon Sang-shik of the Ministry of Knowledge Economy and Mayor Lee Chul-hwan of Dangjin City.
Kim looked around a number of major facilities at the complex including an environmentally friendly covered iron ore storage facility and blast furnaces and shook hands with workers at the plant to congratulate them on their hard work.
The prime minster urged them to focus on continuously maintaining the steel plant's competitive edge in the world.
He also talked about the Korean steel products' viability in the world steel market and strategies to keep chugging ahead of its global rivals, as it has been doing for the past couple of years. Last year, the steelmaker exported 4 million tons of its steel products for a second year in a row, which comes to around one-fourth of the steelmaker's 16.32 million tons sold last year.
Hyundai Steel's sales increased from around 9 million tons in 2009 to 16 million tons last year, up 64 percent, due to the Dangjin Steel Complex going online with two blast furnaces.
The sale of steel board products, with a high value-added portion, rose to over 54 percent of total sales, up from 25 percent in recent years.
Officials of the steelmaker said the prime minister's visit is very significant as it came during a time when exports should be increased to lead the economy out of its current slump, which Hyundai Steel will be able to do when its third blast furnace goes online in September.
The Dangjin Steel Complex occupies 7.4 million square meters of land, 2.5 times the size of Yeouido, Seoul, and was built at a cost of 9.5 trillion won
Hyundai Motor Group Chairman Chung and his son Chung Eui-sun have been expanding their presence in the group's subsidiaries. Chairman Chung is to take on the role of a standing director at Hyundai Engineering & Construction (E&C), which was acquired by the automotive group in March 2011, Hyundai Motor announced Wednesday. Recently, Chung Eui-sun, Hyundai Motor vice chairman and Kia Motors president, was named a standing director of Hyundai Steel.
According to Hyundai spokespeople, their direct involvement in the subsidiaries is aimed at enhancing responsible management.
"Construction is one of the three core sectors of our group, along with automobiles and steel," a spokesman said. "Chairman Chung's taking on the standing director's role is designed to carry out responsible management."
The Hyundai chief has already been the standing director of five other units °™ Hyundai Motor, Hyundai Mobis, Hyundai Steel, Hyundai Powertech, and Hyundai NGV.