Hanwha L&C President & CEO Kim Chang-bum and his staff show a
gesture of love as they participated in a volunteering activity program.
Hanwha L&C is one of Hanwha Group's major manufacturing units along with Hanwha Chemical and Hanwha Corp., which focuses on exploring the group's growth engines through continuous innovation and investments.
Breaking the mold with seamless challenging and innovation and shifting its focus from the conventional construction materials businesses, Hanwha L&C is turning to such viable future core businesses as composite materials for making automobiles, electronics materials and photovoltaic power materials lighter under the catchphrase "To Be Reborn as a Company of Advanced Materials Technology for Human and Environmental Values."
Hanwha L&C is devoting itself to aggressively exploring foreign markets via its eight overseas operations in the Americas, Europe, China and other regions to increase its overseas revenues. The company, headquartered in Seoul, has its own exhibition hall in Yeoksam-dong, the Central Research Institute in Daedeok Special Research Development Zone in Daejeon, three manufacturing plants in Sejong City and Eumseong, Chungcheongbuk-do, and six branches and outlets across the nation.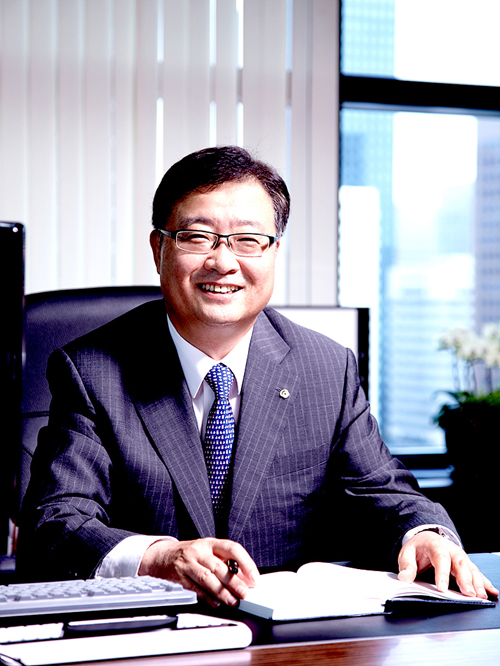 Hanwha L&C President Kim Chang-bum
Hanwha L&C, which entered the light automotive materials market in 1986, takes the lead in the segments of high-intensity, superlight products with a focus on car interior and exterior materials. The company has a variety of lighter automotive materials portfolios, including glass mat reinforced thermoplastics (GMT), low weight reinforced thermoplastics (LWRT) and expanded polypropylene (EPP).
Hanwha L&C, which has built production infrastructure with overseas operations in Alabama, Beijing, Shanghai, and the Czech Republic, is establishing itself as a global light automotive materials supplier to Hyundai Motor and Kia Motors as well as General Motors, Ford, Toyota, and Volkswagen. The company, which has a 70 percent share in the global GMT market, is recognized for its technology and quality. High-intensity bumpers and set back frames are made with GMT products, greatly contributing to lightening cars.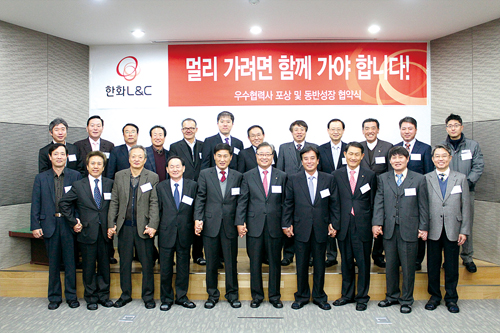 Hanwha L&C President Kim Chang-bum and CEOs of the company's
cooperative companies pose together after signing MOUs
on co-existence and shared growth
Furthermore, continuous fiber reinforced thermoplastic is among the newly developed superlight automotive materials, 20 percent lighter than the conventional ones, whose development has been just completed by Hanwha L&C. The company is expanding its high-intensity, superlight automotive materials lines in accordance with an MOU on joint development of carbon fiber composite materials with Toray Industries, signed last March.
An aerial view of the G-Tech plant in Emseong, Chungcheongbuk-do.
Hanwha L&C, which entered the flexible copper clad laminate (FCCL) segment in 2003, has succeeded in localizing FCCL technologies and replacing Japanese imports. The company has now not only secured price competitiveness in the segment, but also has contributed to improving the competitive edge of the Korean electronics industry through joint technology development. FCCL is in wide use as a key material for producing such precision products as smartphones, tablet PCs, automotive application components, and aerospace materials.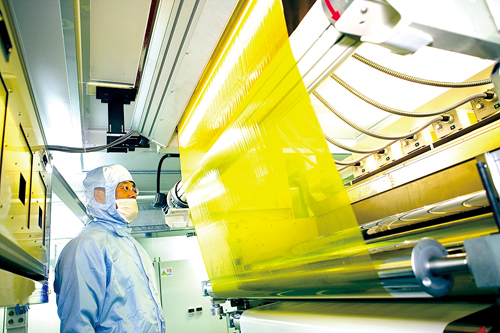 A view of Hanwha L&C's FCCL production line.
Hanwha L&C, which has a hand in the touch screen panel segment, a key component of smart systems in global use, has succeeded in the development of indium tin oxide (ITO) glass and ITO film, and the company is completing the expansion of production lines.
The development of optically clear adhesive (OCA) for inosulating cover glass, module, and other display components is also being done, and an OCA production line is scheduled to be dedicated in the second half of this year.
As the demand for wider touch screen panels is forecast to shoot up thanks to continuous growth of the smartphone market and the release of Windows 8, Hanwha L&C plans to establish itself as the nation's sole TSP material total solution provider based on its differentiating technology power in basic materials ranging from FCCL to ITO glass and ITO film the company has accumulated for the last several years.
Hanwha L&C, which experienced in sheet production technology for more than 30 years, has successfully localized ethylene vinyl acetate (EVA) sheet and back sheet for photovoltaic cells. The company is playing a pivotal role in Hanwha Chemical's photovoltaic power business segment. Hanwha L&C, which localized EVA sheet in 2010, has attracted attention afresh from the global EVA market, 90 percent of which is controlled by five companies. Based on the industry's top-rated reliability, quality, and safety, the company now supplies EVA sheets to photovoltaic module makers in China, Europe, and Japan. Hanwha L&C, with a current production capacity of 18,000 tons of EVA sheets, aims at raising the capacity to 50,000 tons by 2015 and 100,000 tons by 2020 with the goal of rising to the ranks of the global top three companies.
In particular, Hanwha L&C, which signed an MOU on shared growth of the photovoltaic power industry with related institutions, companies, and schools, is striving to develop the Chungcheong area as the nation's best photovoltaic power cluster with a global competitive edge.
SHARED GROWTH
SMEs cooperating with conglomerates face the greatest hindrance in the development of new products -- the problem being that they cannot secure pieces of testing and analyzing equipment with their high-flying price tags.
In an effort to solve this woe facing its cooperative SMEs, Hanwha L&C has signed MOUs on co-existence and shared growth since 2009. The number of SMEs with which Hanwha L&C signed MOUs has risen to 130 this year.
Hanwha L&C operates systematic and effective programs of shared growth under the catchphrase "We Should Join Forces to Become Long-lived Companies." It is owed to Hanwha L&C's recognizing a win-win strategy in which its cooperative partners should be considered as family members and business partners of co-existence, not just subcontractors.
VOLUNTEERING ACTIVITIES -- Through its unparalleled leadership in social contribution activities, Hanwha L&C is striving to become an equally respected company in the area. All executives and staff members at Hanwha L&C are encouraged to participate in volunteering activities more than twice yearly. The company's head office in Seoul and production sites in Sejong City and Eumseong each operate a Hanwha L&C Volunteering Team.
Under the catchphrase "Sharing the Energy of Life," the team conducts various volunteering activities, including ones supporting children, the elderly, the physically handicapped, and flood victims.
The volunteering team at the Hanwha L&C head office carries out social contribution activities tailored to meet the needs of beneficiaries in cooperation with six organizations, including the Korean Business Council for the Arts and World Vision.