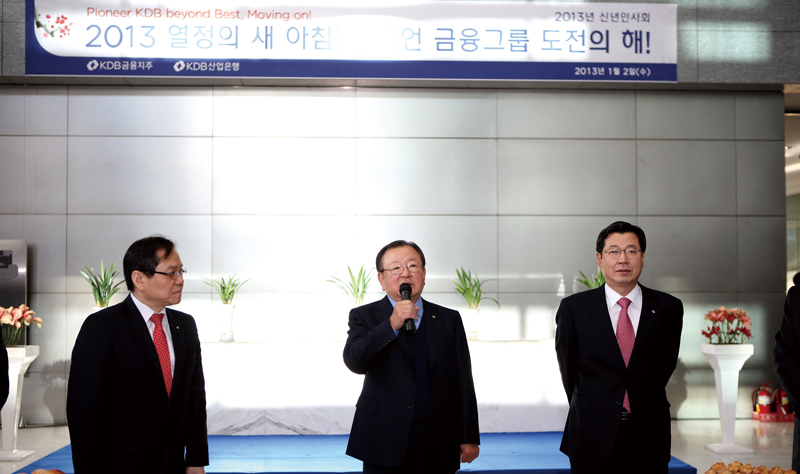 KDB Financial Group Chairman Kang Man-soo gives a speech at a New
Year's meeting to celebrate the start of the 2013 business year.
The Korea Development Bank (KDB) projects 2013 will be another slow year for its operations due to the continuing economic slumps both globally and domestically and the continuing of the low interest rate era coupled with restrictions on loan growth.
KDB, despite such a tough management environment, has decided to expand its market share through positive business strategies designed to turn crises into opportunities, the bank said.
The bank will focus on these three major operational targets: growth in operational assets, expansion of its retail banking operation base, and expansion of overseas operations this year.
KDB will create special financial support programs for SMEs with tailor-made financial support for each growth stage of their operations so that they can grow to be future growth engines of the economy. KDB will also change its financial support to large companies by shaking up its loan portfolios that currently favor the large conglomerates. KDB also plans to expand its investment banking roles, including project financing and private equity funds, to strengthen its competitiveness and expand its market share in those areas of finance.
KDB will also strengthen the retail banking sector, as the bank has already shown its capacity for growth in that area though its reformative retail banking system, KDBDirect Service, under which bank staff will call on customers to help set up their personal accounts to broaden KDB's deposit base.
This year, too, will see KDB expand its KDBDirect operation territory and the number of personal deposit accounts by setting up an exclusive internet homepage for the service. KDB will also expand its retail credit loan operation this year through cooperation with the Korea Credit Guarantee Fund, the Korea Technology Guarantee Fund, and Korea Land and Housing Corp. to minimize risks associated with retail loans.
KDB also plans to step up its overseas operations, as the domestic financial market has been too saturated, especially to Asian countries and other emerging market countries in an effort to sweep the project financing markets in those countries.
The bank will look into the financing of ships and airplanes, areas that European banks have ignored due to the European debt crisis, along with financing in developing countries and the provision of know-how on restructuring as a means to secure a future growth engine.
In the meantime, KDB Financial Group may make its affiliate KDB Asset Management a top hedge fund manager by offering a string of hedge fund products for domestic investors and for investors in Asia, with the goal of eventually going global.
Chairman Kang Man-soo said the KDB Financial Group will try to make KDB Asset Management a top hedge fund manager in the world under the group's strategy to strengthen replacement investments, the area of investing with great potential for growth through consultations with global replacement investment management firms.
David Jun, co-representative of KDB Asset Management said at a forum held on Sept. 6 at the DLI 63 Building in Yeouido, Seoul, that the world's growth rate hovers around 2 percent now and it is hard to expect more growth backed up by plenty of liquidity leverage like it was before 2008.
"Global economic trends as they are, we need hedge fund products that can do well even in the age of economic uncertainty, overcoming various variable factors," Kang said, noting that there still are many factors that can change the global economy.
Under these conditions, KDB Asset Management has begun offering the KDB Korea Best and KDB Korea Best Hybrid, tailor-made to withstand all kinds of adversities in the current global financial conditions, regardless of what the KOSPI Index shows.