Move is aimed at refueling economic growth by easing financial burden on SME and individual borrowers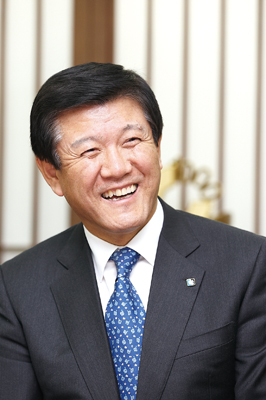 President Cho Joon-hee of the Industrial Bank of Korea.
The Industrial Bank of Korea (IBK) has cut the upper limit on its housing and SME loan interest rate by one percentage point to 9.5 percent per year from this year and has suspended the penalty interest rate system this year for the first time in the domestic banking industry, the bank said on Dec. 28.
The IBK said its maximum interest rate on SME loans will be reduced to 9.5 percent from 10.5 percent per year from Jan. 1 and the maximum housing loan interest rate will also be cut from 13 percent per year to 9.5 percent per year from Jan. 1.
President Cho Joon-hee promised to cut interest rates on both SME and housing loans when he took office two years ago and his promises have now been realized, the bank said.
Penalty interest rates on delayed interest payments will also be cut to 11 percent per year from 12 percent to 13 percent per year from Jan. 1.
The move will benefit those who have been paying higher interest rates due to their poor credit standings, especially the poor, who account for some 37,000 SMEs and 42,600 individual loans.
The cuts in the interest rates will reduce the IBK's earnings by 100 billion won annually.
President Cho said the bank will be faithful to its initial role of helping SMEs, but the bank will manage to cut expenses and increase non-banking income to cover the loss in interest earnings this year.
The IBK is set to introduce the reduced interest rate system to favor borrowers with excellent credit standing. The new credit rating system for its customers will charge interest rates based on credit grades of borrowers based on analyses of each borrower's credit history, policy support, and other benefits they have received from the bank. The final interest rates for them will range from 4 percent to 9.5 percent per year.
Due to the IBK's favorable moves for SME borrowers, their burden for financing needs will be lightened. The IBK's initial move will also influence other banks to take similar actions to lower their interest rates since the IBK accounts for around 20 percent of all loans to SMEs in the country. Around 24,000 SME borrowers will get a reduction of 0.85 percent in their loan interest rates and some 42,600 individual borrowers will also benefit from cuts of 1.36 percent per year on their loans.
All so called "city banks" with head offices in Seoul and a nationwide branch network in Korea followed the IBK's lead in cutting loan interest rates last year. The upper limit for bank loans in 2010 stood at from 17 percent to 18 percent per year, but now they are down to around the 14 percent level.
Woori Bank cut its loan interest rate 0.7 percent per year last November and further cut 0.27 percent on Dec. 24 on loans up for extensions. The IBK's loan reduction system will also affect such a system being considered by other banks. When the IBK suspended the penalty interest rates on delayed payments of interest, voices in the financial circles were raised that other banks should follow suit.
There also are concerns, too. A commercial bank official in Seoul said a bank charges interest rates on its loans based on the credit worthiness of a borrower and if the penalty interest rate system is suspended, the loan approval rates would be lowered to counter the projected results when the suspension of the system was put into effect.