The bank opens office in Saudi Arabia to increase support to SMEs to expand overseas operations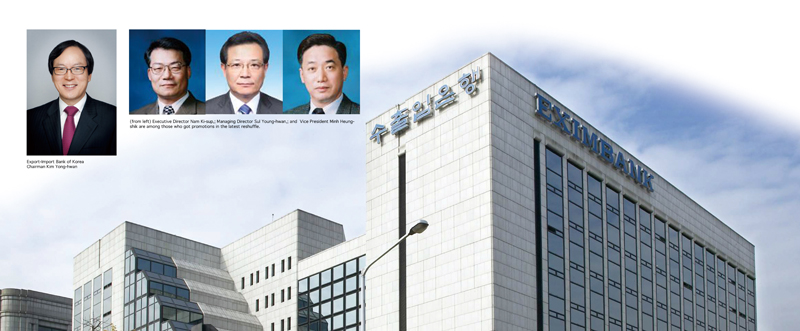 (from left) Export-Import Bank of Korea Chairman Kim Yong-hwan. Executive Director Nam Ki-sup,; Managing Director Sul Young-hwan,; and Vice President Minh Heung-shik are among those who got promotions in the latest reshuffle.
The Export and Import Bank of Korea projects the global economic slow down will continue this year, despite the intensive strategies by every major country to ward off its further development this year, and it will also slow Korea's economic growth to just over 3 percent with exports facing a lot of problems including the appreciation of the Korean won, making Korean goods more expensive, as well as protectionist measures by many importing countries.
Thus, the Exim Bank is prepared, as its duty as an official policy financial organization, to provide financial support to firms with problems so that they can rebound fast.
Chairman Kim Yong-hwan in his New Year's address, said this year is the year in which an official policy financial organization should play its required role fuller in crises than in usual years. In order to secure growth engines through exports and help create jobs, the bank has decided to supply 74 trillion won to the related areas of businesses including 50 trillion won in loans and 24 trillion won in guarantees.
Expecting that the global economy will gradually recover, the Exim Bank will provide support to Korean firms to secure big projects in the world infrastructure markets. In line with the leading trends in the issuance of orders for large infrastructure projects in which the owner will secure financing first for the project, the Exim Bank will also provide loans from the start of the project in what is called tailor-made financing packages including the issuance of guarantees and local financing.
The bank will open offices in major regions in the world starting with an office in Riyadh, Saudi Arabia, jointly with the Korea Trade Insurance Corp., the Korea Finance Corp., and the Korea Development Bank.
The bank will reorganize its systems in response to rising demand for expanded financial support for SMEs and set up the Business Growth Support Team to work as a control tower for all financial support provided by the bank including the ongoing "Hidden Champion" and other financial support programs for SMEs.
The bank also plans to expand its financial support to the three major industries including shipbuilding, construction, and shipping to help them overcome the cash shortage problems they are faced with.