Chairman Kim Seung-ho of Boryung Pharmaceutical Group delivered his New Year's address in which he called for an innovative way of thinking and passionate execution to achieve his goals.
Chairman Kim made the remakes at a ceremony to kick off the 2016 business year at the Boryung Pharmaceutical Group headquarters in Wonnam-dong, Seoul. On Jan. 4.
"The year 2016 is a significant year in which a crisis and an opportunity coexist," he said. "Let's overcome limitations by shedding new light on Boryung's founding spirit, creating new values with creative ideas the way Boryung employees do and maximizing organizational capabilities through harmonization."
In this vein, the group set its 2016 management tenet "Innovative Thinking! Passionate Execution!"
Boryung executives and staff pledged to lay a foundation to elevate the group's standing as a premier clinical medicine, total health care group, ahead of the company's 60th anniversary of its founding in 2017.
Wrapping up 2015, the fourth year since the launching of Kanarb, Korea's homegrown hypertension medicine, Boryung Pharm saw the hypertension drug chalk up a record 3.2 billion won in monthly sales in December 2015. It came one year and nine months after the company surpassed 2 billion won in sales in March 2013. Boryung Kanarb, which made its debut in March 2011, shattered the 1 billion won barrier in monthly sales in December of the same year, joining the ranks of blockbuster medicines raking in 10 billion won or more in annual sales.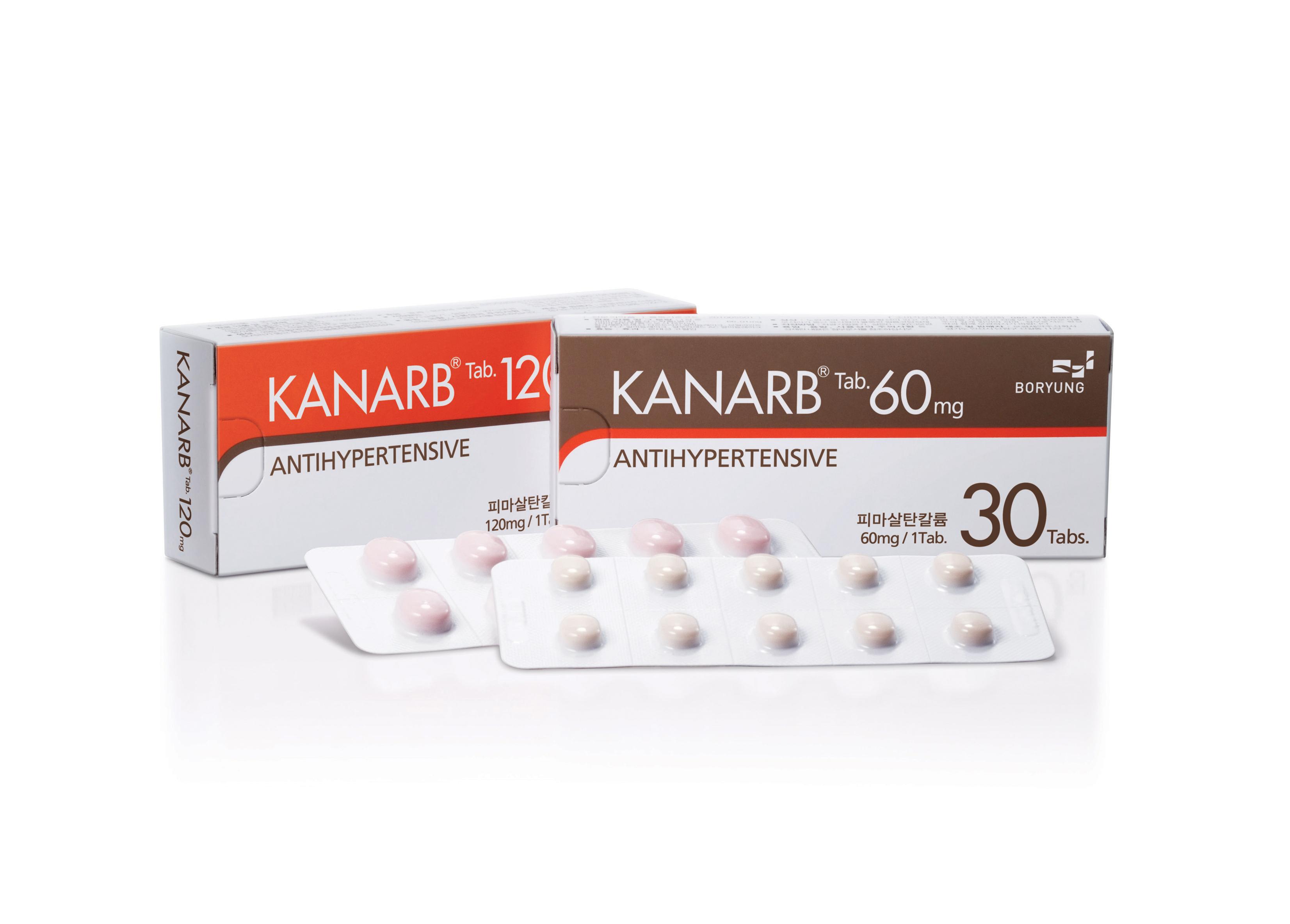 Kanarb on a Roll
Boryung Pharm signed a licensing deal with Zuellig Pharma to export Kanarb Tab to 13 Southeast Asian countries at Boryung Pharm headquarters in Seoul, on July 8, 2015.
Under the agreement, Boryung Pharm will receive $3 million in royalties, the highest for the licensing of Kanarb, in return for Zuellig Pharma's exclusive rights to sell the anti-hypertension drug to 13 Southeast Asian counties. And it will guarantee the Korean pharmaceutical company's selling $126 million worth of Kanarb products through Zullig Pharma to six countries the Philippines, Malaysia, Singapore, Indonesia (where permission to market the drug will be issued) for 15 years. Boryung Pharm will hold negotiations to provide the drug to seven more countries, and the Korean pharmaceutical company plans to sign a licensing agreement on Kanarb Plus Tab (diuretic, CCB and Rosuvastatin), a mixture of Kanarb Tab.
The latest deal will bring to $320 million the combined value of licensing agreements Boryung Pharm has so far signed in 30 countries across the world.
Boryung Pharm and Zullig Pharma obtained permission to market the drug from the Philippines, Malaysia and Singapore for 2016, and they are expected to get the green light from Indonesia, Thailand and Vietnam in 2017. The two companies plan to hold additional negotiations on the detailed process of obtaining permission in seven more countries, including Hong Kong, Macao and Myanmar.
Kanarb, an ARB-class drug, the most largely used type among all anti-hypertension drugs, was approved on Sept. 9, 2010, by the Korea Food and Drug Administration (KFDA) for its safety and its significant effect in decreasing blood pressure for those patients with hypertension. Kanarb not only embraces the merits of the existing ABR-class drugs, but provides solutions to angiotensin converting enzyme (ACE)-class drugs' side effects, such as hacking coughs and edemas, and it also employs a technology to overcome their lower efficacy.
Boryung was founded in 1963 as a pharmaceutical company based on its success in the drugstore and wholesale businesses. It has grown into a general corporation with six affiliated companies ranging from pharmaceuticals, baby care, vaccines, total healthcare and information to communications.