KOSA Chairman Chung calls for spearheading a drive to use certified steel products and promoting a country of origin labeling system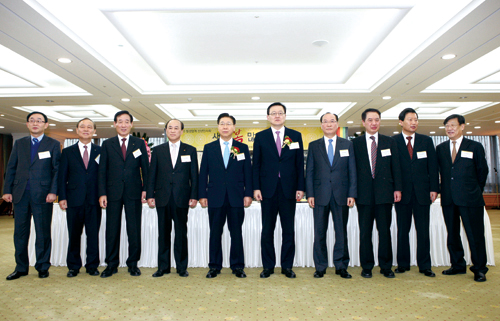 Minister of Knowledge Economy Hong Suk-woo, POSCO Chairman &
KISA Chairman Chung Joon-yang, and other KISA member company
CEOs attend a New Year's meeting of those in the Korean steel industry.
Korea Iron & Steel Association (KOSA) hosted a New Year's gathering at POSCO Center in Seoul on Jan. 9 to announce resolutions to overcome the current crisis through collaboration.
Among the 200 people on hand at the meeting were Minister of Knowledge Economy Hong Suk-woo; POSCO Chairman Chung Joon-yang, who is concurrently the KOSA chairman; Hyundai Steel Vice Chairman Park Seung-ha; Dongkuk Steel President Nam Yun-young; Dongbu Steel Vice Chairman Lee Jong-geun; SeAh Steel Chairman Lee woon-young; KISWIRE Chairman Hong Young-chul; TCC Steel Chairman Sohn Bong-rak; KOSA Vice Chairman Oh Il-hwan; and other representatives from the steel industry, academia, and research circles.
KISA Chairman Chung said in his speech, "The supply of substandard, faulty steel products within industrial sites many endanger public lives and distort market order. The steel industry community will spearhead and join on a voluntary basis a campaign to use certified steel products in order to secure public safety and restore market order by ramping up public relations through a country of origin labeling system."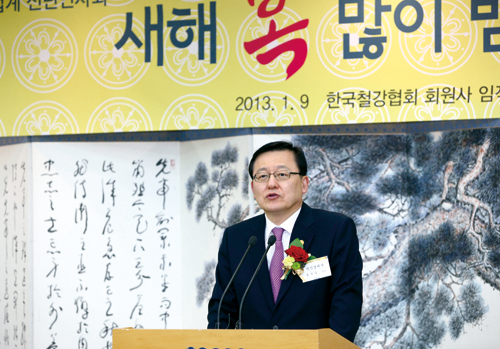 Minister of Knowledge Economy Hong Suk-woo speaks at a New
Year's gathering of those in the Korean steel industry.
Chung said global management conditions are feared to be riddled with a propensity for low growth in 2013, and in an effort to parry this trend, steps need to be taken to brace for trade conflicts looming large in the Northeast Asian region. The chairman added that the steel industry should pursue shared growth among SMEs and large-sized companies so that the steel industry as well as automobile, shipbuilding, machinery, and other related industries within the ecosystem can ensure convergence and expansion.
MKE Minister Hong said in his speech that he praised the steel industry's unabated efforts to tide over the hard times facing the industry, and he called for long-term steps to improve its foundation such as dealing with an oversupply of certain products, the developing of value-added steel products, and the exploration of overseas markets to help the Korean steel industry take a step forward.
Hong urged the steel industry community to step up strategies to go local to cope with mounting importing countries' moves to take protectionist measures and prevent trade conflicts with them as well as to spearhead a bid to build a sound, viable steel industry ecosystem by pursuing co-existence among SMEs and large-sized companies and by building transparent price mechanisms.