Chmn. Shin of FSC explains switch to "Creative Finance," allowing those with new ideas to take out loans without collateral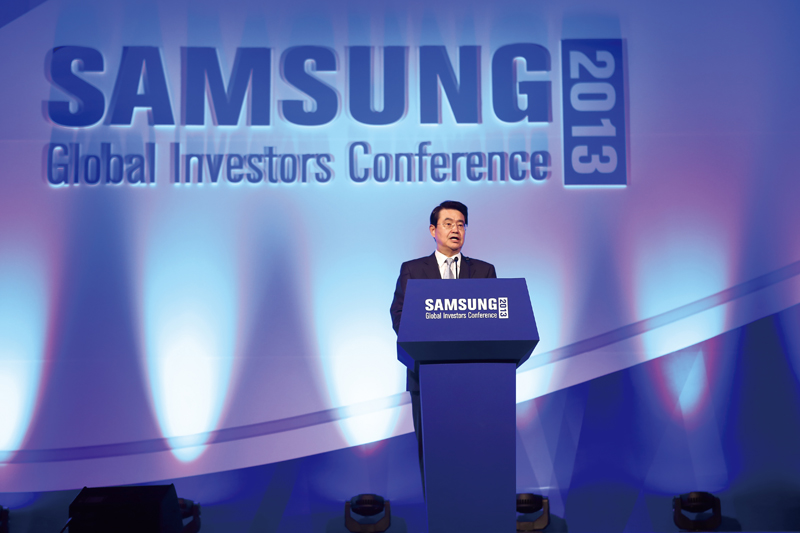 PresidentSuk of Samsung Securities Co. gives his welcoming speech at the 2013 Samsung Investors Conference.
Samsung Securities Co. hosted the Samsung Investors Conference 2013 on May 9-10 at the Grand Hyatt Hotel with some 500 participants including representatives of world-renowned investment firms such as Fidelity, Government of Singapore Investment Corp., and Wellington, and domestic institutional investors including Samsung Electronics, KB Financial Group and POSCO, among others.
Chairman Shin Je-yoon of the Financial Services Commission (FSC) delivered a keynote speech on the direction of the FSC's financial policies on the opening day, and Dr. Hwang Chang-gyu, a chair professor at Sungkyunkwan University, made a speech on contents, platforms, networks and devices.
Samsung Securities President Kim Suk, in his welcoming speech, said the Samsung Investors Conference has grown continuously in size and quality since its initial meeting 10 years ago, setting a new standard for IR conferences in Korea. This year's event will focus on the theme of "Brand Korea" and provide insight into Korea's economy and how it will serve as one of the engines for restoring a troubled global economy to health.
This is shaping up to be a momentous year for the global economy. A paradigm shift is underway, with Korea, China, the United States, and Japan all recently undergoing political leadership transitions. The 10th Samsung Investors Conference will provide insight into the recovery of the world economy, and Korea's role in contributing to sustainable growth within it.
FSC Chairman Shin, in his keynote speech, talked about what the financial policies would be like under the new government, namely "Creative Economy" and "Creative Finance." He said a chain of crises is undermining global recovery. Quantitative easing measures are adding to the uncertainty while global financial linkages are stronger than ever. A tiny drop of external risk can send massive ripples. He said many challenges lie ahead for Korea's economy while the population is getting old fast, meaning that Korea is still an "aging" society. In 2017, Korea is expected to become an "aged" society, meaning that people 65 years or older will take up over 14 percent of the total population.
The Park Geun-hye government is ready pushing the "Creative Economy" to bring creativity and imagination into the industries, the chairman said.
"Through convergence, creative knowledge and technology will come together," he said. "It will add value to the industries, form new markets and create jobs, and sharpen the economy's competitive edge, the essence of the Creative Economy."
The Korean economy is at the onset of a new growth phase, with the growth model being one based on knowledge, technology, and innovation, different from light industries like textiles with its cheap labor.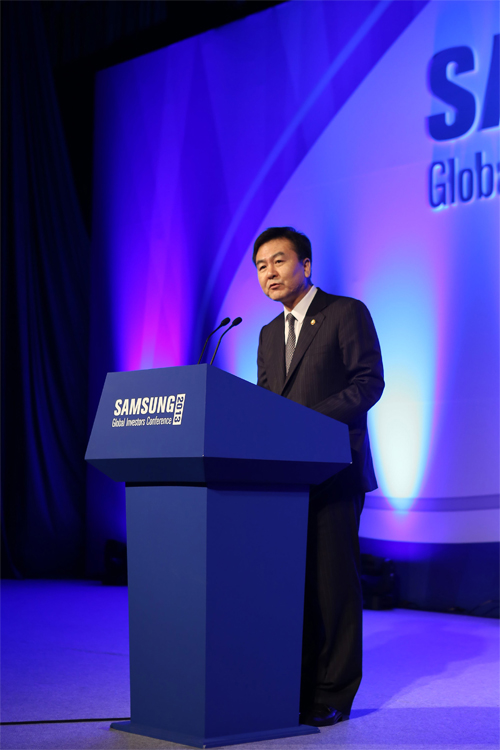 "In the 1980s, heavy chemical industries led the growth of the economy, but with 1990s came high value-added industries like IT, semiconductors, and automobiles along with economic growth," Shin said.
"Coming into the 21st century, the conventional approach to economic growth has lost its edge and we needed a new production paradigm, which is where creative knowledge, technologies, and ideas come in.
"The "Creative Economy' will maintain growth momentum -- especially during the transition phase, breathing further vitality into the economy. It will also present new opportunities as well as challenges to Korea's financial industry, which has been the backbone of economic growth and resilient enough to withstand financial crises.
"Now, the industry is ready to take the next great leap forward as we try to undergo the transition to "Creative Finance.'
"In the new financial world, start-up and venture companies can use their ideas as collateral, if they lack conventional collateral," the FSC chairman concluded.