The 30-year financial consultant won recognition for her outstanding achievements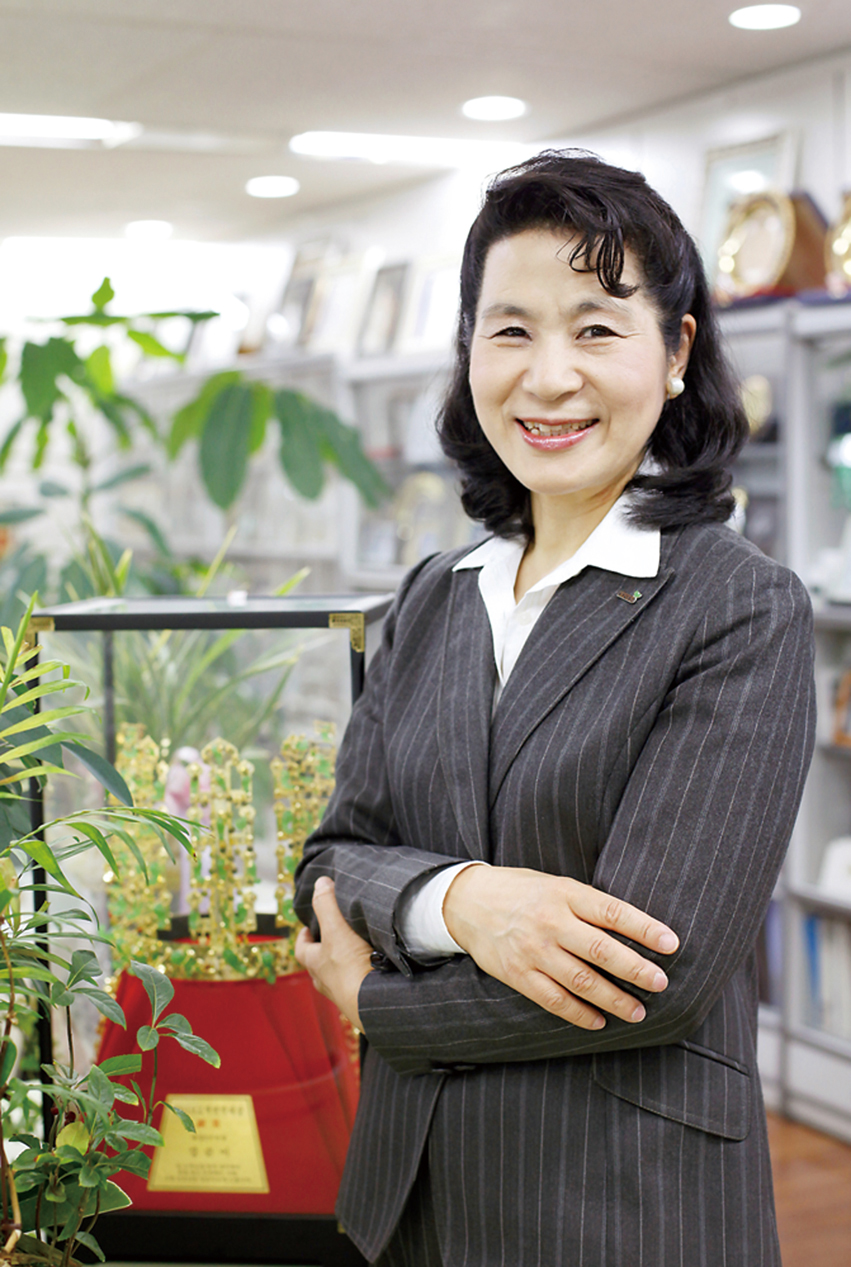 Mrs. Kang Soon-hee, an honorary managing
director of Kyobo Life Insurance Co.
Mrs. Kang Soon-hee, honorary managing director of Kyobo Life Insurance Co., has been with the company for over three decades and this year won her seventh Insurance King award.
She began her career with the company as a financial consultant over 30 years ago and the number of her customers has grown to over 1,500 including around 500 VIP customers such as CEOs and professionals.
She has two assistants to help her take care of customers who paid some 29 billion won in insurance premiums last year. As a result of her successful achievements as a financial consultant, she was made a lifetime member of the coveted "$1 Million Roundtable" (MDRT) and made a speech at the annual meeting of the MDRT representing Korean financial consultants. In recognition of her remarkable achievement Kyobo Life promoted her to honorary managing director.

But what she cares most about is the number 100. That is the percentage of her record of keeping her customers who signed up for new insurance contracts for over 13 months, and for 25 months is 99 percent. The customers who keep their life insurance contracts for over 25 months are more likely to keep them until maturity, which means they are more likely to be her customers for life.
Winning trust from her customers is the highest value in her career. The list of her customers reads like her household planning paper with customers introducing their relatives and friends to her, who then become her customers as well. Many customers even ask her for advice on personal matters such as education for their children and marriage.
Kang holds a financial planning seminar every month for her customers, which is conducted by professionals including her long-term customers and their children.
Kyobo Life was founded in 1958 based on the philosophy of "promotion of education and formation of national capital." For more than half a century, it has been fully committed to honest and sincere management in pursuit of mutual prosperity with all stakeholders including customers, financial planners, employees, investors, local communities, and government.
Since its establishment, Kyobo Life has worked tirelessly to put its core values of customer-centricity, honesty and sincerity, challenge, and creativity into action. Furthermore, Kyobo Life's transparent and sustainable management practices have built a trust-based relationship between the company and its customers. Kyobo Life has continuously pursued customer-driven management over the decades and it became the top quality service provider in the insurance industry. As a result, Kyobo won the Customer Satisfaction Management Award for five consecutive years from 2000 to 2004, becoming the first financial institution to be inducted into the 'Hall of Fame.' In addition, the company became Korea's first and only life insurer to be honored as Asia's best insurer by winning the 'Life Insurance Company of the Year' award in the 2009 Asia Insurance Industry Awards. Kyobo also became Korea's first life insurer to receive an A2 insurance financial strength rating from Moody's in 2008 and has since maintained that rating, even through the recent global financial crisis.