"We'll set aside 13 trillion won by 2020 to spearhead the Fourth Wave of Industrial Revolution," KT Chairman Hwang Chang-gyu declared. Chairman Hwang made the remark at a meeting with reporters at the KT office building in Gwanghwamun, downtown Seoul, on Sept. 23.
"The 1st Wave of Industrial Revolution was driven by steam locomotives, the second by electricity, the third by computers, and then the fourth will be ignited by the combination of the ICT and manufacturing industries," Hwang said. "KT will lead the Fourth Wave of the Industrial Revolution by capitalizing on our powerful GiGA telecom network and ICT convergence technology," he added.
This year marks the 130th year since the predecessor of KT made its debut to open the Korean telecommunications industry. "Combining of ICT and other industries will not only transform the industrial landscape, but also dramatically change human beings' lives," he said.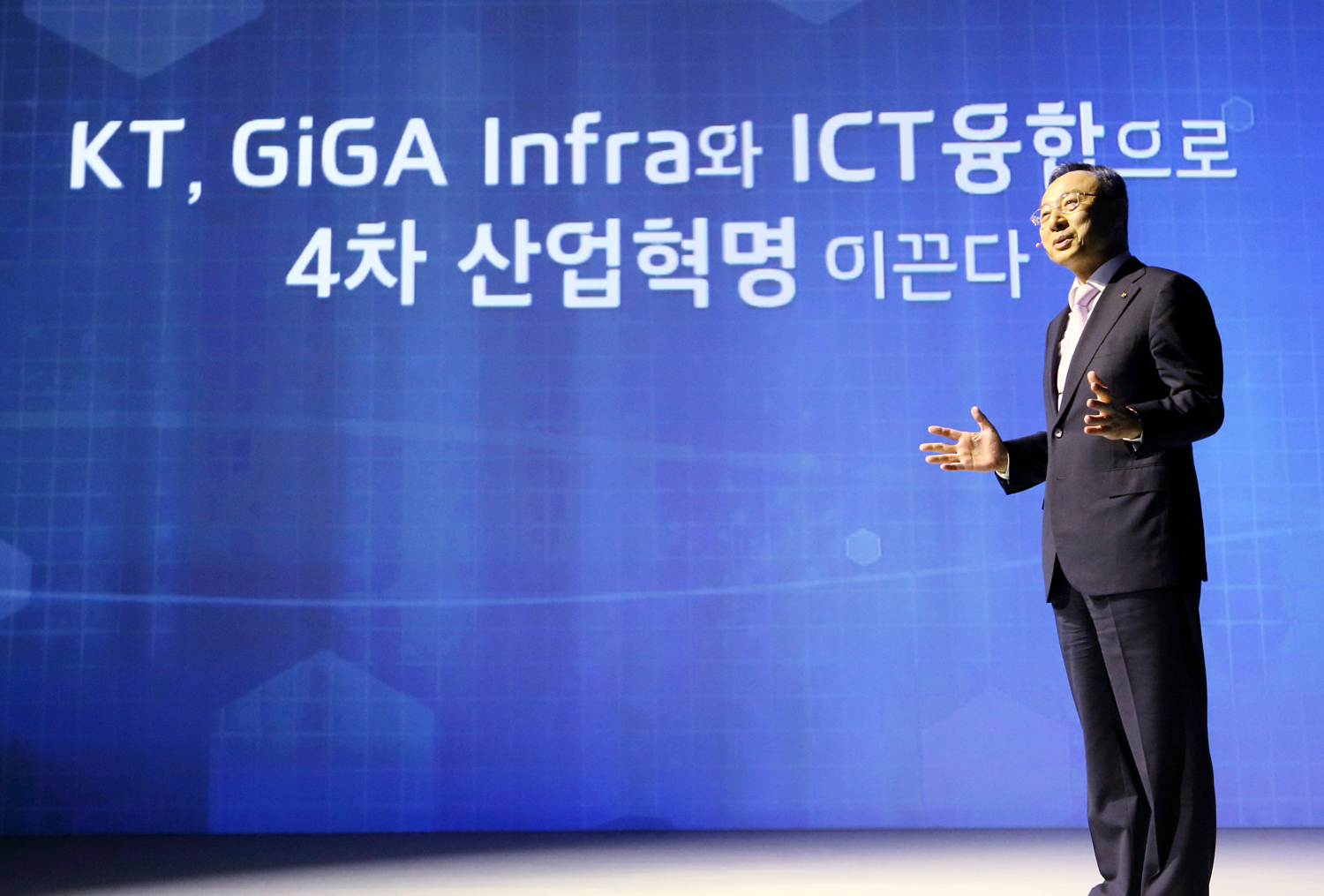 KT Chairman Hwang speaks on his company's plan to lead the 4th industrial revolution through ICT convergence at a recent meeting with reporters in Gwanghwamun, downtown Seoul, on Sept. 23.
'Intelligent GiGA Infrastructure'
KT will invest 13 trillion won to establish an intelligent GiGa infrastructure and foster convergence business by 2020. The intelligent GiGa infrastructure refers to the technology of converging state-of-the-art control, cloud and big data, as well as giga-class telecom network. "The future infrastructure should have values surpassing speed, volume and connectivity," Chairman Hwang said. "Adding smart intelligent functions to infrastructure will make services more competitive."
For instance, Chairman Hwang cited the "Wiz Stick," a device to prevent hacking through fingerprint recognition. He said KT will commercialize the service this year. "KT aims at chalking up more than 1 trillion won in sales in 2020 when the domestic security market is forecast to grow to 10 trillion won and proactively exploring foreign security markets by releasing the Wiz Stick and other services," Hwang said.
KT has a target of earning up 5 trillion won in sales through ICT convergence projects annually by 2020, he said. To this end, Chairman Hwang said KT will focus on the fostering of smart energy, IoT, autonomous vehicles, next-generation media and convergence services in the health care field.
Hwang revealed a plan to raise overseas revenues to 2 trillion won by 2020, moving beyond its history of a being primarily a company that feeds off of domestic demand. The conventional investment methods of investing stakes into foreign telecom providers and building telecommunications networks abroad are risky and limited, so KT plans to export such convergence services as smart energy and security.
Hwang described the changes KT has undergone for the 20 months since he took office in as "geumseokwigae," which is a Chinese saying. He said his executives and staff members' efforts to turn around the company have paid off. KT attracted the highest number of mobile subscribers in the first half of this year among the country's three main telecom providers. Analysts said KT has turned out to have higher synergic effects with its subsidiaries.