The company's takeover of Coca-Cola Korea and Haitai beverage firms pay off along its fast move to sell environmentally friendly products
LG Household and Healthcare (H&H) posted record sales in the first quarter along with solid control of its expenses, led by Vice Chairman Cha Suk-yong, known for his talent for conducting M&As, a surprise achievement coming as it did while all other rival firms have been struggling to make ends meet.
The company's first quarter sales totalled 1.723 trillion won, with operating profit of 145.9 billion won and net profit of 103.2 billion won, all record figures for Q1 in the company's history.
All the credit for the excellent performance records have been credited to Vice Chairman Cha on account of his deft talent for M&As and tight management of expenses. He changed the business structure of the company, taking over cosmetics, beverages, and daily necessities businesses through M&As to create synergy among those new business lines.
Since coming to the company in 2005, Cha has displayed superb talent in taking over other companies. In 2007, he engineered the takeover of Coca-Cola's Korean operation, adding the beverage maker to the company's business portfolio, and in 2011, he successfully took over Haitai Beverage to expand the beverage business lines of the company. The beverage section, which also includes Nescafe and Pyeongchang Water, helped boost the company's total Q1 sales.
The company's cosmetics division has been doing well, especially overseas, which includes 1,600 sales outlets around the world.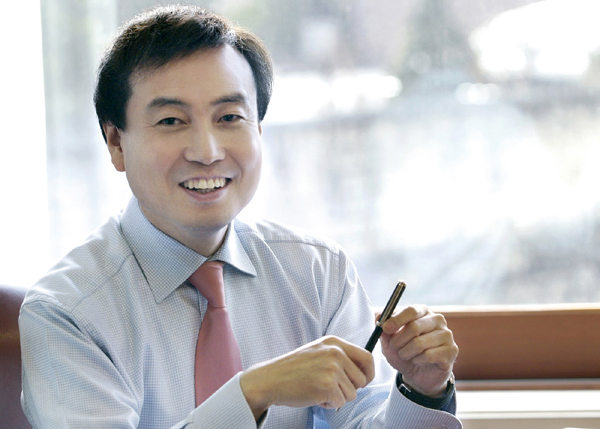 Vice Chairman Cha Suk-yong of LG Household and Healthcare Co.
Cha also managed the company's takeover of Japanese cosmetics maker, Ginza Stefany, and direct marketing firm Everlife in last year to set up a bridgehead to assault the cosmetics market in Japan.
In addition to the takeover moves in Japan, the company bought a 100 percent stake in the Faceshop in Singapore for 17.2 billion won to solidify its global operation base.
Knowing that "environmentally friendly" has become a main theme in the production of cosmetics, the vice chairman moved quickly to take the situation into account in the daily necessities produced by the company.
The company also expanded its business line to an import agent for foreign products to import products from Method in the United States and sold them at large supermarkets and department stores in Korea. The vice chairman did not stop there, but went ahead with Method to set up a joint-venture company for daily necessities in Korea and started to produce environmentally friendly daily necessity products last year.
In 2001, Eric Ryan and Adam Lowry started by mixing soap formulas in beer pitchers labeled "Do Not Drink" and wound up creating Method, an irreverent, design-driven, environmentally-minded company that outsourced manufacturing. The company grew to $34 million in revenue and 39 employees in 2005, and more than $100 million and 100 employees in 2012. Those numbers remain modest compared to those of "Big Soap," but a walk down the cleaning aisle in almost any supermarket reveals not just Method's reach °™ Ginger Yuzu dish soap, Pink Grapefruit hand wash °™ but its impact on competitors who have had to come up with products that directly compete with Method's, such as Clorox Green Works.
Cha forecasted that the business environment this year would not be so friendly given the large, extensive challenges looming ahead including the global spread of economic instability, major natural disasters, political issues at home and abroad, and rapidly changing consumer trends. The chief executive stressed that the company must stay vigilant in order to avoid being hobbled by those obstacles.
Introducing his plan to secure additional engines for future growth on top of business competencies cultivated so far, Cha presented four core strategies for LG H&H: diversifying approaches in order to win the number one spot in the cosmetics market; pioneering new fields to fortify its dominant standing in the household goods business; accelerating efforts to become the number one player in the beverage market through the maximization of synergy between Coca-Cola Beverage and Haitai Beverage; and systematically executing solid and practical globalization schemes.