Capable of supplying power and signals for more than three hours to fire fighting facilities during fire, minimizing human and property losses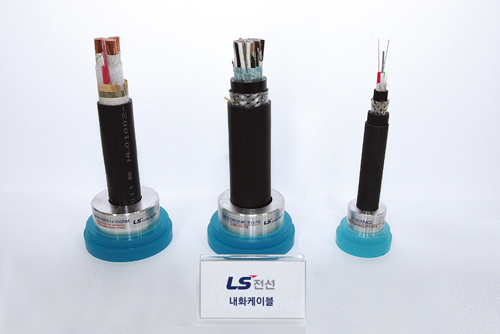 High-performance fire resistance cables, developed by LS Cable & System.
LS Cable & System has developed high-performance fire resistant cables able to withstand temperatures of up to 1,000 degrees Centigrade during a fire. The new products supply power and signals for more than three hours to fire fighting and prevention facilities, such as emergency power systems, fire alarms, sprinklers and poisonous gas ventilators, in order to allow people to evacuate from buildings and facilities in the event of fire.
The existing fire resistant cables withstand temperatures of up to 750 degrees. However, the new products are developed to withstand extreme conditions, such as physical impact caused by collapse of a building and water spray for fire extinguishing, under high temperatures of 830 to 1,000 degrees. The products ensure the stable operation of fire fighting efforts and prevention facilities during fire, and thus keep human and property losses to a minimum.
Since the first development of fire resistant cables applied to ships and offshore plants in June last year, LS Cable & System has been continuously engaged in R&D and, as a result, additionally developed fire resistant cables for buildings and infrastructures (airports, tunnels and subway lines), silicon-insulated fire resistant cable, and fire resistant optical fiber cable.
The silicon-insulated cable facilitates cable-spreading operations since the cable's flexibility is improved through the silicon insulation layer. The fire resistant optical fiber cable ensures successful communication and emergency system operation even in the event of fire. Having implemented a line of fire resistant cable products as such, LS Cable & System can provide cable solutions to satisfy diverse customers' needs and environments.
In addition, LS Cable & System has been acknowledged for its world-class technological power by obtaining all of the strict international standard certifications including the IEC (International Engineering Consortium), the BS (British Standards) and the EN (European Standards).
LS Cable & System Executive Vice President Park Wan-gi said, "As certification for development and quality of our fire resistant cable products has been completed, we will perform marketing activities more enthusiastically targeting domestic and overseas shipbuilding and offshore plants and construction companies."
LS Cable & System Focuses on Exploring Global Extra-high-Voltage, Undersea Cable Markets
LS Cable, designating its strategic products such as extra-high-voltage cables and the latest undersea cables as its future growth engines, is stepping on the gas to make inroads into foreign markets in the business areas.
Extra-high-voltage cables are used for sending large capacity electricity from power generation plants to transmission stations while minimizing losses. Extra-high-voltage cables enjoy popularity as electricity demand is soaring and large capacity power transmission is required. This expanded power supply needs advanced technology for ensuring reliability and safety.
In 1983, LS Cable & System began to produce 154kV-class cables, ushering in an era of extra-high-voltage cable in Korea. LS Cable & System became the first Korean company to make inroads into the foreign market in 1986 by exporting 132kW cables to North Yemen. The company now has a capability to produce 500KV-class cables, the world's highest level.
LS Cable, capitalizing on the technology and expertise it has accumulated so far, is devoting itself to strengthening its presence in the global market. The company is concentrating its energies on landing projects in the Middle East in which extra-high-voltage cable demand is brisk due to new power grid buildup, constant construction of social infrastructure, and large-scale civil engineering project orders.
The company has proved to be a juggernaut in the extra-high-voltage field, which not only simply supplies products, but also provides turnkey services including installation, as the company lands project after project in the Middle East: a $217 million order to supply 400kV extra-high-voltage conductor with insulated cables and connectors to Kuwait, a 400kV-cable deal in Qatar, and a 132kV-cable contract in Saudi Arabia.
LS Cable & System has been recognized for its technological power in Europe, the birthplace of electric technology, when it was awarded a 224KV extra-high-voltage cable project by France's EDF (Electricite de France).
The company is also turning to the exploration of the global next-generation undersea cable market. In 2007, LS Cable & System succeeded in developing a 250V-class extra-high-voltage undersea cable.