Runs support centers for cooperative firms in the spirit of mutual growth with various education programs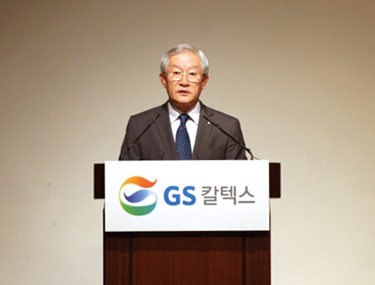 Vice Chairman Huh Jin-soo of GS Caltex.
GS Caltex celebrated its 46th anniversary on May 19 with a ceremony held at GS Tower in Yeoksam-dong, Seoul, with a slew of dignitaries led by Honorary Chairman Hur Dong-soo and Vice Chairman and CEO Huh Jin-soo in attendance along with hundreds of the oil refiner's executives and staff.
The vice chairman said in his speech that all officers and staff should do their best to make the oil refiner a top enterprise in the world by exercising their initiatives and professionalism. Every one with the oil company should be ready to use their initiatives to prevent all kinds of problems that may rise. They should enhance their capacity to take preemptive actions to prevent these problems before they occur, Huh said.
Vice Chairman and CEO Huh has always said the company needs to have open communication and harmony among employees and company units to achieve what they want to achieve with open minds, recognizing their own mistakes and getting help from others while respecting the opinions of others.
Open communication is a means to get new ideas and information to create new thoughts and ideas, which is, in fact, the seeds for creativity, the vice chairman often emphasized.
The oil refinery has been operating a number of events including the CEO Workout, Information Sharing Meetings by sector, and the Junior Board, among its diverse communication programs, to help them lead to fusion and creativity in the company. The Junior Board, among them, acts as a window for staff below the level of section heads to deliver their challenging and creative ideas to management. The meetings are held twice a year and 260 employees have participated in 33 meetings so far.
Since 2011, the oil refiner has converted its in-company communications into mobile forms that can be accessible on smart-phones and tablet PCs to strengthen its communication.
The oil refiner also made a huge contribution to the local community by donating the "Yeul Maru" in May last year just before the opening of the 2012 Yeosu World Expo in Yeosu, South Jeolla Province, where its oil refinery complex is located. It is a park occupying 700,826 square meters of land space with arts and entertainment performance installations to inspire creativity for the arts and culture in the region.
In addition, the oil refinery has been operating the GS Caltex Cooperative Firms Support Center to train the engineers of its cooperative firms in the area of technological competitiveness enhancement.
Under the center are the technology education center at the Yeosu Refinery, Marine Transportation Safety Technology Support Center, and Energy Effectiveness Support Center to introduce to its cooperative firms examples from advanced countries with education in order to apply those examples to their daily work.
Since 2011, GS Caltex has been managing the Cooperative Firms Six Sigma Program under which leading executives of cooperative firms will be invited to a two-night-three day program twice annually to train their minds and give them the capacity to undertake daily office chores more creatively focused on improvement, getting a positive reaction from the cooperative firms. The oil refinery has also been running a program to analyze the cooperative firms' capacities through consulting to upgrade their competitiveness.
GS Caltex has been providing diverse cooperative relations with its suppliers to grow together in business. Chairman Hur Dong-soo's philosophy to walk in the other person's shoes has always been in the minds of GS Caltex executives and staff to form a growth partnership with its suppliers, the oil refiner said.
A representative example of the close partnership is the cash payment for services or goods provided by the suppliers within a week, which the oil refiner has been doing since its oil refineries went online for the first time to help them in general, especially the small ones to save discount expenses that they have to pay for discounting notes and make sure that they have enough cash on hand.
The oil refiner has also been fair in calculating the prices of goods and service fees for its suppliers by analyzing the prices and service charges in detail in a fair manner and determining them before paying down payments and interim payments.
GS Caltex has always been determining the prices of goods flexibly to cope with sudden changes in prices, foreign exchange rates, and others so that the suppliers would see their costs increased. Since December 1997, the oil refinery launched a firm banking system to transfer funds into the suppliers' bank accounts automatically so that suppliers would not have to send their people to collect payments.