The projected steel plant will produce special steel for auto parts that require strong anti-wear properties such as engines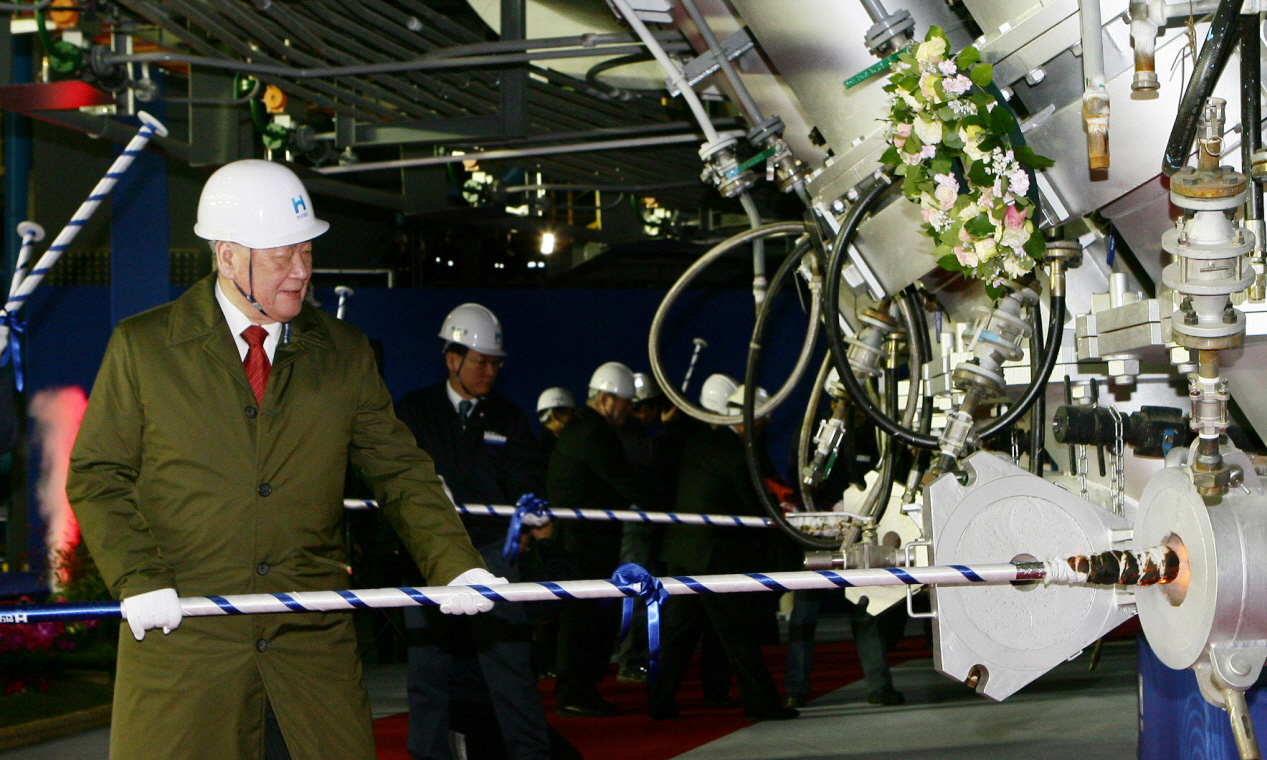 Chairman Chung Mong-koo of Hyundai Motor Group ignites
the second blast furnace of Hyundai Steel in Dangjin, South
Chungcheong Province during a ceremony to dedicate the blast furnace.
Hyundai Motor Group will invest 1.1 trillion won in its Dangjin Plant Complex in Dangjin, South Chungcheong Province, in research and development for a special steel plate for automobiles and steel powder as part of its project to seek future growth engines, the group said recently.
This announcement of an investment of more than 1 trillion won is the second one for the group after it announced its plan to invest more than 1 trillion won to build its third auto plant in China for both Hyundai Motor and its sister company Kia Motors in 2011.
The group said the new investment is projected to create some 22,000 new jobs in the Dangjin area and 6 trillion won in spillover effects with Hyundai Motor's Dangjin Auto Complex becoming almost as large as its Ulsan Auto Complex in Ulsan, North Gyeongsang Province.
Business circles recalled that Hyundai Motor Group was the first big business group to suspend its practice of assigning projects to its affiliates such as Hyundai Glovis and Innotion to go along with the new government's economic democratization plans, designed mainly to create jobs.
Officials said the investment will go to the development of a steel powder plant and special steel plates for use in autos, especially in engines and transmissions, at the plants to be built in the Dangjin Auto Complex.
The projected investment breaks down to 1 trillion won to be invested in the development and production of special steel plates for autos and 120 billion won for the production of 25,000 tons of steel powder annually, the officials said.
The new steel plants are projected to create 22,000 jobs and economic value of 6.1 trillion won. The project will have import substitution effects of an enormous amount since many key auto engine parts will be locally produced with material supplied locally, contributing to further growth of the nation's trade surplus.
Steel powder and special steel plates are the two most important materials that can make or break the quality of a car and are likely to enhance the competitiveness of both Hyundai and Kia cars, which will soon be produced locally.
Chairman Chung Mong-koo's call for "quality management" will be further stepped up with the investment in those key sectors, which is also in line with the new government's push for economic democratization to create jobs, along with his action to reduce the volume of work given to affiliated firms valued at as much as 600 billion won annually.
Steel powder is used in durable parts of cars to further strengthen the anti-wear properties and its use is on the way up, recently to 70,000 tons per year, and the material is being imported from the United States and Sweden, among others, due to the complex nature of the technologies needed to produce it locally.
If Hyundai Motor succeeds in the development of technologies to produce steel powder and produce it en masse, the company will be able to make its parts more wear-resistant, boosting the quality of its cars a step up compared to those of its rival car makers.
In the meantime, Hyundai Steel, considered a steelmaker that primarily turns out steel products for autos, is scheduled to complete the construction of its third blast furnace in September. The steelmaker will start building from the second half of this year the facilities that will boost its annual capacity of steel products for use in autos to 1 million tons with 1 trillion won in investment. The new steel plant will be equipped with high-pressure and high-precision installations in addition to the existing steel manufacturing facilities and blast furnaces to turn out highly pure steel products.
Special steel, like steel powder, is a necessary material for autos as it strengthens key parts such as engines, transmissions, and other key parts. Some 2.31 million tons of the product are imported every year.
Hyundai Motor Group is one of the first business groups to take care of its corporate social responsibility as called for by President Park. The president urged large corporations to do their social duties in full in an effort to overcome the economic crisis.