Korean-Japanese Business Leader's First Meeting Since Inauguration of New Govts. of Both Countries
Hyosung Group Chmn. Cho leads the 45th Korea-Japan Economic Association Meeting from April 24-25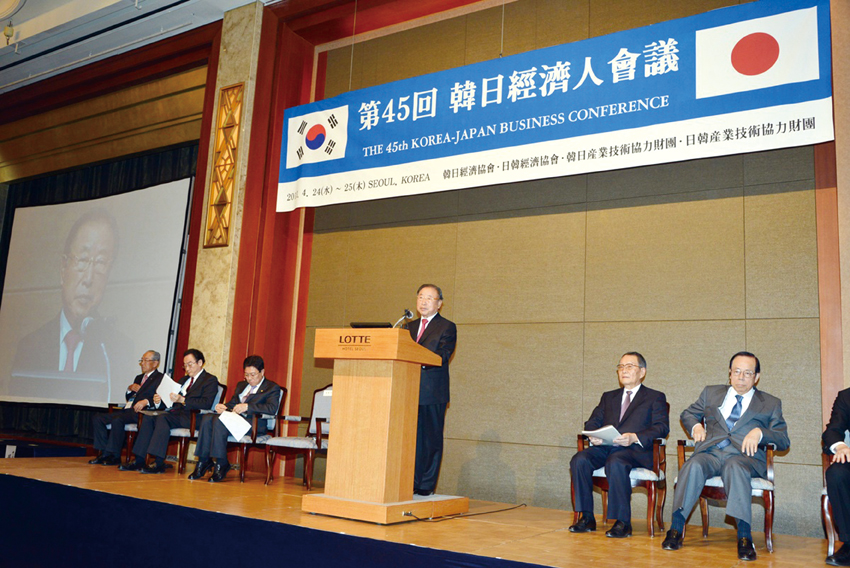 Chairman Cho Suk-rae of the Korea-Japan Economic Association speaks at the
45th Korea-Japan Economic Association Meeting in Seoul.
Roughly 300 political and business leaders from Korea and Japan participated in the 45th Korea-Japan Economic Association Meeting in Seoul from April 24-25, the first gathering since the inauguration of the new governments of the two countries despite soured bilateral relations.
Among the participants were Hyosung Group Chairman Cho, concurrently chairman of the Japan Korea Economic Association; Michio Sasaki, chairman of the Korea-Japan Economic Association; Minister of Trade, Industry and Energy Yoon Sang-jick; Samsung Electronics Executive Adviser Lee Yoon-woo; Samyang Group Chairman Kim Yoon; Dongkuk Steel Chairman Chang Sae-joo; Shinhan Financial Group Chairman Han Dong-woo; Dong-A Pharmaceutical Chairman Kang Shin-ho; Seoul Vice Mayor Kim Sang-bum; Dongwon Industries President Park Boo-in; Park Jae-hong, president in charge of trade at Hanwha Corp.; STX Pan Ocean President Pae Seon-ryung; and Sungmoon Electronics Chairman Shin Dong-yeol.
The first session of the 45th Korea-Japan Business Conference covered Korea and Japan's responses to the effects of the global economic retrenchment. Rep. Kim Jong-hoon spoke about what to do about regional economic integration. Korean and Japanese speakers touched on Korean-Japanese cooperation toward "one economic sphere." Both sides wrapped up the two-day meeting by issuing a statement strongly calling for both governments to conclude a Free Trade Agreement and an Economic Partnership Agreement at the earliest possible date.
Vice Mayor Kim Sang-beom, of the Seoul Metropolitan Government, one of the sponsors of the meeting, in his speech, called for closer cooperation and strengthened networking between Seoul and Tokyo to tide over the economic slump amidst the restructuring of the global economic order.

Seoul Vice Mayor gives his speech at the 45th
Korea-Japan Economic Association Meeting.


HYOSUNG MASS-PRODUCING CARBON FIBER
Chairman Cho Suk-rae of Hyosung Group is 78, an advanced age, but he is in good shape, proving himself by recently carrying out two weeks of marathon management meetings. His companywide robust activities and his presiding over of the Korea-Japan Economic Association meeting on April 25 in Seoul has dismissed speculation he might retire from management and hand the reins to his offspring.
Last year, six to seven group divisions presented their management performance and business forecasts to Chairman Cho in the group's training institute on each of the three days. But this year's management briefing session was different with an average of two group divisions undergoing a business review from the chairman each day of the two weeks of marathon management meetings.
A group official said his business division officials had face-to-face meetings with Chairman Cho to discuss management strategies for as much as seven hours recently instead of the average two hours of previous meetings.
Such divisions as textiles and industrial materials have been faring relatively well despite the economic downturn, but the heavy industry division is struggling with losses for the second straight year, which is cited as one of the reasons for lengthening the management meetings.
Chairman Cho resigned from the chairmanship of the Federation of Korean Industries (FKI) with eight months left on his tenure after he underwent an operation to remove a tumor in his gall bladder in July 2010.
His robust companywide and outside activities have calmed speculation over his heir-apparent. In a related development, Chairman Cho's second son, Hyun-moon, stepped down as head of the group's heavy industry division and disposed of his holdings of the group's shares, sparking rumors over who would take over the group's management rights between Chairman Cho's eldest son, Hyun-joon, who is in charge of the group's textile performance group (PG), or third son, Hyun-sang, who serves as vice president of the industrial materials performance group.
Hyosung dedicated a plant capable of mass-producing 2,000 tons of carbon fiber annually in Jeonju on May 13.
Among those on hand at a dedication ceremony were Hyosung Vice Chairman Lee Sang-hoon,; Vice President Cho Hyun-sang,; Minister of Trade, Industry and Energy Yoon Sang-jick,; and Jeollabuk-do Gov. Kim Wan-joo.