Gains recognition for making tremendous achievements in the creation of intellectual assets and developing advanced technologies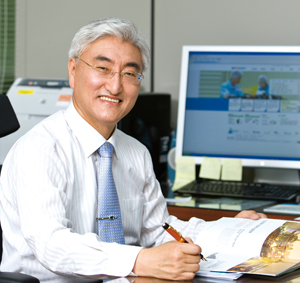 ETRI President Kim Heung-nam
The Electronics and Telecommunications Research Institute (ETRI) has been honored with the Presidential Award, the most coveted prize for organizations, at the 48th Invention Day anniversary event at 63 City in Yeouido, Seoul, on May 15.
ETRI has been recognized for making tremendous achievements in the creation of intellectual assets and developing advanced technologies. ETRI has proved to have excellent patent competitiveness once again as the Korean research institution placed first for a second straight year among 237 renowned research institutions and governments around the world according to the 2012 Innovation Anchor Scorecard by the U.S. Patent Board, which was released this past April. Every year, the U.S. Patent Board evaluates and announces the rankings and analysis of technology and patent competence in three categories °™ companies, research institutions, and governments °™ around the world in terms of their patents registered in the United States.
ETRI, established as a non-profit state-funded research institution under the umbrella of the Ministry of Trade, Industry and Energy, is well known as a treasure trove of knowledge assets, as it saw its patent count reach 29,327 in Korea and 15,890 overseas. ETRI accounted for some 36.3 percent of the 2011 total patents among all universities and state-funded research institutes in Korea.
In particular, ETRI boasts of 309 international standard patents in such technology areas as broadcasting and telecommunications segments, including MPEG, WiFi and LTE, which serve as sources of huge royalty revenues. Even the international standards, dubbed the "Geese that lay the Golden Eggs," fetch as much as $10 million apiece.
ETRI is at a forefront of research and development of core and original technologies as well as convergence technologies, playing a pivotal role in the development of the national industries. ETRI's research outcomes have been transferred to Korean large- and small-sized companies, contributing to a strengthening of national competitiveness.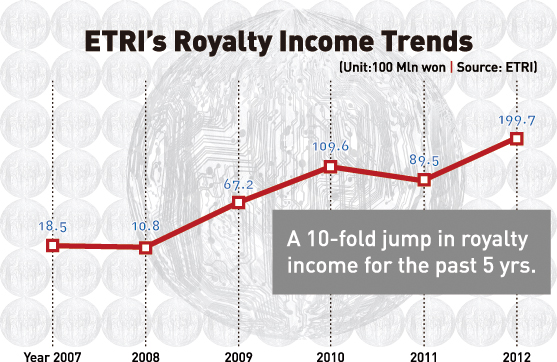 A case in point in the free transfer of ETRI patents to small-sized companies is WIWORLD, a satellite antenna product & satellite broadcasting and telecom solutions maker, whose President Park Chang-koo received a surprise gift from ETRI in early 2013: three patents transferred free of charge. Thanks to ETRI's help, WIWORD, which is trying to explore new satellite broadcasting and telecom solutions markets through convergence, has now managed to protect its own technologies under development and maintain an equal standing with large-sized companies.
The number of technologies ETRI has transferred for the past five years totals 1,786, and nearly half of the revenues ETRI earned in royalties was dispensed as compensation to ETRI researchers, boosting their morale.
ETRI has become the first Korean state-funded research institute to establish ETRI Holdings, a technology holding company for commercializing technologies. Twenty research institute companies are engaged in commercialization of ETRI's patents.
ETRI President Kim Heung-nam said, "I'm so pleased to be awarded a meaningful prize on the occasion of Invention Day. ETRI will strive to spearhead the creation of the so-called creative economy by realizing numerous quality patents and intangible ideas into reality and establishing itself as an 'IPR factory' anew."